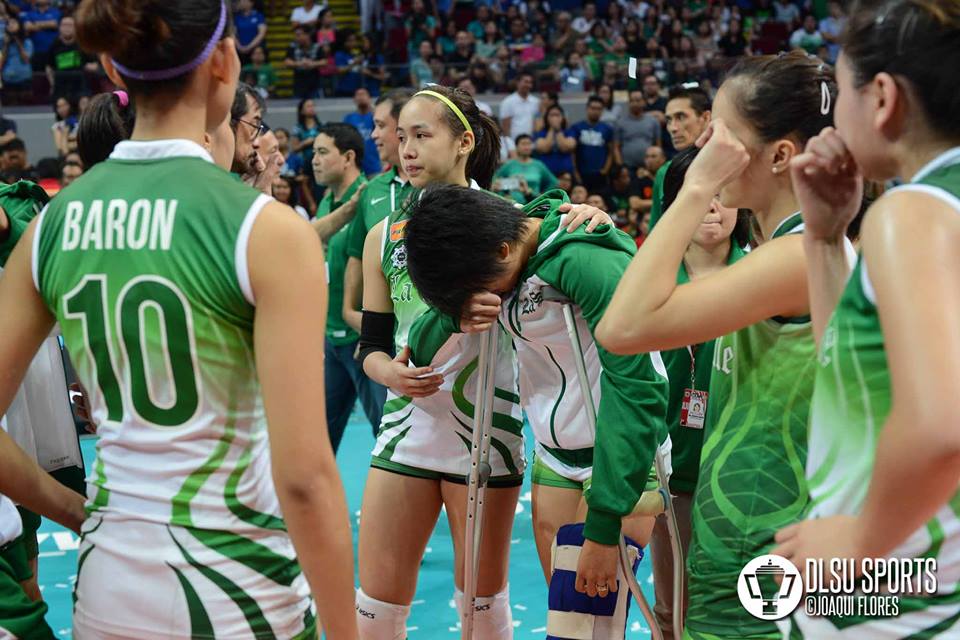 The Lady Spikers gave it their all but fell short once again against their rivals, the Ateneo Lady Eagles as they lost in straight sets, 22-25, 15-25, 23-25.
Perfect effort. This is something that every coach, spectator, or fan would want from his or her team and the Lady Spikers showed just that the entire game. With only 12 players remaining on their roster due to the two season-ending injuries that both top-scorer Ara Galang and Camille Cruz suffered, many would think that the finals would be a walk in the park for Ateneo, but that was not the case.
Game two started with a kind of tension that can only be drawn from a matchup against two rivals. It was neck and neck almost the entire first set with Ateneo only winning it by three points. The second set however, was not as close as DLSU committed a lot of unforced errors especially on their reception. La Salle also mistimed some of their attacks, which gave Ateneo easy points.
The third set of the game was as close as it can get. La Salle started the set very strong. They even mounted a five-point lead at one point but Ateneo slowly recovered and eventually took the lead. At the 22-20 mark of the game with Ateneo having the lead, Desiree Cheng committed a crucial service error, which gave Ateneo a 3-point cushion. La Salle quickly scored two points of their own before Ateneo setter Jia Morado scored with a drop ball to give Ateneo two match points. La Salle was able to save one match point but Jia Morado ended the game with a strong tip just right behind DLSU's blockers to give Ateneo a second straight championship.
DLSU's scoring was well balanced again with no player scoring more than 10 points. The tandem of Mika Reyes and Majoy Baron combined for eight offensive blocks while Kim Fajardo had 25 excellent sets for DLSU. Ateneo was led by season MVP Alyssa Valdez with 20 points and finals MVP Amy Ahomiro who scored 10 points.
From the first point of the first set until the very last point of the final set, the Lady Spikers fought their hearts out. Exemplifying the heart of true champions. They may not have won the crown this season but they sure made everyone proud by showing that they are not just a team, but a family that would do everything for each other and that is something worth celebrating.