Lady Spikers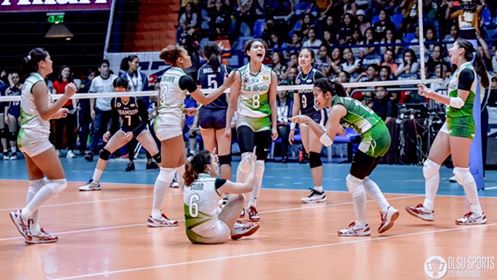 Published on February 23rd, 2019 | by Jasmine Tan
0
Lady Spikers dominate Soaring Lady Falcons, win second straight
Photo by: Flavius Dulce
Three-time defending champion De La Salle University (DLSU) Lady Spikers deemed too strong for the Adamson University (AdU) Lady Soaring Falcons as the Taft-based squad finished them off in three sets, 25-16, 25-21, 25-20, earlier today, February 23 at the Filoil Flying V Centre.
Both teams started off strong heading into the first technical timeout, but the Lady Spikers showed they are still in command as they widened the gap 15-10 after a wonderful kill by super rookie Jolina Dela Cruz. The Lady Falcons attempted to reduce the lead, cutting it to one, 15-16, but the much experienced La Salle squad did not waver and answered back with a 9-1 run to finish the set.
The Lady Falcons jumped off to a 3-0 lead to start the second set, but the Lady Spikers were quick to respond, immediately taking the lead at 5-3 after a hitting error by Bernadette Flora. Team captain Desiree Cheng caught fire after the first technical timeout, scoring four straight points, giving La Salle a seven-point lead, 16-9, heading into the second technical timeout. Flora, the Soaring Lady Falcons' lone bright spot, attempted to flip the tables over, almost getting successful by bringing them as close as one, 21-22, but the Lady Spikers were just too big, too strong for them, as the Green and White claimed the set, 25-21.
The defending champions showed no signs of stopping as they took a 5-0 lead off a Galang-esque hit by Dela Cruz. Three straight kills by the Bulacan-native sent the Lady Spikers ahead, 8-3, heading into the first technical timeout. In hopes of keeping themselves alive in the game, the Lady Falcons attempted to rally some points. However, La Salle showed composure and embarked a nine-point lead, 18-9, with the combined efforts of the team. Adamson once again drew close and gave a scare, cutting the deficit to five, 15-20, after several miscues by the Lady Spikers. But they immediately answered with an explosive hit by Cheng. From then on, they did not look back as they took the set, 25-20.
The Lady Spikers showcased a balanced offense with only Dela Cruz finishing in double digits with 10 points. Aduke Ogunsanya and Cheng tallied nine points apiece, while May Luna added eight. Norielle Ipac logged a career-high six points.
Third year setter Michelle Cobb was awarded the Best Player of the Game honors after tallying 25 excellent sets for La Salle.
Catch the DLSU Lady Spikers in their next game as they attempt to extend their winning streak to three against the NU Lady Bulldogs on Wednesday, February 27, 2 PM at the same venue.