Beach Volleyball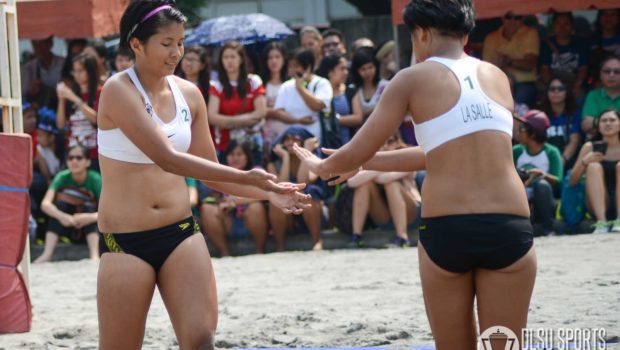 Published on August 31st, 2014 | by Tricia Cruz
0
Lady Spikers earn second place behind six-game winning stretch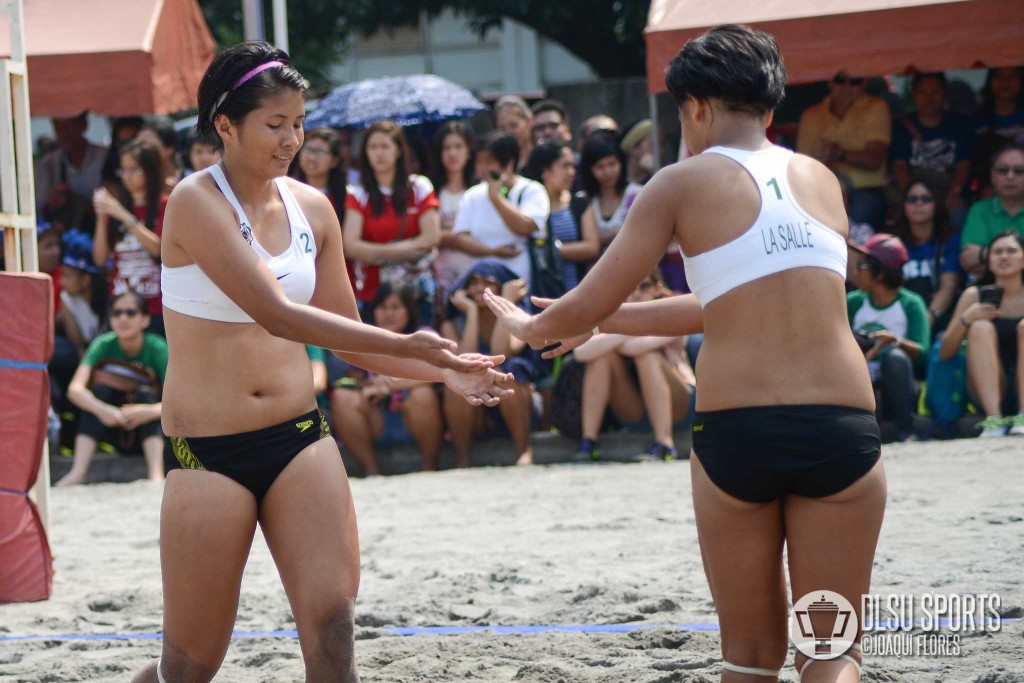 FEU, UE and Ateneo fell victim to the rampaging Lady Spikers in the UAAP Season 77 Beach Volleyball tournament this weekend as last year's fourth best team secured a Final Four berth with a 6-1 record, only behind the undefeated UST.
Taming the Tamaraws
Last Saturday, the Lasallians dropped FEU in three sets, 17-21, 21-19, 15-12.
Kim Fajardo and Cyd Demecillo started off with powerful attacks and good reception but FEU strategized by attacking at the back and was able to overcome La Salle, 17-21.
In the second set, the Lady Spikers adjusted as they delivered stronger attacks and limited their unforced errors against FEU's Bernadette Pons and Charm Simborio to stay alive and send the game to a deciding set with a 21-19 win.
In the last set, DLSU continued to hold the upper hand as the duo combined for excellent digs and blocks, and snared the match through a 15-12 third set victory.
Humiliating the hosts, burying the rivals
Maintaining their momentum, the Lady Spikers dominated University of the East by winning in straight sets, 21-8, 21-10.
A day later, the Lady Spikers dominated the Ateneo Lady Eagles after winning in straight sets, 21-14, 21-13 during the women's beach volley tournament.
Fajardo and Demecillo led Ateneo by seven points in the first set as ADMU's Michelle Morente and Jhoana Maraguinot suffered errors in service and reception and cannot keep up with the Lady Spikers' pace of excellent kills, ending the set at 21-14.
During the second set, La Salle may have suffered unforced errors as their archrivals catch up with them, but that did not stop the duo from giving strong attacks and continued what they have started during the first set as they improved their record and winning the second set, 21-13.
With this win, the Lady Spikers ended the elimination round in the second place at 6-1. However, adjustments are still needed according to Coach Noel Orcullo. "Kailangan i-minimize yung service errors kasi yun ang nagiging weakness namin para di ma-capitalize na pag nag-error masusundan uli ng errors."
According to Kim Fajardo, they are happy to reach this point as she said, "wala kaming masyadong training bago yung game namin sa court nalang kami nag-a-adjust kung ano pwedent gawin."
They nearly swept the elimination round which Fajardo admitting that they did not expect to reach this point. Now that they are here, they will try to achieve their goal by playing one game at a time, with the aim of getting La Salle its first ever beach volley championship in UAAP.