Lady Spikers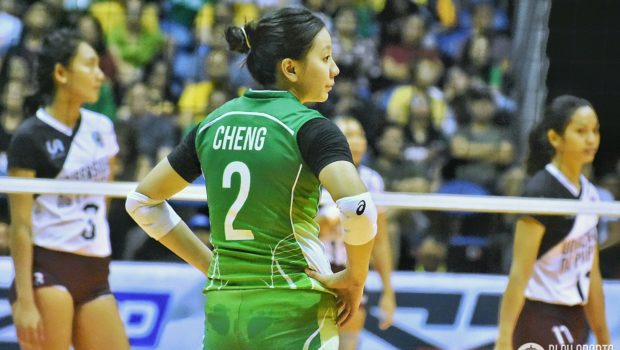 Published on March 24th, 2019 | by Jasmine Tan
0
Lady Spikers fail to find antidote against Lady Maroons
Photo by: Jempoy Pimentel
The De La Salle University (DLSU) Lady Spikers once again fell to the University of the Philippines (UP) Fighting Lady Maroons, this time in straight sets, 16-25, 24-26, 19-25, earlier today, at the Ynares Center Antipolo.
La Salle got their record stained after bowing down to the same squad in a five-set thriller during the first round of the tournament.
Both teams were nip-and-tuck until back-to-back errors by La Salle forced UP to pull ahead, 14-7. The Lady Spikers attempted to rally some points, but their 10 errors committed were just too much as opposed to only five errors from the Lady Maroons.
The defending champions showed composure and showcased a different La Salle squad to start the second set. The Lady Spikers established a five-point cushion, 17-12, following a setting error violation on Ayel Estrañero. But, things eventually went downhill for the Taft-based squad. After committing one error after another, the girls found themselves staring at a tied game at 19-all. The Lady Maroons then took advantage of La Salle's three service errors to steal the set, 26-24.
In danger of losing the game all in all, the Lady Spikers jumped off to a four-point lead, 6-2, in the third frame. A service ace by Lorie Bernardo evened the score at 7-all. An attempt straight to the net by Tin Tiamzon switched the tempo and gave the momentum back to UP. Subsequently, a service ace by Desiree Cheng brought La Salle back up, 14-13. It was a chess match from then on as neither squad wanted to concede a two-point margin. However, the Lady Maroons never looked backed when they took the lead at 19-17, handing La Salle their third loss of the season.
Team captain Cheng led the Green and White with 11 points, while Des Clemente and Dela Cruz added six apiece.
On the other hand, Tots Carlos led UP with 13 points, followed by Molde's 11.
With this defeat, the Lady Spikers (5-3) joined UP, UST, and FEU in a four-way logjam at the second to fifth places.
Ironically, La Salle, the best serving team in the league, committed a whopping 37 errors, 17 of which were from the service line.
The DLSU Lady Spikers will attempt to bounce back against the NU Lady Bulldogs on Wednesday, March 27, 4PM at the Filoil Flying V Centre.