Lady Spikers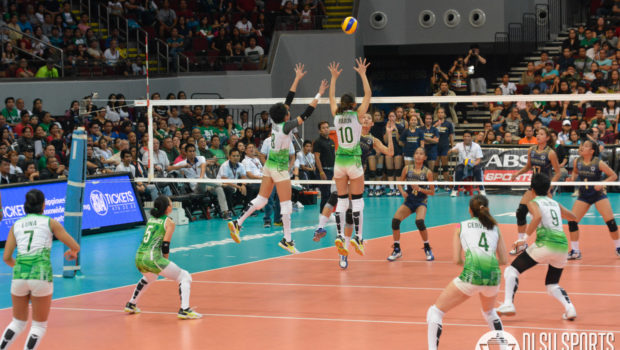 Published on February 10th, 2016 | by Denise So
0
Lady Spikers fall to the Lady Bulldogs in a thrilling four-set match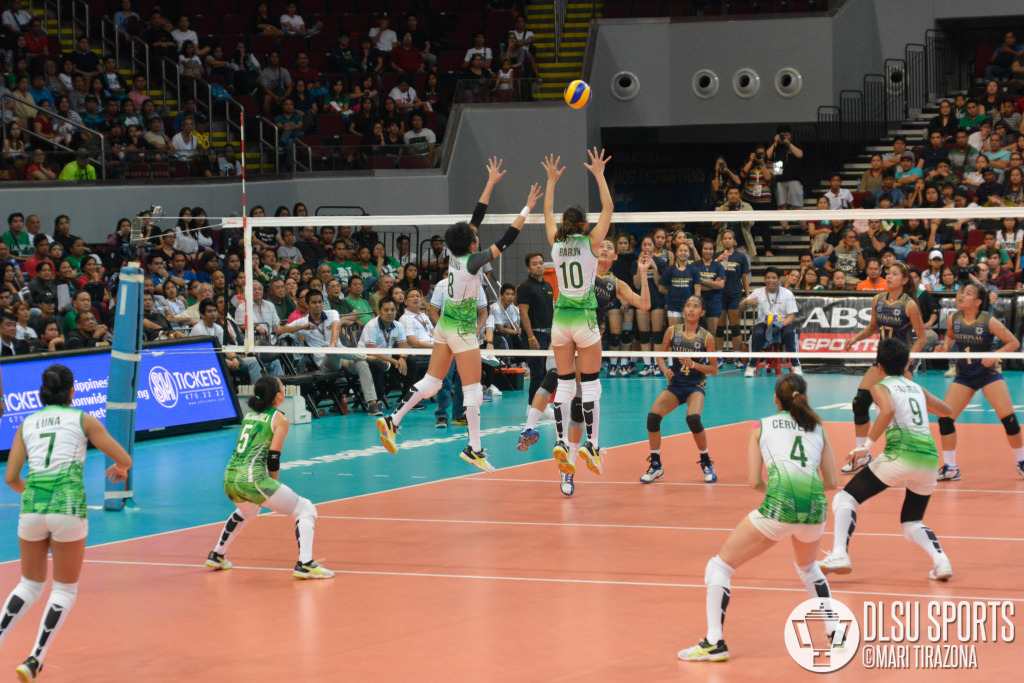 The Lady Spikers started the season in dominant fashion after racking up consecutive victories over the University of the Philippines (UP) Lady Maroons and Far Eastern University (FEU) Lady Tamaraws. Today, their season took a slip after running out of gas against the National University (NU) Lady Bulldogs in a hotly contested four-set thriller.
From the opening serve, it's easy to see the intensity in both teams with the way they moved. Galang and Reyes led the Lady Spikers to match the Lady Bulldogs' energy point per point in the first few minutes of the set. However, errors and miscommunication seemed to have set in as the ladies from Tafft committed several mistakes that allowed the Bulldogs to build a lead. Reyes attempted to make a rally with several services aces but by then, momentum has already swung to the other side with NU, taking the first set 25-16.
The Lady Spikers entered the second set with much determination and heart. Their excellent floor movement and spacing resulted to long rallies that they were able to capitalize on. It seemed as if within a blink of an eye, they turned on a switch and became the team we all know and love. Unfortunately, with a speed just as fast, the Lady Bulldogs pulled the rug from underneath the Spikers and continued with their deadly attacks, taking the second set, 26-24.
Fight has not left the Lady Spikers in the third frame despite being down two sets as Reyes and Cerveza scored for the team. Rookie, Tin Tiamzon and team captain, Kim Fajardo also provided support as they scored several points. La Salle finally gained momentum as they needled through NU's defense and continued their run, taking the third set, 25-14.
Both teams played the fourth set as if it were the first, displaying aggressiveness and determination. The crowd was treated to several heart-stopping rallies that seemed to go on forever. Tiamzon, Galang and Baron kept the Lady Spikers afloat as they outsmarted NU's tight defense with strategic hits. Later into the set however, NU made a come back to tie the Lady Spikers at 21 all. Then, a moment of sudden eruption came from the Lasallian community as Cyd Demecillo made her first appearance this season after battling an injury. Unfortunately, it was not enough for a victory.
The Lady Spikers might have lost today, but heart and determination is something we can always expect from these ladies donned in green and white. Watch them as they take on their next challenge this coming Saturday, 2pm at the Filoil Arena against the Adamson (AdU) Lady Falcons.