Lady Spikers
Published on March 18th, 2018 | by Khyte Mendoza
0
Lady Spikers fend off Lady Tams in five-set thriller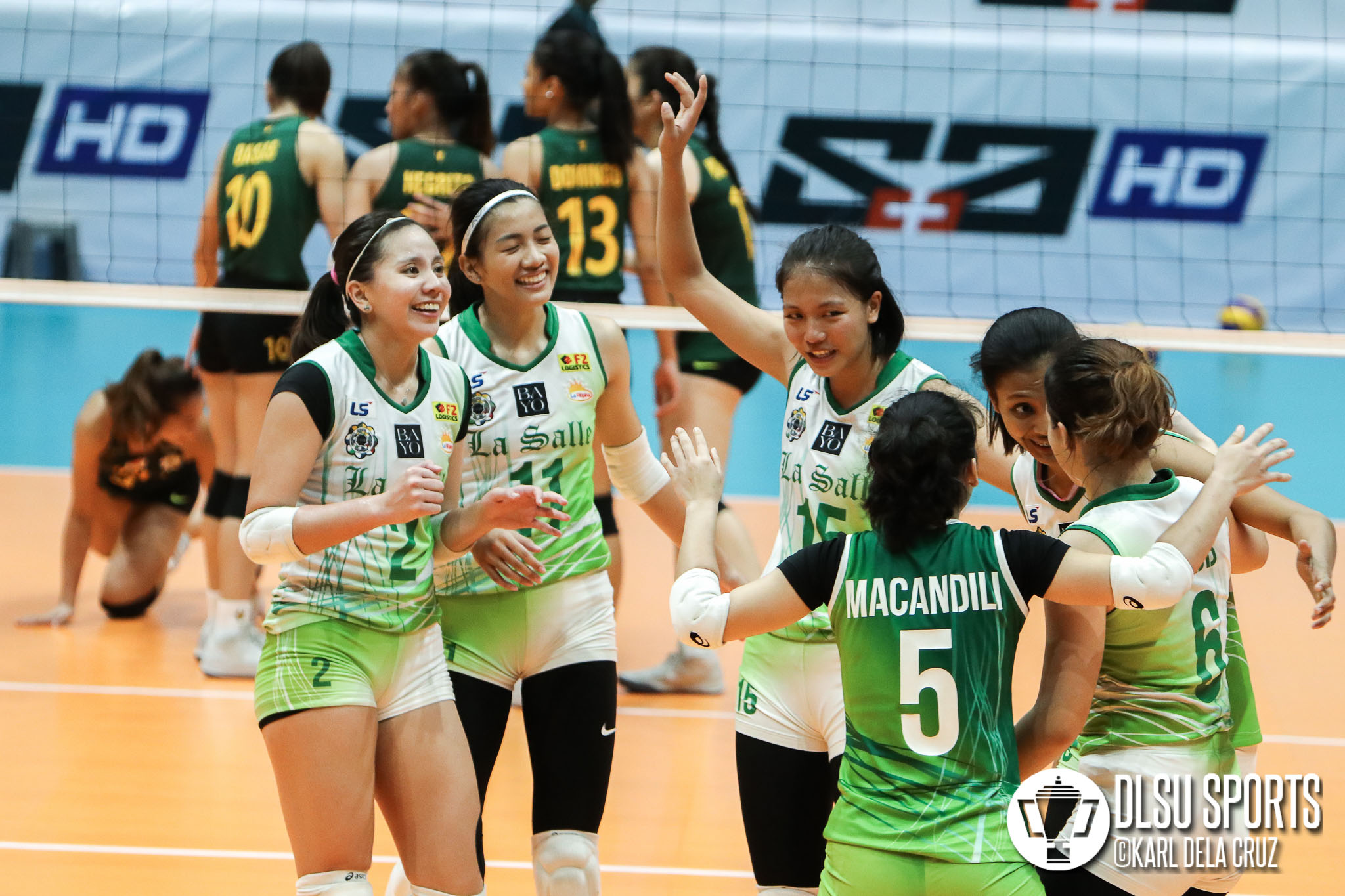 The De La Salle University (DLSU) Lady Spikers doubled their victory over the Far Eastern University (FEU) Tamaraws in another nerve-wracking five-set collision, 25-17, 21-25, 16-25, 25-20, 15-5, in the second round of the UAAP Season 80 Women's Volleyball Tournament at the FilOil Flying V Arena in San Juan, Sunday.
The Lady Spikers improved to an 8-2 record as they tighten their grip on first place.
Reigning Most Valuable Player MaJoy Baron paced La Salle with 18 points in 10 attacks, five service aces and three blocks. Kim Dy also had 18 markers, while Desiree Cheng tallied 10 for the Green side who committed eight more service errors against FEU.
La Salle shocked the Morayta-based squad with a 17-4 blitz in the first set. The Lady Tams got their act together and inched themselves to within four after a barrage of points, 20-16. DLSU retaliated quickly with a 5-1 run to take the first.
The second frame turned into a chess match as both teams were knotted at 9-all in the early moments. The Taft crew played catch-up from then on with Bernadeth Pons and Toni Basas leading the charge for FEU, who led by as much as four heading into the latter part of the set. Cheng broke down the wall of the Lady Tams' defense to cut their deficit to one, 20-21. However, a pile of errors from the Lady Spikers doomed their bid of a comeback as Pons and Co. tied the match at 1 set apiece.
With momentum on the Lady Tamaraws' side, La Salle had their backs against the wall. DLSU continued to string errors as they trailed, 8-15, after May Luna got denied. FEU smelled blood from prey, building a 10-point cushion against the Lady Spikers on their way to a 2-1 advantage.
All eyes were on the Lady Spikers heading into the fourth canto. It started out to be tight as La Salle and FEU were tied at 10-all. Norielle Ipac gave quality minutes for Coach Ramil De Jesus, who opted to rest Baron. Later on in the set, Baron and Dy created enough breathing room for DLSU and eventually forced a fifth and deciding set.
The Lady Spikers never took their feet off the gas pedal as an offspeed hit from Cheng capped off a 5-0 start for DLSU. FEU countered with a 3 to nothing blast, but the Green and White did not look back with Dy sealing the win for La Salle.
Pons led the scoring for the Lady Tams with 16 points. Basas added 12 points, while Czarina Carandang and Celine Domingo added 11 apiece.
The next game for the Lady Spikers is on March 24, Saturday, 4 pm, still at the FilOil Flying V Arena.