Lady Spikers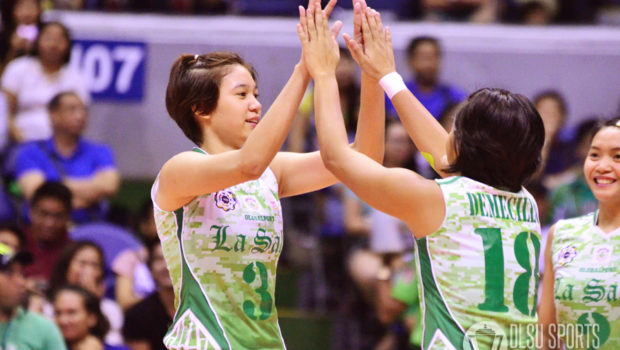 Published on December 7th, 2013 | by DLSU Sports
0
Lady Spikers open championship quest by sweeping Adamson
The Lady Spikers defeated the Adamson Lady Falcons via sweep, 25-14, 25-22, 25-19. to open up the team's Season 76 championship journey.
Despite the loss of some veteran players, the Taft-based spikers were still able to showcase a poised balanced attack against the opposition which were led by the one-two punch of Ara Galang and Mika Reyes.
Galang scored 16 markers, 13 of which coming from attacks while the towering Reyes was a force in the middle.She added 12 points and had 4 blocks.
In addition, team captain Aby Marano chipped in 11 points while Cyd Demecillo and rookie Desiree Cheng poured in 8 and 7 points respectively.
The Lady Spikers showed outstanding net defense as evidenced in their 13-3 block advantage against the Lady Falcons. They also outscored Adamson in terms of service aces, 5-1.
Key losses for the reigning champions are their former defensive specialist in MIchele Gumabao, ace libero in Melissa Gohing, Wensh Tiu and Justine Tiu
Additions for the Lady Spikers for this season introduces rookies Cheng, Kim Dy, Dawn Macandili and Joy Baron. Moreover, Camille Cruz also returns to the lineup after sitting out the previous season due to injury.