Lady Spikers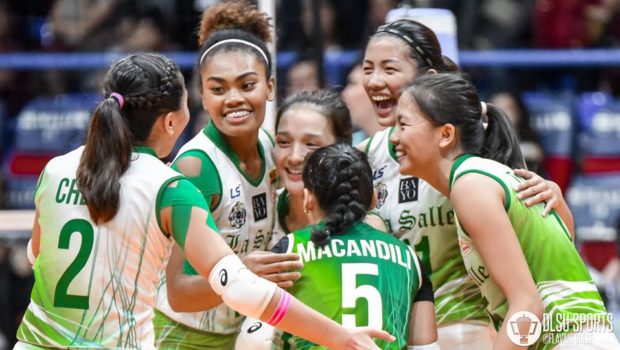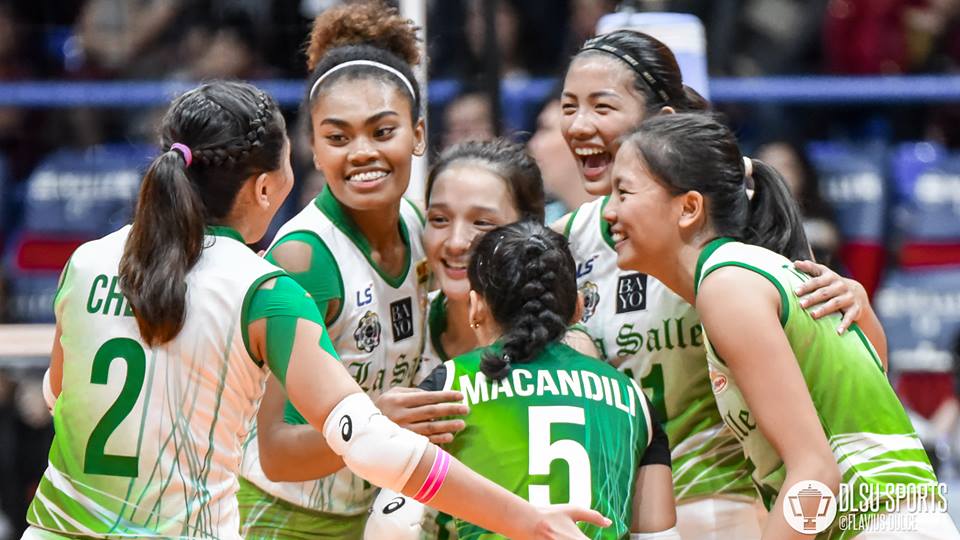 Published on February 14th, 2018 | by Khyte Mendoza
0
Lady Spikers outlast Lady Tamaraws in five sets to stay perfect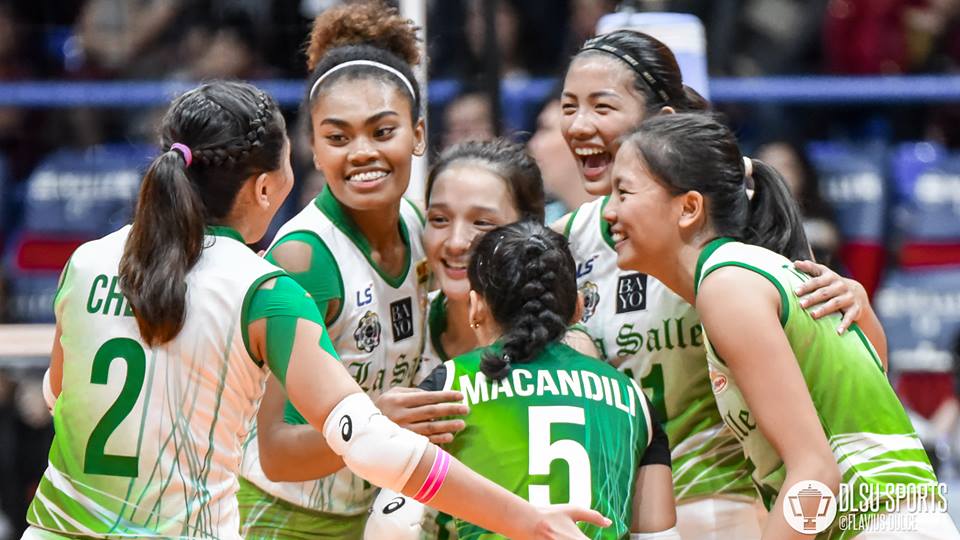 The De La Salle University Lady Spikers overcame a scare from the Far Eastern University Lady Tamaraws, 25-22, 25-17, 24-26, 23-25, 15-17, in a nerve-wracking collision in the first round of UAAP Season 80 Women's Volleyball Tournament at the FilOil Flying V Arena, earlier today.
This is the second five-set match for DLSU in three outings and the Lady Spikers have won them both; improving to an unblemished 3-0 record.
Dawn Macandili was hailed as the Best Player of the Game with 34 excellent digs and 13 excellent receptions. Kim Kianna Dy posted 18 points, 15 coming from attacks and two from blocks. Last year's MVP MaJoy Baron added 16 markers, while Aduke Ogunsanya and Desiree Cheng chipped in 11 and 10 points, respectively. Michelle Cobb had 49 excellent sets.
With a 5-0 blast to open the game, La Salle continued to pound on FEU and built a 10-point lead as they did not look back to clinch the first set.
Coach George Pascua's crew showed more fight in the second set, but DLSU showed composure down the stretch to deny an FEU comeback. The Morayta-based squad committed a combined 25 unforced errors in the first two sets wherein DLSU took advantage.
La Salle had an 8-3 lead in the third canto as they looked to finish the match in three sets. The Lady Tamaraws, however, had other ideas in mind. FEU stayed close to the Taft spikers as much as they can until the latter made enough breathing room. Baron put her team into match point, 24-22, but back-to-back errors from Dy and two straight points from Bernadeth Pons and Cayuna extended the game.
FEU started out hot in the fourth frame as they built a five-point edge after a 1-2 play from Gel Cayuna. DLSU kept within shouting distance, trimming down the lead until an ace from Cheng tied the set at 22-apiece. The Green side, though, shot themselves in the foot with crucial errors at the end of the set. Heather Guino-o capped the set with an ace.
Both teams kept it close in the early moments of the fifth set. Coach Ramil De Jesus decided to send in Arriane Layug for Cobb to add some height on the front line and it paid dividends as La Salle blasted into a 9-5 lead. FEU tried to get back into the game, but the deficit was just too much to overcome and their consecutive errors were costly with Cheng eventually sealing the victory for the Lady Spikers.
Pons led the scoring for the Lady Tams with 21 points. Celine Domingo tallied 12 points including five blocks for the FEU side who slid down to a 1-2 card.