Lady Spikers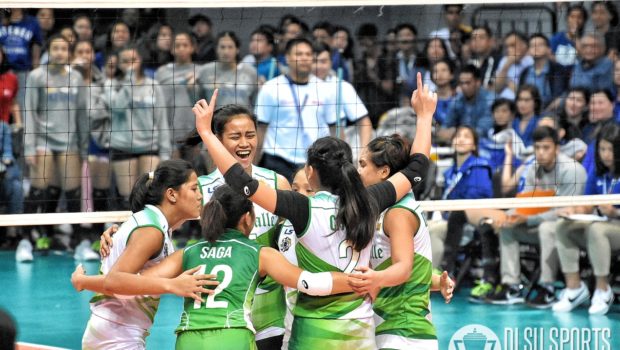 Published on February 27th, 2019 | by Renee Canlas
0
Lady Spikers receive third straight win against the NU Lady Bulldogs
Photo by: Jempoy Pimentel
The De La Salle University (DLSU) Lady Spikers notched their third win of the season against the National University (NU) Lady Bulldogs in four sets, 25-10, 20-25, 27-25, 25-22, earlier today, February 27, at the Filoil Flying V Centre.
The Lady Spikers jumped off to a 2-0 lead to start the first set of the game, with a spike down the court by team captain Desiree Cheng. The Taft-based team held on to their lead, 8-2, with a service ace from Aduke Ogunsanya. However, Princess Robles gave a powerful spike against the Lady Spikers to keep the Lady Bulldogs within striking distance, 10-15. La Salle continued to ride on to their momentum scoring four straight attacks from Ogunsanya and Jolina Dela Cruz. The Green and White claimed the first set with a strong spike from Dela Cruz.
Both teams started strong in the second set. The Lady Bulldogs chased the Lady Spikers with three straight attacks from Audrey Paran to tie the set, 11-all. However, the defending champions did not stop from scoring with a crosscourt spike from May Luna. Robles and Ivy Lacsina of the Lady Bulldogs continued to score for their team with their powerful attacks. The former delivered a crosscourt attack to give the second set to the Lady Bulldogs.
The Taft-based squad started the third set with a 5-0 lead off an attack from Cheng. Roselyn Doria answered with an ace to cut it to a 7-10 deficit. Cheng continued to come alive with a powerful crosscourt spike. Paran then tied it up after a quick spike from the Lady Bulldog, 21-all. From then, the Lady Spikers continued to score and ended the set with an off-the-block attack by Luna, 27-25.
In hopes of finishing the game in the fourth set, Cheng and Luna fired attacks to the Lady Bulldogs, 5-3. Lourdes Clemente scored in the middle, erecting a three-point lead for the Lady Spikers. Cheng took charge by scoring consecutive points with her strong attacks, 11-7. Attacks and spikes from Ogunsanya, Luna, and Clemente embarked a 4-point lead, 21-17. However, Lacsina from the Lady Bulldogs broke down the wall of La Salle. Cheng finished the game with a powerful spike, 25-22.
Both veterans of the Lady Spikers, Aduke Ogunsanya and May Luna scored new career-highs with 13 points apiece in the game. Super rookie Jolina Dela Cruz also delivered a career performance with 12 points.
Lourdes Clemente, who is playing for La Salle in her first and only playing year in the UAAP, was awarded the Best Player of the Game with five points coming from four attacks and one ace.
Catch DLSU Lady Spikers in their next game against the UP Fighting Lady Maroons on Saturday, March 2, 4 PM at the Smart Araneta Coliseum.