Lady Spikers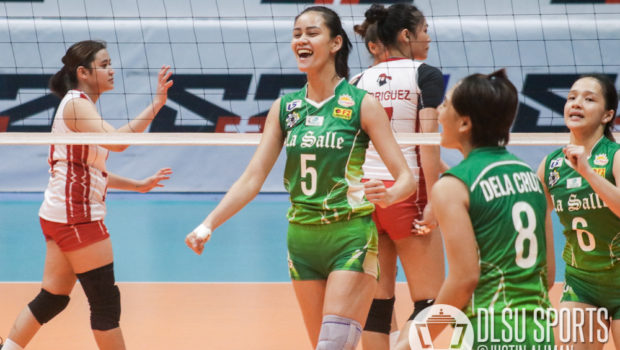 Published on April 24th, 2019 | by Robin Reyes
0
Lady Spikers retain winning form in rout of Lady Warriors
Photo By: Justin Aliman
The De La Salle University (DLSU) Lady Spikers won a crucial match against the University of the East (UE) Lady Warriors in straight sets, 25-17, 25-16, 25-19, earlier today at the Filoil Flying V Centre.
The penultimate match of the regular season had different stakes for both squads. On one hand, it was the game that clinches at least a playoff game for a semis advantage for La Salle. On the other, it was a non-bearing match for a UE squad going through the motions. Nonetheless, the match featured a competitive atmosphere from both teams.
Fresh off from beating the top-seeded Lady Eagles, the Lady Spikers got off to a solid start but the Lady Warriors matched their effort. The opening set went back-and-forth as UE kept up with La Salle's pace. The set was in a deadlock at 13 apiece when the Lady Spikers mounted a run to pull ahead by four, 18-14, as UE called for time. The ceasefire did nothing to stop the momentum of the Lady Spikers. La Salle maintained a steady pace to end the set, 25-17.
The second frame was identical to the first set. The Lady Warriors went blow-for-blow with the Lady Spikers. The set was in another deadlock at six apiece and La Salle went to work again. The Taft-based squad blasted the Lady Warriors going on an 11-4 run to pull away, 17-10. From then on, the Lady Spikers never looked back and swiftly ended the set.
UE once again kept the third set close, always within striking distance of the defending champions. The set looked like it could go both ways when La Salle got going yet again and mounted a crushing 4-0 run capped by a miscue from the side of the Lady Warriors.
UE tried to regain their footing off a timeout, cutting the deficit to two, 19-17, but the Lady Spikers would not relent. Back-to-back hits from Des Clemente and Des Cheng, extended the lead to four, 21-17, prompting UE coach Dimaculangan to call timeout.
The Lady Spikers were unfazed by the breather and went on to win the set. Consecutive hits from rookie Ynna Hatulan got the better of the Lady Warriors' defense promptly ending the match.
Aduke Ogunsanya won Player of the Game honors, scoring 10 points on eight attacks, one block and one ace.
Catch the DLSU Lady Spikers (10-3) as they try to enter the final four on a high note, taking on the FEU Lady Tamaraws, on April 28, Sunday, 4 PM at the Filoil Flying V Centre.