Lady Spikers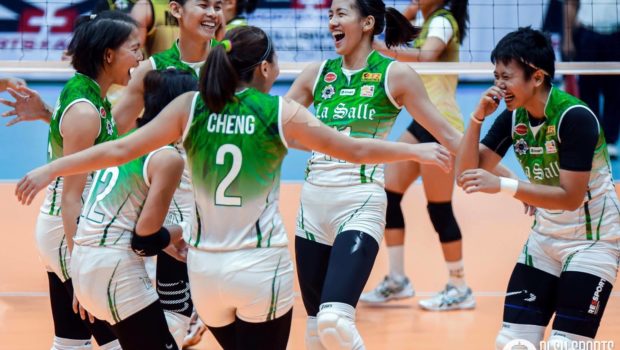 Published on March 29th, 2017 | by Genrev Josiah Villamin
0
Lady Spikers secure semis bonus with mastery over Golden Tigresses
The DLSU Lady Spikers extended their winning streak to five games at the expense of the UST Golden Tigresses, 25-23, 25-22, 25-21, Saturday at the Filoil Flying V Arena in San Juan.
Desiree Cheng powered the team with 13 points built on nine attacks, one block, and three service aces.
After opening the first frame with a 4-1 lead, the Lady Spikers trailed for most of the set. Tin Tiamzon later knotted it anew at 19-all. The rest of the set instantly became a see-saw ride for both teams. However, La Salle held on and was able to take the driver's seat late, 23-22. DLSU never looked back and claimed Set 1, 25-23, in a come-from-behind fashion.
In Set 2, the ladies in Green picked up where they left off. They established an early 10-5 cushion over the ladies in Yellow. Furthermore, Cheng extended her team's distance to seven points, 15-8. UST tried to make a run by trimming DLSU's edge to four points at 18-14. With La Salle leading UST at 22-17, Dawn Macandili almost single-handedly towed the Lady Spikers with her two digs to keep the rally alive. They eventually prevailed in Set 2 with a three-point margin, 25-22.
The Lady Spikers started Set 3 waxing hot just like their previous sets. Kim Dy was taken out of the court after suffering a minor sprain following an awkward landing on her ankle. Despite playing Dy-less for the rest of the set, the defending Champions showed their composure. They played a tight game against UST before pulling away in the endgame. The Green and White took Set 3 and the match, 25-21.
The DLSU Lady Spikers will face the Adamson University Lady Soaring Falcons on Wednesday at the SM Mall of Arena for their 11th win and sixth consecutive.