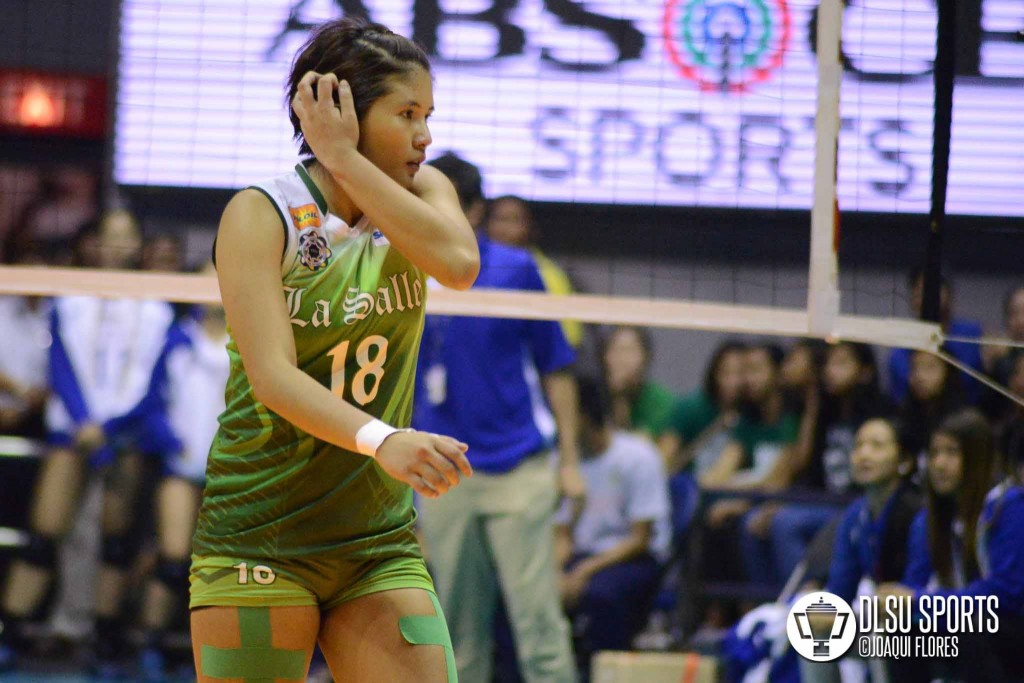 The DLSU Lady Spikers dropped game one of their finals series against the ADMU Lady Eagles in straight sets, 18-25, 19-25, 19-25.
The DLSU Lady Spikers came out of the dugout wearing their identical Ara Galang shirts as a tribute to their captain who suffered a season-ending injury in their previous game. Ara Galang, despite her injury, still wore her jersey and stayed in the bench with her team. She was also seen talking to her squad during timeouts and intervals.
Just like how they promised, the Lady Spikers fought their hearts out the entire game. It was quite evident that they missed Ara Galang's presence inside the court but it was equally evident that each player tried to step up in their captain's absence.
First year player Eli Soyud was given the task to fill the gap that Ara Galang left on the starting lineup while Desiree Cheng got the starting nod at the utility position. The first set started really close with both teams exchanging strong spikes and neither team getting enough momentum to mount a big lead but in the latter stages of the set, La Salle lacked the consistency to sustain their hot start.
The following sets went the same way with DLSU keeping it close early but losing focus and composure down the stretch. The third set was slightly tighter than the first two, with the Lady Spikers throwing successful combinations and trick plays but Ateneo was still able to pull away late in the set. They simply did not have an answer for Alyssa Valdez who scored a game-high 25 points. On the bright side, DLSU's scoring was well balanced in this game with the top scorer, Cyd Demecillo getting 10 points, Eli Soyud getting 8 and Majoy Baron getting 7 points.
After a suffering a hard blow from Ara Galang's injury, the DLSU Lady Spikers were unfortunately faced with another nightmare in the last few moments of the game. Camille Cruz, who was being subbed in and out the entire game for defensive purposes was given an opportunity to attack for the first time late in the third set but landed awkwardly on her right knee. It was like déjà vu as Camille fell at the exact same spot as Ara did just the game before. As of writing it is still not known what the extent of her injury is. One could only hope that is it not another ACL tear as Camille had previously torn her ACL twice.
The Lady Spikers will have another shot to stop the streaking Ateneo Lady Eagles from capturing the championship as they face each other once again on Saturday, 3:30pm, at the Mall of Asia Arena.