Lady Tennisters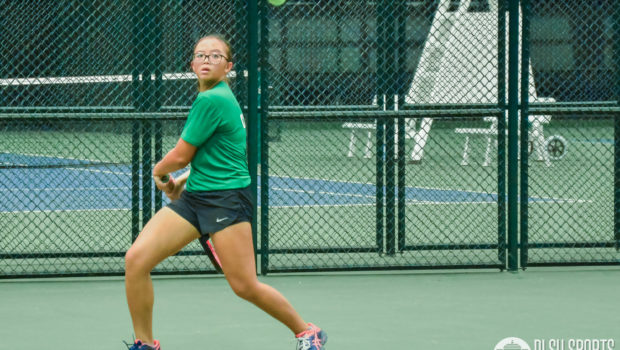 Published on March 18th, 2019 | by George Aladin
0
Lady Tennisters stretch winning streak to four to start Round 2
Co-written by: Genrev Josiah Villamin
Photo by: Arantxa Del Mundo
The De La Salle University (DLSU) Lady Tennisters topped archrivals Ateneo Lady Eagles, 4-1, in a tightly contested match yesterday, March 17, at the CSA Bulacan Tennis Courts.
The Lady Tennisters opened their second round campaign with a victory to extend their winning streak to four. Furthermore, they kept their solo spot at first place with a 4-1 win-loss record.
Akiko De Guzman led the Lady Tennisters' campaign with a three-set win against Nicole Amistad. De Guzman claimed the opening frame, 6-2, before her opponent forced a deciding set after taking Set 2, 7-6. The Lady Tennister remained composed during the final set to seal a dominating win, 6-1.
The duo of team captain Jed Aquino and Arianne Nillasca won after a thrilling battle against Jana Hernandez and Jana Pages. After losing the first set, 3-6, the Taft-based pair bounced back and did not allow the Katipunan-based squad to pick up the first doubles. They took the second and third sets, 6-3, 6-2.
La Salle continued its streak as Aubrey Calma emerged victorious in the second singles over Janelle Llavore. In another intense match, Calma won the opening period before Llavore forced a do-or-die set. However, the Lady Tennister would not be denied as she took the last set, 6-2.
The series of three-setters did not end there as the long-time rivals contended in another extended match. In the second doubles, Kiezl Diaz and Jenni Dizon were on the verge of losing to Bettina Bautista and Alexis McLean after a 4-6 defeat in the first set. They were able to find their rhythm after taking down the Ateneo duo in the last two sets, 6-2, 6-4.
Ateneo's Shaira Hope Rivera finished the day with a victory against La Salle's Angel Santiago in the lone straight-set match of the game, 6-2, 6-2. Nonetheless, the Lady Tennisters already had the last laugh over the Lady Eagles.
The DLSU Lady Tennisters (4-1) look to stretch their winning streak to five as they face the UP Fighting Lady Maroons (2-4) next Saturday, March 23, 11 AM at the same venue.