Lady Tankers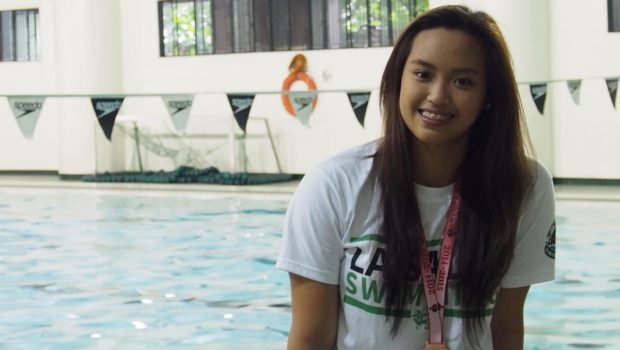 Published on October 14th, 2014 | by Deion Bandril
0
Learning the strokes: Mariel Carandang, part of the Tankers' family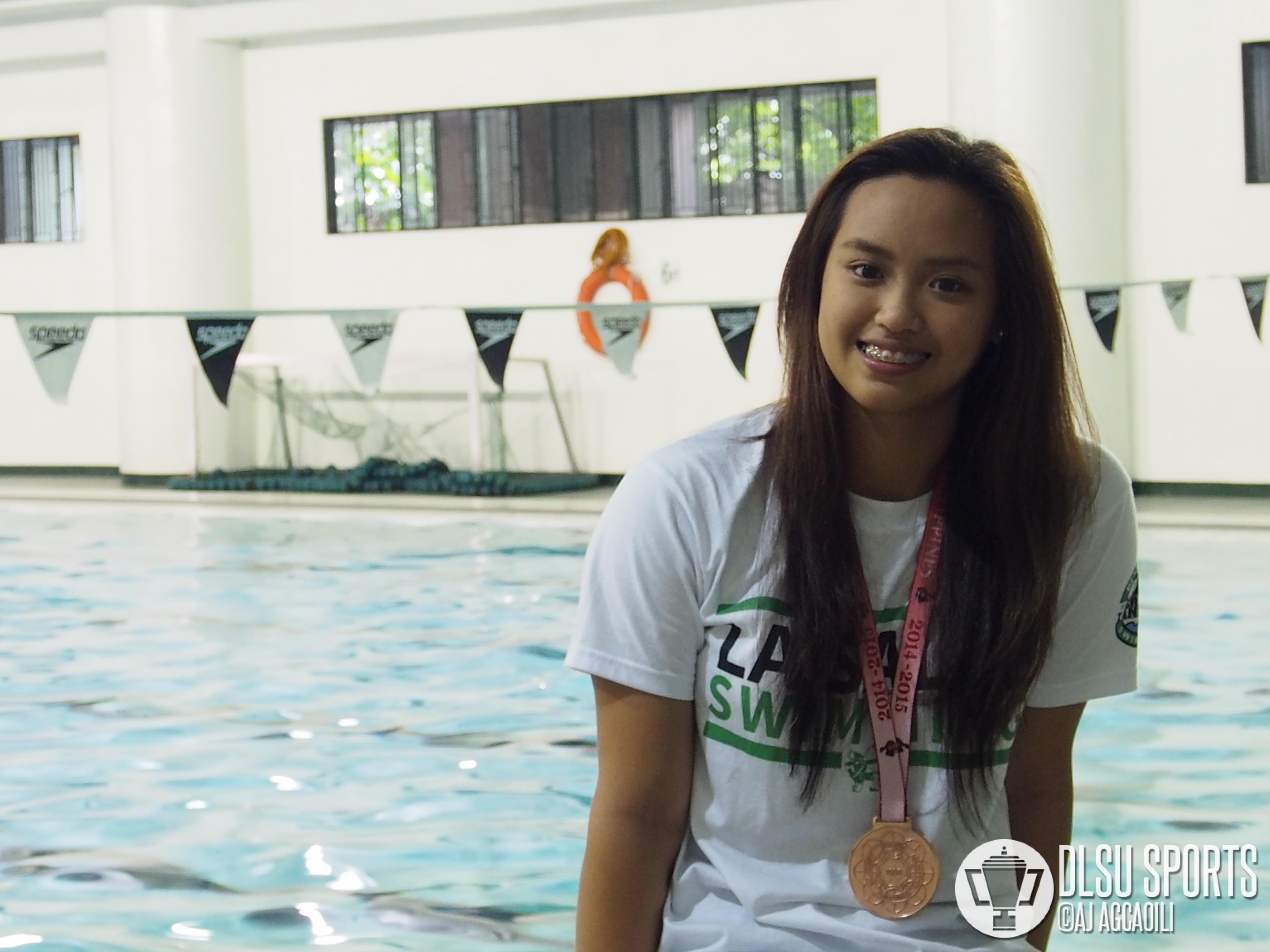 The Green and Lady Tankers finished right in the middle of this season's UAAP swimming tournament, at fourth and third places, respectively. After the conclusion of the tournament, take a glimpse of a Lady Tanker rookie Mariel Carandang's view on her new family.
"I'm really honored that I'm representing DLSU. I've wanted to swim for La Salle ever since I was in high school. It's really exciting and nerve-racking. It's good, it's an honor," said Carandang on fulfilling her dream to play for the University.
Transition
The transition to the UAAP competition can be tough as all of a sudden practices and trainings elevate to another level. The rookies are being put to the test to see if they could handle the pressure in the UAAP-level.
In truth, Mariel has been associated with the team since her high school days as her brother was a former Tanker coach. With her constant training with her brother, she has familiarized with the level of competition of the Tankers.
The transition was both easy and hard as described by Mariel. Having established close relations already it was easy for her to adapt to the new 'family'. However, the Tankers have a new coach for the season which became a challenge for Mariel.
"It's all new. I've been training with my brother and I know how he works. Also I've met the team since high school. Because of them I've learned to love La Salle. With the new coach, new training programs and new ways to look for other ways to improve myself," assessed the Lady Tanker.
The Rookie Experience
In the tournament, Mariel only reached the preliminaries in all single matches. She competed in four individual matches where she ranked 12th for the 50-meter back stroke, 13th for 100-meter freestyle and 100-meter back strokes, and 16th for the 50-meter Fly category. She then capped her rookie year via a bronze medal finish in the 200-meter freestyle with her teammates Maria Tuano, Cristina Guanio, and Sarah Castañeda.
"It was pretty good, my times were okay. I like it because mas nag-bond 'yung team having been together for four days the whole time. And makikita mo talaga yung team spirit, especially when everyone's cheering for you and they'll be there for you," she recalled of the four-day tournament at Rizal Memorial Stadium.
All about Heart
Mariel came into her first UAAP season very nervous knowing that she'll be going against her own 'friends' from different universities. She first expected to be ignored and everyone to be feisty and competitive. However, she loves the part that she gets to compete with her new Tankers family, that she receives so much support from the Lasallian community, and that this opens an opportunity to further improve herself for the upcoming UAAP Seasons.
"(I have) so much time to improve. In swimming, I've learned that it's not all about medals. It's about beating my best time and improving throughout the years and that in each competition my times are improving. I don't wanna promise places or medals. You can expect a stronger bond from us and you can expect that we are happy. Because we know that each of us are constantly improving. It's not all about the medals and the trophies; it's about us being a family. And you'll see that from us from sure," said Carandang who is looking to make a huge splash for the team in the near future.
The graph of improvement of the Lady Tankers continuously increases but more than performances, the spirit of a family bonds the team.
"I don't want to promise places or medals (in the future but) we're going to focus on improving ourselves. We're going to work on improving our time. And then we can become more bonded as a family," quipped the rookie.
NOTE: This article was written in collaboration with Nadz Gathercole