Basketball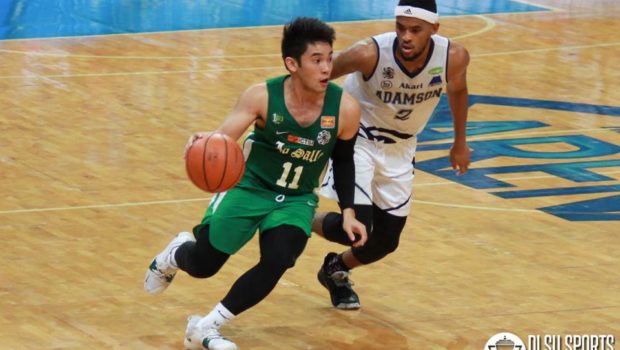 Published on October 13th, 2018 | by Khyte Mendoza
0
Melecio puts on a show anew as Green Archers outlast Soaring Falcons in OT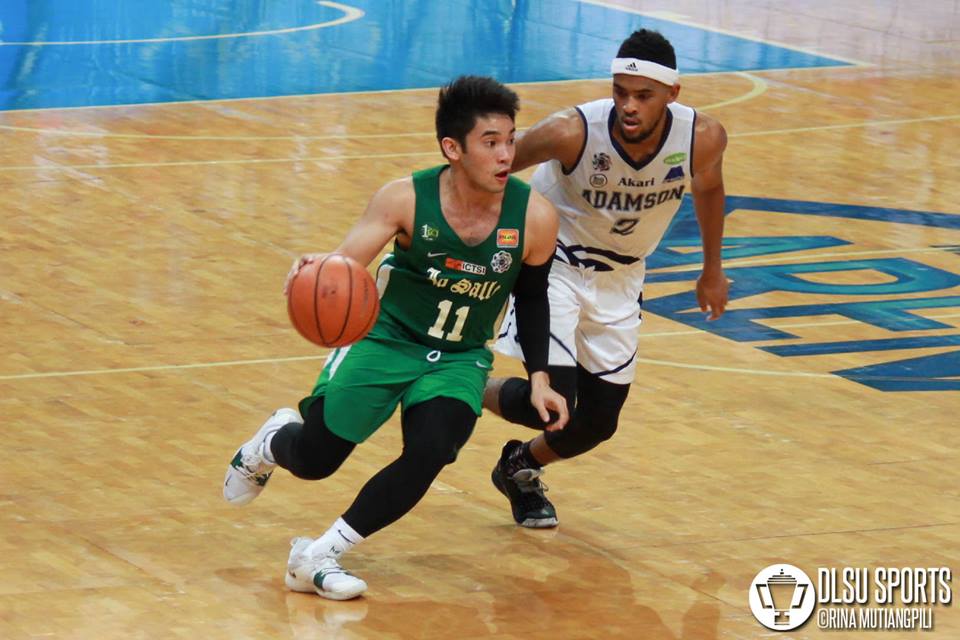 After a disappointing loss at the hands of bitter rivals Ateneo Blue Eagles, the De La Salle Green Archers bounced back to close out the first round on a high note.
The Taft squad took down the league-leading Adamson University Soaring Falcons, 79-78, in the UAAP Season 81 men's basketball tournament at the MOA Arena, Saturday.
DLSU once again leaned on the heroics of spitfire point guard Aljun Melecio who posted 22 points, four rebounds, two assists and a steal in 35 minutes of play.
The frontcourt duo of Santi Santillan and Justin Baltazar also made an impact on both ends of the floor with the former adding 16 points and nine rebounds, while the latter chipped in a double-double of 16 points and 10 boards for La Salle.
La Salle came into the first quarter with guns blazing as they built a 20-11 lead late in the opening period. Adamson finally got its feet wet, rallying back to cut the deficit to 16 to end the first.
The Green Archers tightened up their defense in the second frame. They contained the Soaring Falcons to just 1/10 shooting from beyond the arc with over 6 minutes still to go in the quarter as they stretched the lead to 10.  However, Jerrick Ahanmisi put AdU on his back. The hot-shooting guard scored the last 10 points of the San Marcelino-based crew to trail by just one at halftime, 33-32.
It was a game of runs in the second half. Both teams refused to let go as they exchange rallies from one point to another. The Archers and the Falcons found themselves all knotted at 49 at the end of the third canto.
Adamson looked like it would finally pull away as Ahanmisi gave his team a 58-51 lead midway through the fourth period. La Salle, though, had other ideas in mind, countering with a run of their own capped off by a floater from Melecio to tie the game at 64 that eventually sent the game into overtime.
The boys in green showed their experience as they left AdU in the dust, 73-64 with 2:08 left. It was not all over for Coach Franz Pumaren and his wards. The Falcons still had a lot left in them with Sean Manganti drilling a long bomb to cap off another run by Adamson, cutting the DLSU edge, 77-75, 10 ticks remaining in the game.
Fortunately for La Salle, time was on its side as they chalked win no. 4 against to 3 losses to hold solo 4th place. On the other hand, Adamson gained a 5-2 card tying Ateneo and at first.
Ahanmisi led the Falcons with 27 points and seven rebounds, while Manganti tallied 23 points, seven boards and four assists.
AdU dominated DLSU on offensive rebounding, 26-9, that resulted in 14 second-chance points against La Salle's 4.
The Green and White made 24 of 41 free throws, while Adamson only had eight in 15 attempts from the stripe.
Box scores:
DLSU 79 – Melecio 22, Santillan 16, Baltazar 16, Caracut 8, Montalbo 8, Serrano 5, Bates 2, Manuel 2, Dyke 0, Go 0.
AdU 78 – Ahanmisi 27, Manganti 23, Sarr 9, Catapusan 5, Camacho 4, Lastimosa 3, Bernardo 2, Colonia 2, Espeleta 2, Magbuhos 1, Mojica 0, Pingoy 0.
Quarter scores: 22-16, 33-32, 49-49, 64-64, 79-78 (OT).