Basketball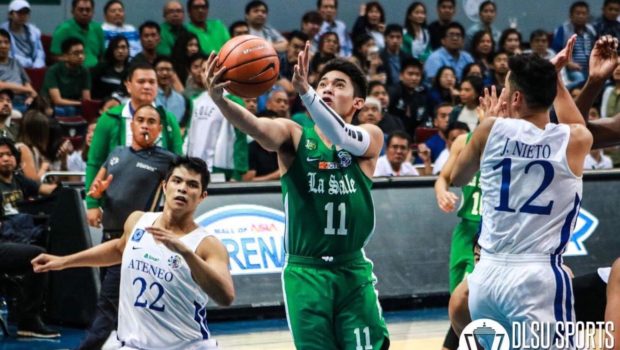 Published on October 6th, 2018 | by Gabriel Minamedez
0
Melecio's 21 not enough as Green Archers fall to Ateneo
A valiant effort from Aljun Melecio was turned away as the De La Salle University (DLSU) Green Archers fell to archrivals the Ateneo de Manila University (ADMU) Blue Eagles, 55-71, on Saturday at the Mall of Asia Arena.
Melecio led the game in points with 21 but Ateneo's firepower caught La Salle off guard with red-hot shooting from beyond the arc by the former and a multitude of turnovers by the latter.
Albeit the final score as it is, the first quarter was a tightly contested one, showcasing some classic Ateneo-La Salle action. Melecio kicked off the game with a three-pointer, followed by a Baltazar layup to put the Archers up, 5-0. Ateneo stayed in the game with efficient perimeter scoring, including a shot by Anton Asistio from downtown to put the Eagles up, 12-7. La Salle would then proceed to score six straight to lead the first, 13-12.
The second quarter was a tough one for La Salle. After a tug-of-war first couple of minutes, Joaqui Manuel was able to hit a three to push DLSU to an 18-16 lead. Unfortunately, that was the last lead that La Salle was able to enjoy. Ateneo went on a huge 12-0 run, capped by a Thirdy Ravena three to push the lead to double digits, 28-18. Melecio was able to stop the bleeding with a three of his own to cut the lead entering the second half, 21-28, but it was an indication that La Salle had work to do.
La Salle had high hopes entering the third quarter, starting it all off with a putback from Justine Baltazar to slice the lead down to five. Ateneo eventually responded with an intense 7-0 scoring run that ballooned the Blue Eagle lead, 35-23. Santi Santillan muscled in an and-one to put it back down to single digits, but it was all Ateneo from then on. Tyler Tio off the bench poured in five including a wide open triple that sent the Ateneo crowd into frenzy. It was 50-33, Ateneo to end the third frame.
La Salle never wavered in the final canto, as they did for the whole game. After a series of trade-offs, Melecio led the team to cut the lead down to just fourteen, 54-40. Reigning Finals MVP Thirdy Ravena had something to say back, in form of another deep bomb to put Ateneo back up 57-40. La Salle tried another run in them with consecutive baskets from Santillan and Serrano, inching closer to 60-48. Raffy Verano then hit a dagger triple from the corner to halt the Archers' rising momentum. Kib Montalbo and Aljun Melecio teamed up to try and lead a miracle comeback, but it was a little too late for the Green and White. Ateneo gets round one, 71-55.
Aljun Melecio led a valiant effort with 21 points and 7 rebounds. Santi Santillan was second in line with 7 points and 7 rebounds.
Big man Angelo Kouame held his own for Ateneo with a double-double of 20 points and 13 rebounds. Anton Asistio added 12 points off 4 of 5 shooting from deep, while Thirdy Ravena had an all-around outing with 9 points, 4 rebounds, and 6 assists.
La Salle concludes their first round basketball action against the Adamson University (AdU) Falcons on Saturday, October 13 at the Mall of Asia Arena.
Bounce back, Green Archers! Animo La Salle!