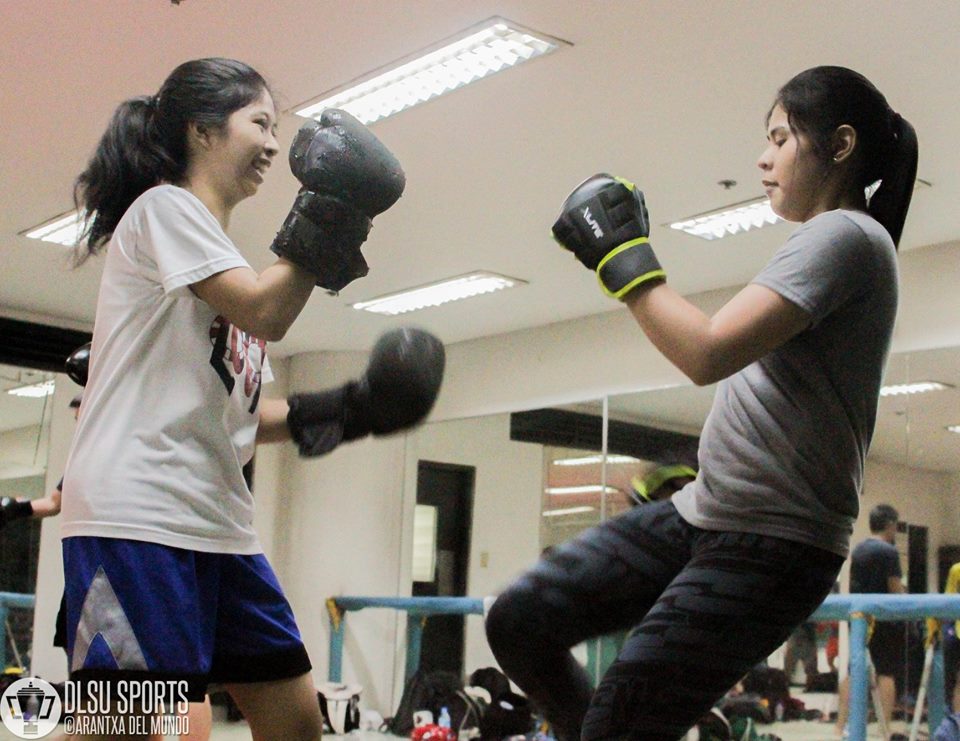 Written by Karsten Villarin and Cheska Erfe-Mejia
The De La Salle University Muay Thai Club look to defend their throne in the 2nd ASCEND Tri-school Amateur Muaythai Tournament on Saturday, April 14 at the LS Martial Arts Center in Ateneo de Manila University.

Looking Back
Muay Thai La Salle was founded in 2015 by alumnus Psychology student, Patrick Que. It started out as a small club with less than 10 members. Currently, there are only two remaining core leaders in the team: Alex Bondoc and Jolo Teves. Bondoc is a graduating Manufacturing Engineering student, while Teves is a Mechanical Engineering alumnus.
Que not only founded, but also coached the club. Aside from being a student of Kru Andre Puertollano, he was also a core member of Team Jaakphukao. He shared what he learned from Puertollano to the Muay Thai players of the University.
One of the goals of Muay Thai La Salle is to have Muay Thai as an official sport in the University Athletic Association of the Philippines (UAAP). Along with this, the team aims to spread their love and passion for the martial art.
After three years, it is an official club under the DLSU Office of Sports Development.
In the 1st ASCEND Tri-school Amateur Muaythai Tournament held last year, Bondoc defeated his counterparts in the Lightweight Division and claimed victory. He is now the defending champion for the Lightweight Division, under 130 pounds.
Pre-fight Preparations
Coming off a fresh start, the second edition of the same tournament will be the second event Muay Thai La Salle will compete in. The tri-school tournament features the same three Jaakphukao camps: Muay Thai La Salle, Muay Thai Ateneo, and Muay Thai UP.
The Taft-based Thai boxers toughen up as four contenders are chosen to represent the team. Bondoc and Teves look to strive for greatness to kickstart another opportunity for the Lasallian wing of Team Jaakphukao. Coaching them in their quest to remain undefeated are Puertollano and head coach Lyll Cordeño.
Cordeño sees La Salle as the younger team. But, it will not be a hindrance as long as they will train hard for the win. He said, "It's called Martial arts, so it's an art–not just a fight."
Puertollano, the head and founder of Team Jaakphukao, trains and disciplines the Green and White fighters as well. When asked about how he can help the team improve, he stated, "Muay Thai is violent in nature. But for me, we have to go beyond that. When we teach it, it's not about the aggression. It's about the quality of the technique."What Awaits
The tournament is composed of three divisions: Lightweight, Middleweight, and Welterweight. Each fight consists of three three-minute rounds.
As the club go on to gain experience, the dream of giving Muay Thai the recognition as an official sport of the UAAP and stepping into that level of competition remains ablaze.
Witness Muay Thai La Salle as they fight for greatness in the 2nd ASCEND Tri-school Amateur Muaythai Tournament on April 14 at the LS Martial Arts Center in Ateneo de Manila University.