Basketball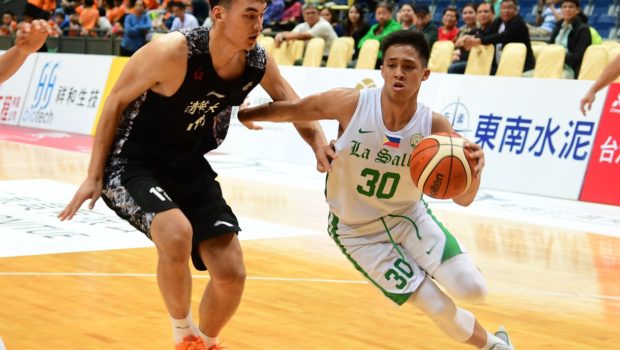 Published on July 3rd, 2018 | by Gabriel Minamedez
0
New-look Archers start BLIA Cup title defense on right note
KAOHSIUNG, TAIWAN – The games don't stop for the De La Salle University Green Archers as they wallop Tsinghua University, 103-86, to kick off the 2018 BLIA Cup University Tournament on Tuesday.
After a stint in the 2018 Fil Oil Flying V Cup where the Green and White bowed out to Far Eastern University in the quarterfinals, the Archers went right back to work to bounce back in another tournament: an international cup in Taiwan consisting of eight other universities from the United States, Canada, Australia, France, and China.
The backcourt tandem of Aljun Melecio and Andrei Caracut proved to be lethal at the expense of Tsinghua, as the duo combined for 35 points.
Adding to the problems of Tsinghua is the towering trio of La Salle, as Justin Baltazar (12), Brandon Bates (12), and Te Samuel (11) were too much for the Beijing-based university. Mark Dyke also chipped in 10 points for DLSU.
With the win, the Green Archers start the tournament on the right foot at 1-0, picking off right where they left off from last year's BLIA Cup where La Salle sweeped their five games en route to the title.
La Salle will next face Japan's Nagoya Gakuin University tomorrow, July 4 at 2:00pm.
Featured image courtesy of 3 Good Sports Association (三好體協) via Facebook.