Lady Paddlers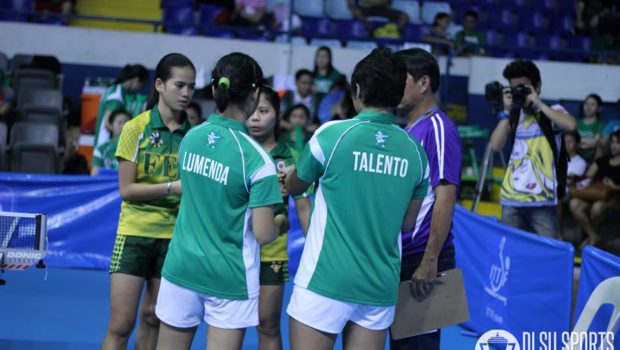 Published on October 1st, 2014 | by DLSU Sports
One More Chance: Lady Paddlers enter finals against UP, dismantle twice-to-beat FEU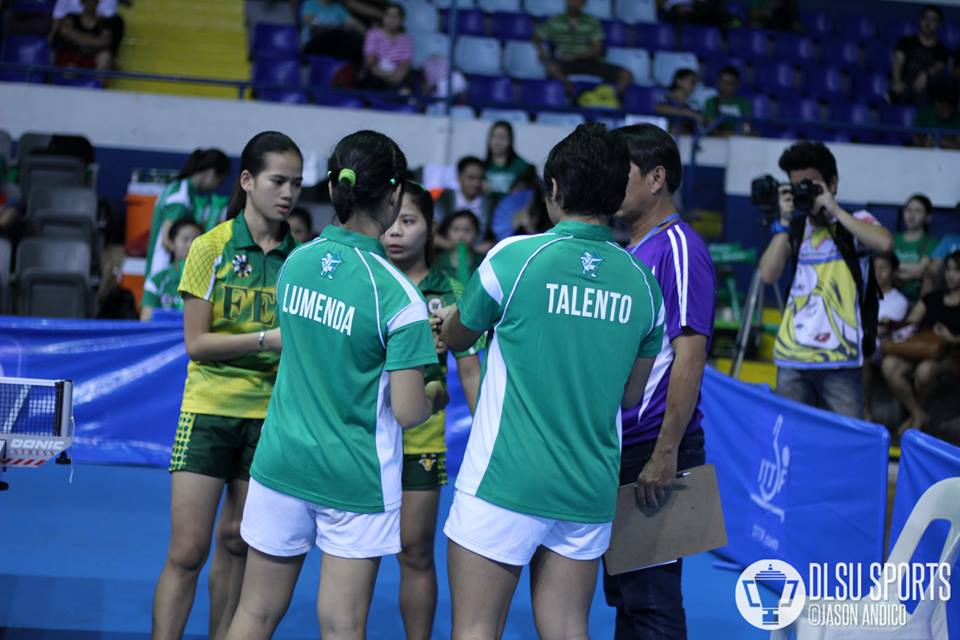 Needing to defeat the same opponents twice in one day, the Lady Paddlers successfully wiped out FEU's twice-to-beat incentive earlier at the Blue Eagle Gym. As a result, the women's table tennis team arranged a repeat of last year's finals against UP.
The second game took a game less to finish than the first, which went 3-2 in favor of La Salle. The series went full circle after the Lady Paddlers took the first two games through wins by Ina Co and Ian Lariba. Not letting their foes blow past them, FEU scored the next two games courtesy of the Jasmine Jaro and Fatima Soya duo and Shamiela Pineda. A deciding game featured Donna Gamilla and Josephine Talay of FEU. Experience played a big part for Gamilla to scrape past the Tamaraw Rookie.
The finalists of Season 76 seemed to have found their groove in the second match. In the do-or-die affair, Co and Lariba booked individual wins. The rookie Co faced fellow youngster Talay while Lariba asserted her dominance against FEU's Rose Fadol. The Lady Tamaraws briefly but temporarily halted their opponents' progression to the finals with their golden pair of Soya and Jaro stopping Talento and her new partner Mardeline Carreon. That was FEU's last hurrah after Gamilla disposed Pineda in four sets.
Captain Lariba, on behalf of her team, expressed joy in earning another chance of winning the women's table tennis crown. She added, "What's done is done, everything goes back to zero," pointing out the irrelevance of their previous encounters.
Personally, the captain insisted that she did not want to let her team down as she keeps her dream of recapturing the title alive. Aside from that, she is proud of her teammates for giving their best in an exhausting but definitely rewarding campaign. "They played their brands of game for themselves also."
Moreover, Lariba highlighted how helpful their confidence level is during games. "It is not that we are bragging about how we play, we see it as a way of boosting our confidence while playing."
A finals rematch of Season 76 beckons and Lariba only had one thing to say. "Like how we approached today's games, it simply goes back to zero."
Finals of the UAAP Season 77 happens tomorrow at the Blue Eagle Gym with the Lady Paddlers hoping to redeem themselves from last year's unfortunate conclusion against UP. Meanwhile, the Green Paddlers also return to action and more importantly holding a thrice-to-beat advantage, a reward for their elimination round sweep.