Football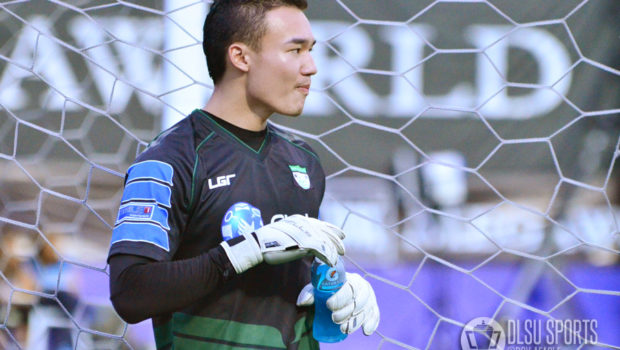 Published on May 1st, 2014 | by DLSU Sports
0
Patrick Deyto: Making His Mark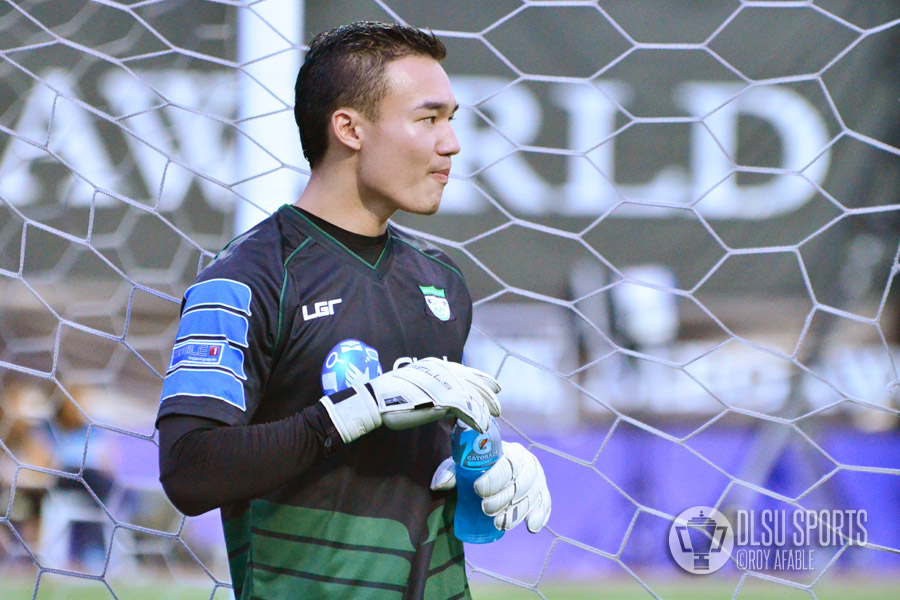 The rise of the Philippine National Men's Football Team, commonly known as Azkals, showed that the country can again be part of the world's most popular sport. Their emergence in the international football stage paved way to increase our country's competitiveness in the sport. As the team seeks for a more formidable line-up, they searched for talented individuals, both here and abroad, who are willingly to don the country's colors. It has been a long time since a Lasallian has been selected in the national men's football team and has been part of the starting squad. Last March 1, a Lasallian made a history in the squad: the 24 year old Former Green Booter goalkeeper and skipper Patrick Deyto.
Patrick, a Business Management graduate, started his football journey when he was young. His father encouraged him to join extracurricular activities in De La Salle Zobel. "It was a personal choice for me… and I chose football," he said. Being already a Lasallian in high school, he did not have any hesitations to continue his career in DLSU. Additionally, his lifelong mentor, Green and Lady Booters Head Coach Hans Peter Smit, wanted him to add the teeth necessary to his competitive squad. "I could not really imagine myself going to another university," he told.
Patrick as the Green Booter
Despite the pressure of being a student-athlete in DLSU, Patrick knew his priorities to keep him on track of what he wanted to become. Determined to make a mark, he did not let any distractions to lose on his focus, whether be an academic or athletic demand. "I have to say that I am very good at time management," he asserted.
Carrying that attitude on court, he was named as UAAP Season 73 Men's Football Best Goalkeeper Award. Several observers noted that his playing style is comparable for some style from famous goalies such as Spain and Real Madrid's Iker Casillas or Manchester United's David de Gea, but according to him, he copies from no one. "I watch a lot of football and I look up to a lot of good players but when I play, I play my way [and] I don't try to be someone else [so] I just do my best all the time," he said. Patrick made buzz as he was named as Best Goalkeeper in the 2012 Fil-Oil IPPCA Tournament that featured several UAAP and NCAA teams.
More than the recognition of his job on the goal post, he was named as the skipper of the Green Booters on his last playing year in Season 75. "It was [a] motivation for me," he said. Patrick added that even though leadership is not one of his key strengths, he was driven to deliver the best for the team as the team and the coach gave him the trust and respect suiting for a captain. Despite not able to bring back the trophy in Taft, everyone knew that Patrick's footballing career should not go to waste after UAAP.
After graduating, Patrick made no second thoughts to continue to play football as the clear path for him and pursue the sport professionally. "Football makes my life meaningful," he said. With that, opportunity came as he became part of the Green Archers United FC as a regular starter. As GAU is participating in the United Football League, a larger number of people are now able to see him play and he has a bigger scope of building his game. He is teammates with current Green Booter Gelo Diamante and as well as Far Eastern University's Jhanjhan Melliza. Despite being teammates in college, he plays against some of his teammates like Nathan Alquiros. As for the Azkals, he plays alongside Chieffy Caligdong and competes with Phil and James Younghusband in the league. Just like any set pieces play in the sport, Patrick took this challenge with some excitement. "Time will come that we will have to play against each other and I cherish the challenge," he said.
Patrick as the Azkal
As the Azkals search for more individuals to beef up the national squad, it was unavoidable to notice Patrick's talent. On June 2012, he was listed for a call-up to face against Guam in Bacolod to join Azkals mainstays Fulham's Neil Etheridge and Philippine Army's Ed Sacapaño. "I feel flattered [as] every athlete dreams of representing his/her country [and] always a nice feeling every time your hard work is recognized but at the same time I was nervous as well." he told.
Despite Patrick was not able to play the first time, he waited patiently for his chance to come up and had his game ace up. The opportunity once again knocked into Patrick's door in March 2014. Despite being called the very last minute, Patrick agreed to join the Azkals. This time around, he does not know what to expect as the Azkals found a new coach by the name of Thomas Dooley, but Patrick is aware that the level of competitiveness of the squad will be higher. Additionally, he was now able to be more involved with the team and was able to make friends of some of his several players as well.
Due to unforeseen circumstances, Etheridge, Sacapaño and Servette's Roland Müller were unavailable. Thus, it gave Patrick's first cap for Coach Dooley's first game for the country. He forced hosts Malaysia into a draw with his saves and blocks last March 1. It was unbelievable for Patrick that he played all out during the 90 minutes. "There are no words to describe it [as] I was just so happy and so proud [about this] great achievement for me," he said. He was once again trusted to anchor the team's defense against Azerbaijan few days after. Though the team lost 1-nil through a header, most notice that Patrick has become more comfortable and confident than his first appearance.
Of course, it will come a time that Patrick has to show his talent here in the Philippine soil. Last April 27, on a nervous-filled Cebu crowd, the referee just awarded a penalty kick for the Malaysians in the 90th minute. More composed, he read the direction of the ball and was able to deny Malaysians a victory the second time and has once again chosen as the "Player of the Game".
Patrick as the Lasallian Azkal
Despite the overwhelming opportunities that are coming, Patrick does not forget where all of this came from. All he thinks that is that he is very blessed for the great opportunities given to him to share his talent that God has given him. "I am grateful to have that experience (friendlies) in my life," he said.
Now that he is vying a strong slot for wearing the gloves for the Azkals, Patrick stays true on being a "Lasallian Achiever for God and Country". Patrick never forgets that whether he was still the student or the keeper, these values will remain: patience, unselfishness, humility, self-belief, confidence, and most of all trust in God.