Taekwondo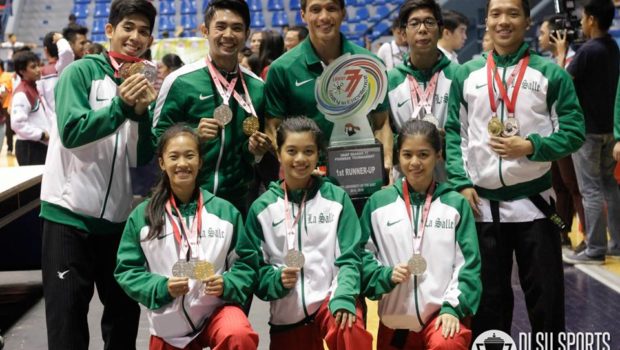 Published on September 19th, 2014 | by Kim Leong
0
Poomsae jins manifest progress in snaring silver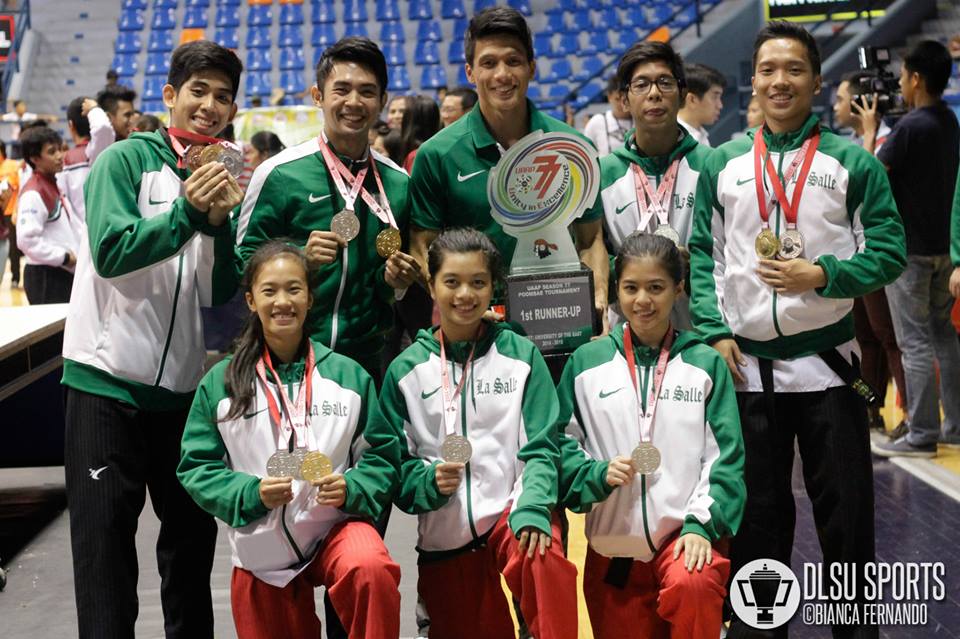 "Rising like a phoenix," this is one way of describing the amazing performance put up by the DLSU Poomsae team during the final day of the UAAP Taekwondo Tournament last September 18 at the San Juan Arena. Presenting the perfect blend of discipline, grace and excellent execution, the team showed that although they ended up fifth last year, they are still more than ready to steal the championship as they were simply bested by UP by a mere .13 points in aggregate score this year–used as a tiebreaker due to similar medal hauls of two golds, two silvers and one bronze.
Stunning the enemy
The Taft based poomsae squad quickly stunned the competition by delivering an award-winning performance during the beginning of the day. Although only grabbing a bronze in the individual men's division as he succumbed to UST and UP, Raphael Mella heralded the near dominance to be exhibited by the much improved team under the guidance of Coach Jean Pierre Sabido who is currently a member of the Philippine National Team.
Under his training which Coach Sabido reveals to put an emphasis on mental training and discipline, the DLSU Poomsae team began denying the UST squad of the Poomsae sweep they were able to pull off last year. Beginning the assault was rookie Rinna Babanto who claimed DLSU's first gold of the day for her performance in the women's individual division as she shut down both UST and FEU as well as its only silver along with Raphael Mella in the mixed pairs division behind UST and trailed UP. Raphael went on to win DLSU's second and last gold medal along with Justine Andal and Sidney Lopez in the men's team division.
Room for improvement
While successfully exerting a force difficult to contend with, the DLSU Poomsae team is not without weakness. Although claiming a medal in most of the poomsae division, lack of players in their disposal took its toll on the team in the women's team division composed of dedicated poomsae players Rinna Babanto, Kristi Hernandez, and sparring player Cleio Banez who was the only one to fail to place in the top three. Asking about the reason behind it, Coach Sabido explains that it was brought out by the lack of poomsae players which forced him to also train the latter in the art of poomsae, further explaining about the difference between the two, he shares "poomsae needs at least a year to master with a team, we weren't able to do that while the other teams did". He expressed his hopes that come next year his aim to have a full line up of dedicated poomsae players to finally grab UP's championship will be realized.
Photos of the UAAP 77 Poomsae Taekwondo Tournament can be viewed by clicking the link below:
UAAP 77 Poomsae Taekwondo Photos