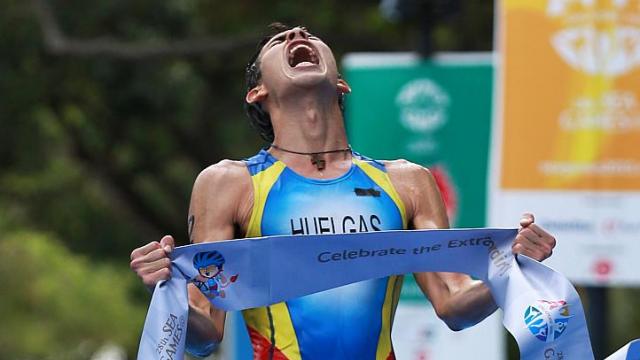 Various DLSU athletes and coaches from different disciplines represented the Philippines at the recently concluded 2015 Southeast Asian Games. These Lasallians were able to successfully bring home medals and of course, pride for the country.
Table Tennis
Reigning UAAP champion, UAAP MVP, UAAP Athlete of the year and captain of the DLSU Lady Paddlers, Ian Lariba represented the country in Table Tennis. She participated in all three table tennis events: Women's Singles, Women's Doubles, and Mixed Doubles. Lariba fell short in grabbing a podium finish but she was able to showcase her prowess during the games where she competed in. Lariba gave her opponents a difficult time and she never showed signs of giving up even at times when the score was not in her favor. The Philippines finished 5th in the medal tally for the Table Tennis events.
Taekwondo
Green Jin Raphael Enrico Mella and Lady Jin Rinna Babanto represented the Philippines in the Poomsae events. Enrico Mella, together with Jacob Mella and Rodolfo Reyes Jr. won the gold medal in the Men's Team Poomsae where they garnered a final score of 7.850, while Rinna Babanto won the Silver Medal in the Women's Individual Poomsae event after tallying a score of 7.480. Babanto also participated in the Women's Team Poomsae event where her team finished 3rd overall.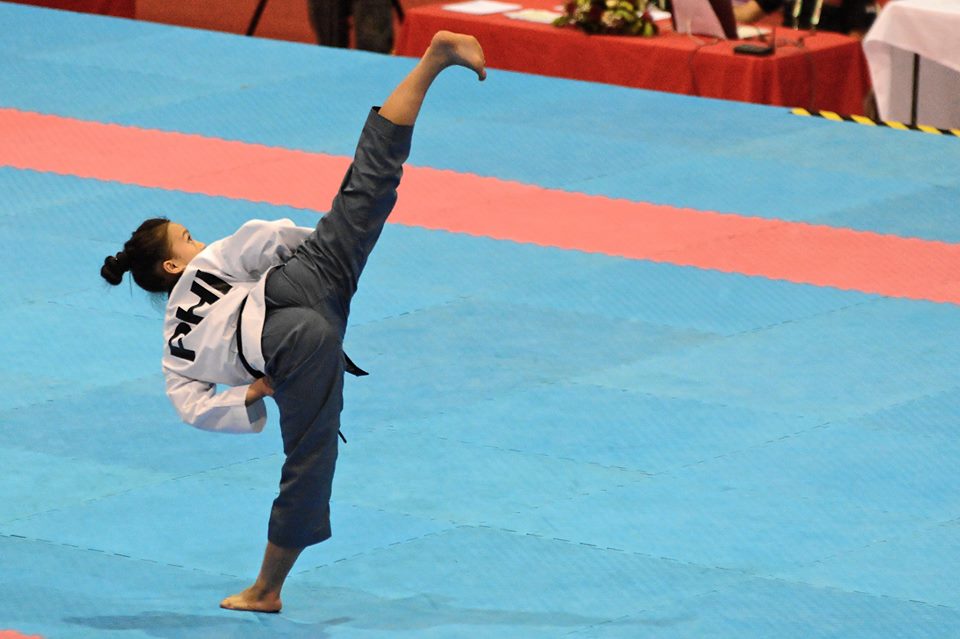 "In preparation for the SEA Games we trained for five hours straight for conditioning, and Poomsae with checkings" says Rinna "I am so grateful that I was able to contribute a medal for the Philippines. God has given me so much blessings".
Football
Green Booter Nathan Alquiros was part of the Men's Football team of the Philippines. Unfortunately, the Philippine men's football team finished 10th overall after suffering defeats from all the teams that they faced.
Volleyball
Former two-time UAAP Most Valuable Player and former captain of the DLSU Lady Spikers Aby Maraño, was part of the women's volleyball team which represented the Philippines in the SEA Games. The team only won one game and finished last in the event but showed heart and pushed their opponents to the limit.
For Aby, it was the short preparation time that the team ultimately lacked, "we had a month of preparation and I think that's why we fell short. We lacked in preparation compared to other countries that train all year round. I think it's something we need to work on".
Despite not landing a podium finish, Aby remained optimistic as she learned a lot from her experience in the tournament, "I've learned that I am still young to stop learning more about the sport that I love" says Aby "After seeing all the other players from the SEA Games, I told myself that I need to strive more. I want to be like them so I got to be more disciplined and dedicated".
Overall, Aby cherished every bit of her time at the SEA Games, "the experience was a blast! It is a privilege to represent our country that is why we enjoyed every single day that we are playing for our country".
Triathlon
Former Trackster and Green Tanker Nikko Huelgas topped the men's triathlon event. He timed in an impressive 2:04:32, a little over a minute ahead of the second placer from Malaysia. Huelgas grabbed the Sea Games gold after a balanced performance where he was 4th in swimming, 2nd in biking and 1st in running.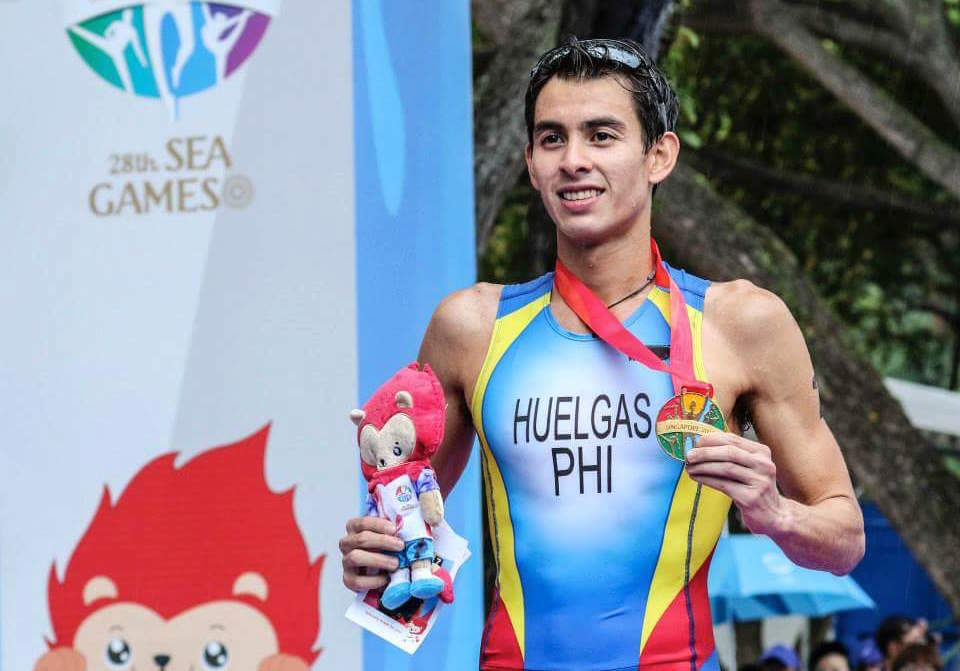 Nikko considers his discipline and resilience as the main factors that contributed to his victory, "you have to always think positive and bounce back from your failures as soon as possible and move forward" says Nikko. His 3-month training camp in Portugal, which prepared his body for the race and the help of his teammate Jonard Siam to boost his confidence also contributed to his successful run according to Nikko.
Winning the gold medal was a dream come true for Nikko Huelgas, "It feels amazing and I was fulfilled to be able to achieve my dream that involves not only benefiting myself but the people around me. This is for the Filipino people".
Fencing
DLSU Green Fencer Gian Rodriguez, former Lady Fencers Gabriella Estimada and Geisha De Leon, and coaches Gian Carlo Nocom and Almario Vizcayno all represented the Philippines in the Fencing events. Gabriella Estimada brought home two medals in separate events, a Silver in Women's Team Epée and a Bronze in Women's Team Foil. Gian Rodriguez participated in the Men's Individual Epée and finished 10th overall. Coach Gian Carlo Nocom finished 6th overall in the Men's Individual Sabre. In the Women's Team Sabre, Geisha De Leon and three others finished 5th overall. Coach Almario Vizcayno was part of the Men's Team Epée that finished 6th overall.
Athletics
Green Trackster Patrick Unso did not fail to bring pride in the Athletics event. He won the Bronze Medal in his specialty and lone event, 110m Hurdles. His run set a personal best and a new Philippine record of 14.12 seconds.
Patrick's father is a former SEA Games 400m hurdles gold medalist and 110m hurdles silver medalist. "To be honest, there is pressure but it doesn't come from the fact that my dad was a gold medalist but because I've worked so hard just for the opportunity to be able to compete there" says Patrick "with the support of everyone, I believe it's just right that you pressure yourself to give it your all".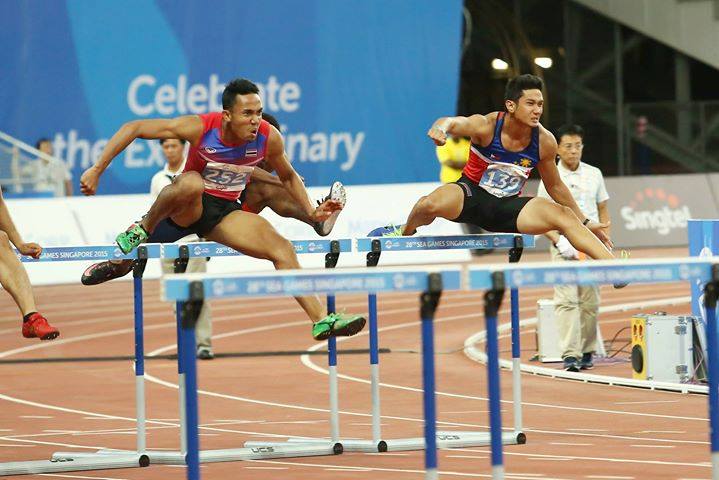 Patrick dedicates his win to God and all those who believed in him, "I dedicate this first of all to God, who made this all possible, my parents, my coach, and of course my friends who I know will be there whether I finish first or last".
Basketball
Former Green Archers Almond Vosotros, Norbert Torres, and Prince Rivero were all part of the Gilas Cadets squad which won the Gold Medal after a convincing win against Indonesia, 72-64, in the championship game. Vosotros, who was a starter for the team, played the role of being the zone breaker for the Philippines. In the semifinal match against Thailand where the Philippines trailed most of the way, it was Almond's hot shooting from beyond the arc that contributed greatly to the huge comeback that the Gilas Cadets mounted to gain a ticket to the Finals. Norbert Torres and Prince Rivero on the other hand played quality minutes off the bench, getting much needed rebounds for the team. The Philippines continued its reign of being the top dogs in Men's Basketball in all of Southeast Asia after bagging yet another Gold Medal in this year's SEA Games.
All the training and hard work have indeed paid off for all these athletes as being chosen to represent one's country is a feat on its own. Medal or no medal, these Lasallian athletes can hold their heads up high. They made not just the DLSU Community, but the whole Philippines proud of what they have accomplished in the 2015 Southeast Asian Games.
This article was written in collaboration with Arnold Cagang.