Basketball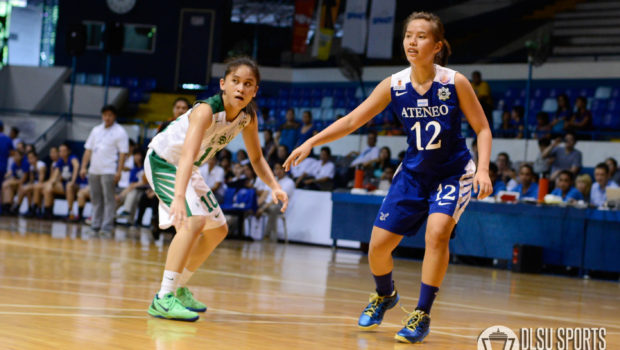 Published on August 3rd, 2014 | by DLSU Sports
0
Resilient Lady Archers survive Ateneo to stay invincible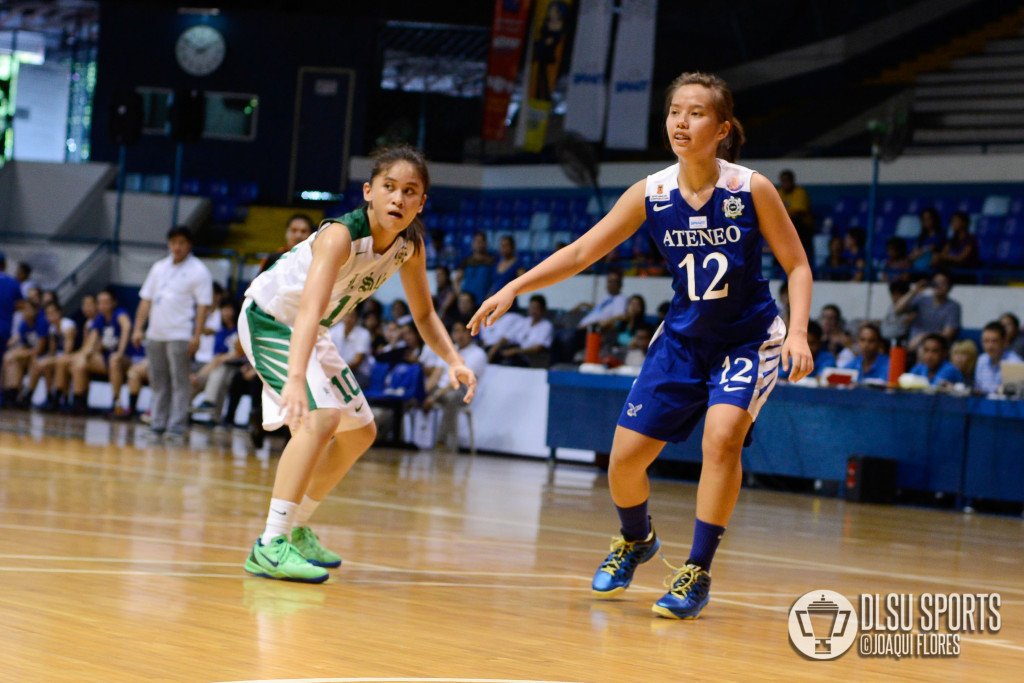 The DLSU Lady Archers remained undefeated after notching their fifth straight victory at the expense of the Ateneo Lady Eagles, 48-39, earlier today in the UAAP Women's Basketball Tournament at the Blue Eagle Gym.
Cass Santos led the scoring with 8 points, 4 rebounds and 1 assist while Trisha Piatos converted 7 markers and 4 assists. Point guard Miller Ong stood out with an astonishing total of 12 rebounds that proved crucial for her team to gain the upper hand throughout the final canto.
The Lady Archers overcame a quiet start in the first quarter to stay ahead of their archrivals all throughout the contest. Falling 7-0 early to Ateneo, the Taft-based cagebelles eventually regrouped to prevent the Lady Eagles from getting more easy baskets.
A Steph Vergara trifecta at the start of the second quarter established a nine-point lead in favor of DLSU, 20-11, starting a rally for the Green-and-White squad to dominate the boards with ease. The Lady Archers banked on a solid display in transition defense to limit their archrivals. It proved effective as the Lady Eagles only made six points throughout the entire second period which ended 29-17, in favour of the Lady Archers.
La Salle showed no signs of losing steam coming into the second half after Piatos and Nicole Garcia converted shots from three-point land to inflate the reigning champions' lead to 20. With the Lady Eagles struggling to find field goal opportunities, the Lady Archers relied on their pick-and-roll plays and rebounds to maintain their control of the game. A pick-and-roll play by Piatos and Inna Corcuera closed out the third period to attain a 44-29 lead.
"We have to be smarter. In the endgame, it's all about mental toughness. It's about how you execute, not losing aggressiveness. That's what we need to improve on," DLSU coach Tyrone Bautista commented about his team's performance.
Ateneo would not go down without a fight as the Lady Eagles mounted a 10-4 run to keep within striking distanceof La Salle in the final canto. Plagued by fouls and missed field goals, the Lady Archers struggled offensively as Ateneo's center Danica Jose stepped up to earn several rebounds in preventing DLSU from regaining offensive rhythm. Sensing urgency, La Salle played good defense to prevent Ateneo from scoring without difficulty en route to any looming comebacks.
Up next for the Lady Archers are the FEU Lady Tamaraws whom they will face at the Blue Eagle Gym on August. 6. The duel was supposed to take place on July 16 but was postponed due to precautionary measures taken by the league on Typhoon Glenda's anticipated impact near the Metro Manila area.