Basketball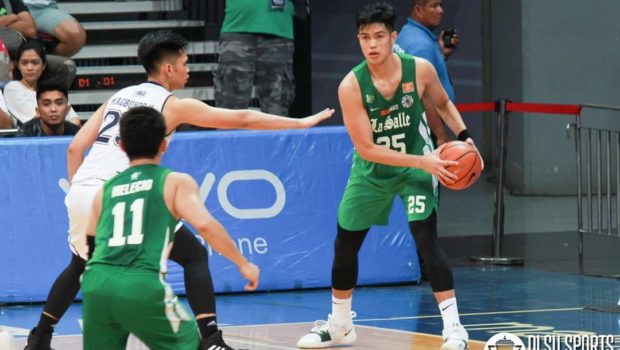 Published on November 7th, 2018 | by Jhenel Laus
0
Santillan propel La Salle in crucial win against NU
The De La Salle University Green Archers grabbed third straight win, 84-77 after sweeping the National University Bulldogs in the elimination round of the UAAP Season 81 Men's Basketball Tournament at the Araneta Coliseum.
The Green Archers started the opening quarter strong with a 13-3 run. However, the NU Bulldogs had their own 10–2 counter-run to cut the Archers lead down to 2 with less than a minute to go in the first period, 15-13. Green Archer Mark Dyke gave La Salle a four point lead to end the quarter, 17-13.
The first minutes of the second frame, the Taft-based squad were able to keep their composure. However, National U's John Lloyd Clemente found his rhythm scoring 14 of his 19 points in the second period alone and lift his teammates that outscored La Salle in the quarter scoring, 21-27. DLSU trailed by 2, 38-40 at the end of first half.
The Green Archers were trading baskets against the Bulldogs throughout the third period. Archers Santi Santillan and Andrei Caracut led the Green and White with combined 18 points of DLSU's 27 point third quarter score which reclaimed their lead, 65-62.
An intense battle entered the fourth and final period with both squad trying to make their own series of runs. La Salle led by as much as 7 with less than 5 minutes in the game, 75-68, but Dave Ildefenso was on fire thereafter who scored 6 straight points for the bulldogs together with a step back from beyond the arc that cut La Salle's lead down to one, 75-74. DLSU's big men Santillan and Baltazar dominated the paint to increase their lead by four, 79-75 and Joaquin Manuel nailed a game winning triple with 1:12 remaining in the game, 82-75.
At the end of regulation, DLSU Green Archers claimed their crucial and third straight win against the NU Bulldogs, 84-77.
Santi Santillan led the Green Archers with 18 points and 5 boards while Archer Andrei Caracut and Aljun Melecio scored with 13 apiece. Joaquin Manuel contributed with his career high 10 points and shot 50% from the Field.
Meanwhile, NU's Dave Ildefonso and John Lloyd led the Sampaloc-based squad with 20 points and 19 points, respectively.
The DLSU Green Archers climbed to 8-4 record as they will pour their hearts out to bounce back against archrival Ateneo De Manila University Blue Eagles and will try to clinch their 9th win to enter the Final Four berth on Sunday, November 11 at the Araneta Coliseum.
BOX SCORES:
DLSU 84 – Santillan 18, Caracut 13, Melecio 13, Baltazar 11, Manuel 10, Go 6, Dyke 6, Bates 4, Serrano 3
NU 77 – D. Ildefonso 20, Clemente 19, Yu 7, Gallego 7, S. Ildefonso 5, Rike 4, Gaye 4, Joson 4, Sinclair 3, Diputado 2, Malonzo 2.