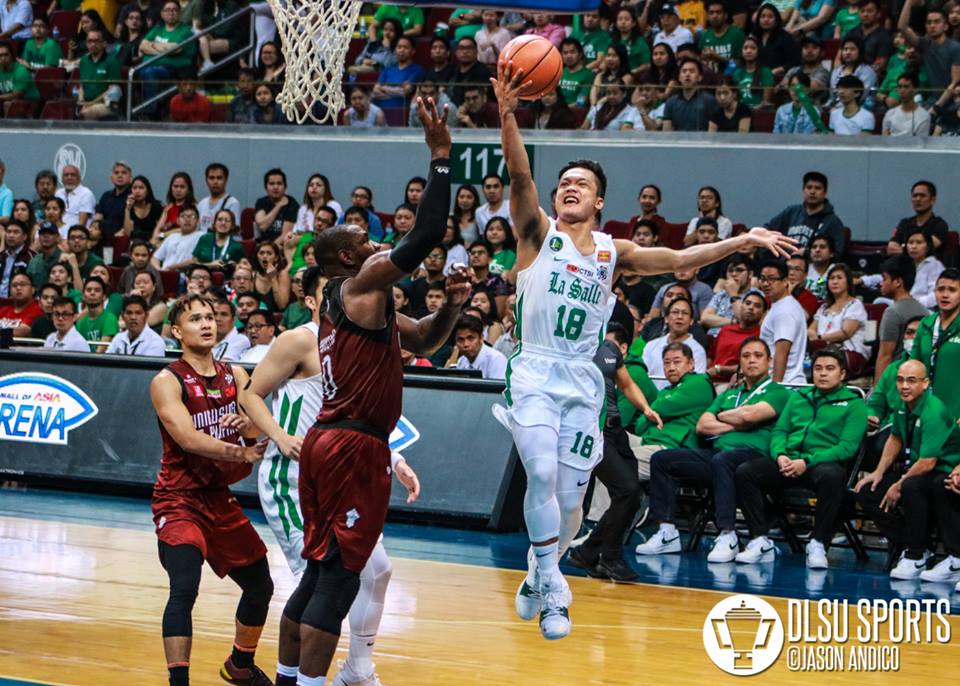 (FILE PHOTO)
The De La Salle University (DLSU) Green Archers started the second round with a dominating 79-59 victory over the University of the East (UE) Red Warriors in the UAAP Season 81 men's basketball tournament at the Mall of Asia Arena in Pasay City. Wednesday.
La Salle improved to 5-3 and is now tied for third place with the Far Eastern University Tamaraws.
Encho Serrano recorded his career-high in scoring with 18 points together six rebounds, two assists and two steals. Andrei Caracut added 16 points, six boards and two dimes, while Santi Santillan and Justine Baltazar chipped in 13 and 12 markers, respectively, including seven rebounds apiece.
DLSU also matched their season-highs in bench points and steals with 40 and nine respectively.
The Green Archers began the game hot as they built a 10-point edge in the opening quarter, but a late 5-1 run from the Red Warriors kept the latter within striking distance, 21-16, after the first.
The Taft squad caught fire in the second frame as they unleashed a 16-2 blast to balloon their lead to 16, 44-28. UE, though, rallied back to trim its deficit down to 11 at halftime.
Coach Joe Silva and his crew waxed hot to begin the third period with his team chopping La Salle's advantage down to three, but the Green and White showed resilience and took advantage when Alvin Pasaol was on the bench. They turned to their defense and smooth-sailing offense to stretch the lead back to 17, 66-49.
It was all DLSU in the final quarter as UE could not get anything going. The Archers' bench, then, took care of business on their way to the win.
Pasaol once again had himself a show againts La Salle, tallying 22 points and 17 rebounds, while Cristopher Conner posted 12 and seven.
DLSU 79 – Serrano 18, Caracut 16, Santillan 13, Baltazar 12, Melecio 8, Manuel 3, Montalbo 3, Bates 2, Corteza 2, Dyke 2, Capacio 0, Go 0.
UE 59 – Pasaol 22, Conner 12, Varilla 7, Bartolome 6, Antiporda 3, Cullar 3, Acuno 2, Manalang 2, Sobrevega 2.
Quarter scores: 21-16, 47-36, 66-49, 79-59.