Green Spikers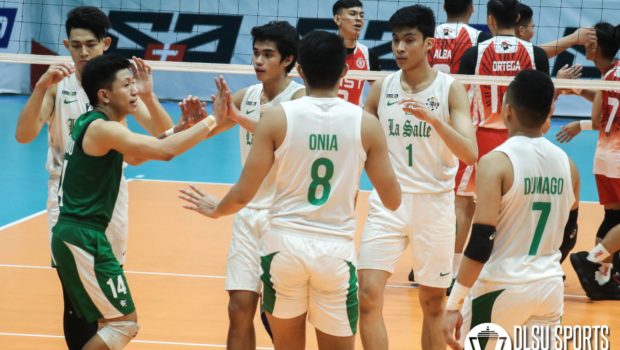 Published on March 21st, 2018 | by Gabriel Minamedez
0
Staying alive: Green Spikers cruise past UE to keep Final Four hopes burning
The De La Salle University Green Spikers showed no mercy on Wednesday as they took down the University of the East in a sweep, 25-23, 25-17, 25-15, at the FilOil Flying V Center in a valiant win to keep up with the rest of the teams vying for the remaining Final Four spots.
La Salle was determined to come out victorious, as a win would keep their Final Four hopes alive in a tight race with Adamson University and the University of Santo Tomas.
Standing in their way were the UE Red Warriors, who are aching to finally add one to the win column.
The first set started with an exchange of runs between the two teams. With the score at 23-20 in favor of the Green Spikers, a Bon Patacsil block cut and an Inoferio spike cut the lead down to one. An error from DLSU equalized the game at 23-all.
From then on, La Salle never looked back, as a JD Delos Reyes hit and an Arjay Onia block gave the Taft-based squad the opening set victory.
It was another gritty start to the set in the second canto, with a resilient UE team challenging the spikers of La Salle with their defense. A huge spike from Raymark Woo ignited a fire for the Green and White, who jumped to a 16-9 lead, and never looked back to win the set, 25-17.
The third set gave the red side all the more headaches, as La Salle's Dumago, Woo, and Onia all porvided the heroics to sweep the Red Warriors with a win at the third, 25-15.
Player of the Game honors went to Arjay Onia, who led DLSU in scoring with 18 points on 16 spikes, a block, and an ace. Raymark Woo added 14 points (11 spikes, 2 aces, 1 block) and Cris Dumago chipped in 9 points.
With the victory, DLSU now enters a three-way tie with Adamson and UST for the fourth and final spot of the semifinals, behind powerhouses NU, Ateneo, and FEU.
The Green Spikers denied the Red Warriors of a win, who still have yet to get a taste victory in Season 80.
La Salle will look to solidify a playoff berth as they take on Adamson University on April 4 at the same venue in what should be a grind-it-out match against the hungry Falcons.