Green Archers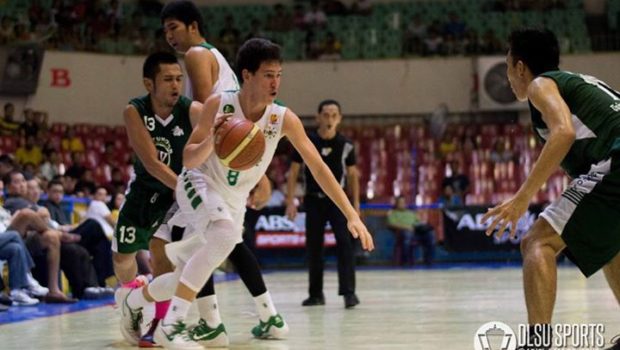 Published on November 14th, 2014 | by JC Gonzales
0
Streaking Archers romp Green Lancers to remain undefeated in Elite 8 games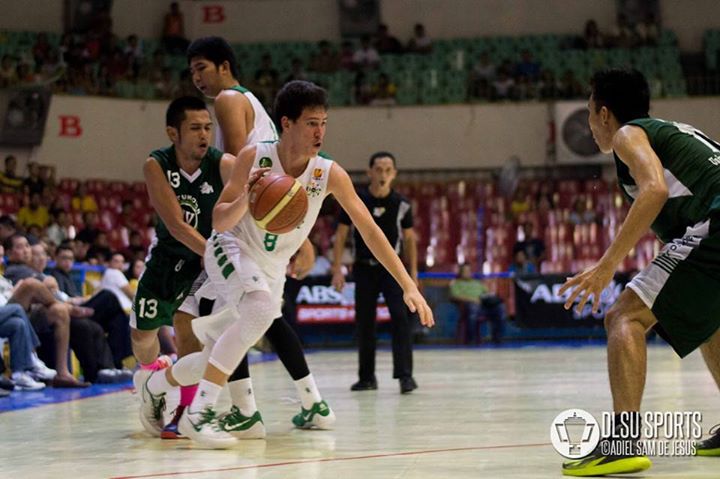 Entering the fourth quarter up by a solitary point, the DLSU Green Archers stomped the University of Visayas Green Lancers via a huge fourth quarter rally to pull away and sweep their Cebu Leg games of the PCCL Elite 8 round.
Ben Mbala paced the Archers with 19 points, nine rebounds and two rejections. Jeron Teng added 10 markers and four dimes.
The defending PCCL titleholders started the payoff period on a 15-1 spurt initiated by an unsportsmanlike foul on a Lancer in the opening minutes that dictated the tempo for the rally. Multiple consecutive freethrows and successful defensive stops helped the cause of the UAAP squad to build a comfortable margin against UV.
The fourth period showed the composure of the Archers as most of the bench players played out in the final minutes. Mbala and Teng sat down for the last ten minutes as guys like Larry Muyang, Robert Bolick, and Daryl Pascual punched in timely buckets for LaSalle. Abu Tratter even added an emphatic slam to put the Lancers away for good.
All eleven fielded Archers contributed at least three markers. Torralba sat the game out as he was advised to rest the injury he got from yesterday's game.
The Green Archers will face the San Beda up next as they fly back to Manila. The game will be on Nov.21 Friday at Ynares Sports Arena, Pasig.
The scores:
Mbala 19, Teng 10, Bolick 9, Muyang 7, Tratter 6, Mustre 5, Pascual 5, Torres, T. 4, Salem 3, Rivero 3, Montalbo 3, Torralba 0
Quarterscores: 22-21, 39-32, 52-51, 74-64