Basketball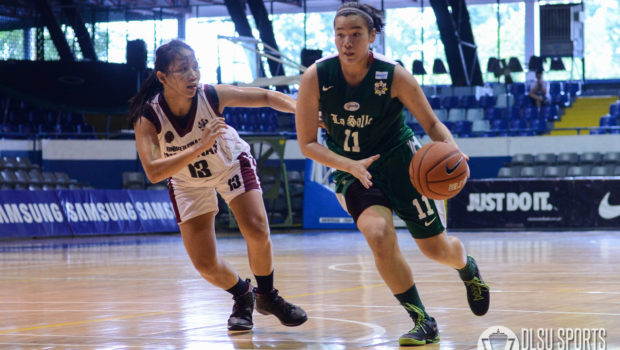 Published on July 24th, 2014 | by DLSU Sports
0
Surging Lady Archers notch third straight win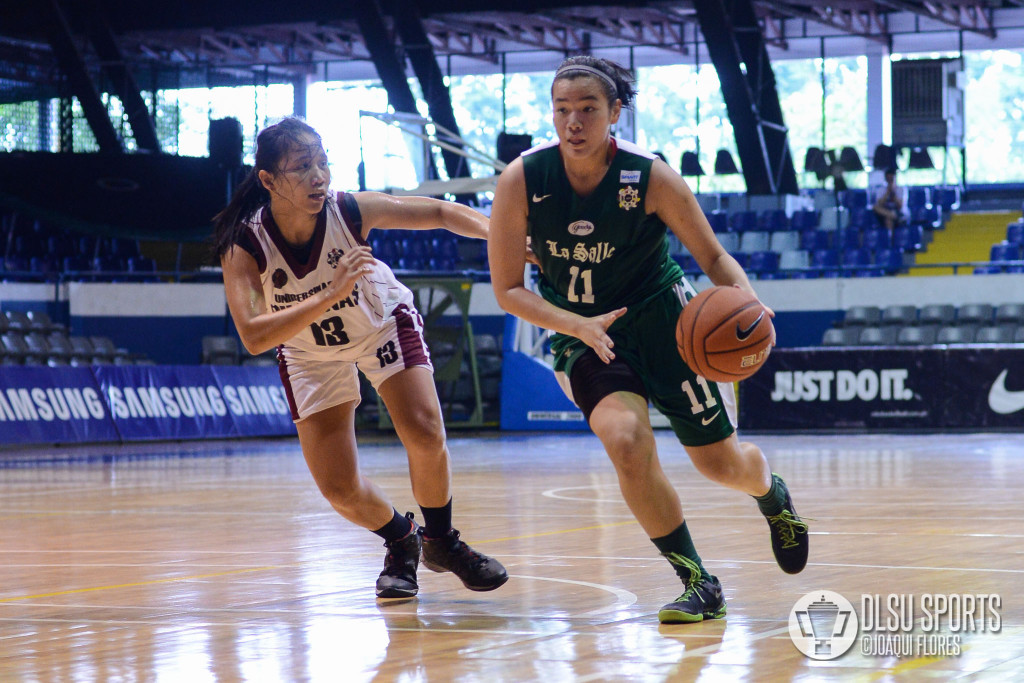 The DLSU Lady Archers notched their third straight win of the season after blowing out the UP Lady Maroons, 66-31, earlier at the Blue Eagle Gym in Quezon City.
Alyanna Ong booked 11 points, 7 rebounds and 4 assists while Chay Vergara ended up with 10 markers. In addition, Trisha Piatos cashed in 9 points along with 2 assists and 2 steals.
On the other hand, Bea Daez led UP with 6 points and 5 rebounds.
"I liked the way we defended throughout the game. Our energy level at the defensive end was what we needed to dictate the tempo of the game," said head coach Tyrone Bautista after the game.
Everything went DLSU's way throughout the second half as the Lady Archers were able to stay consistent defensively to prevent the Lady Maroons from finding any easy field goal opportunities.
With all the momentum on their side in the final period, it all proved to be a runaway victory for La Salle as the Lady Archers mounted a stunning 17-2 rally courtesy of easy baskets and clutch shots from Alyanna Ong, Fretzie Oyao and Ana Castillo which also rendered UP to struggle mightily on the offensive end.
With less than 40 seconds remaining in the final canto, a pick-and-roll play by Jamie Roxas and Martina Lumba completed game in the bag for the defending champions.
The Lady Archers look to keep their record unblemished as they are set to face the University of the East Lady Red Warriors at the Blue Eagle Gym on July 27, 1:00 pm.
Box scores:
DLSU (66) –  A. Ong 11, Vergara 10, Piatos 9, Corcuera 8, Oyao 7, Scott 5, Roxas  4, Castillo 4, Garcia 2, M. Ong 2, Lumba 2, Claro 1, Pineda 1,  Singson 0.
UP (31) – Daez 6, Tatel 5, Aliermo 5, Esplana 4, Wong 4, Lapid 3, Rodas  2, Medina 2, Pesquera  0, Bautista 0, Isip 0.
Quarter scores: 17-7, 35-19, 47-27, 66-31.
Photos of this game can be viewed in our Facebook page by clicking the link below:
https://www.facebook.com/media/set/?set=a.535700046558753.1073741989.343223135806446&type=3