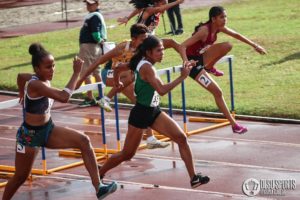 "Outnumbered but not outclassed." This is how Coach Edward Obiena defined the De La Salle University Tracksters this UAAP Season 81 as they finished with a respectable place on the PhilSports Complex in Pasig.
Both Green and Lady Tracksters ended their campaign with a 5th place after earning 5 golds, 3 silvers, 2 bronzes plus two new UAAP records and a new Philippine Triple jump record.
The Few, The Proud
Obiena and Kenneth Rafanan opened the tournament strong as they finished the first day of athletics with a gold and bronze respectively. Obiena won Gold in the Men's Pole Vault event allowing the Green and White to hear their Alma Hymn in the first day after quite some time. Kenneth Rafanan bagged a bronze medal after a strong performance in the Men's Shot Put event.
Veteran Jvee Patalud went home with the silver as he put out a strong performance on the Men's Javelin Throw event.
Captain Alvin Vergel finished the season with a 1st place finish on the Men's 110m hurdles event. As a first-time team captain, Vergel gave praise for his team's performance.
"The team was outnumbered but it never stopped us from doing our best," Vergel said, "the team exceeded expectations and even improved on their own personal bests," he ended.
#15Strong
With a mixture of rookies and veterans in the team, the Lady Tracksters improved their rank from last year's UAAP Season.
Veteran Angel Carino once again showed that she is a force to be reckoned with after she bagged not only the gold medal but also scoring a 12.72m to get the UAAP and Philippine Triple Jump Record. She also scored a silver medal in the Women's Long Jump event.
In the Women's 4×100 relay, the group consisting of Judy Ann Rendora, Elrica Guro, Melissa Escoton and Angl Carino won Silver while Rookie Daniella Daynata made her mark by bagging Gold in the Women's Discus Throw event.
Melissa Escoton got into the mix earning Gold in 100m hurdles and giving DLSU another new UAAP record in her strong performance during the last day of the Athletics in the UAAP Season.
Veteran Jewel Manaig shared her gratitude and thoughts on the team's performance this season, "Many thanks to the DLSU Community and to the OSD (Office of Sports Development) for supporting us this season," Manaig said, "babawi kami next season,  and yes fifth and standing ng both teams eh pero tatargetin namin na mag-iimprove pa"  She ended.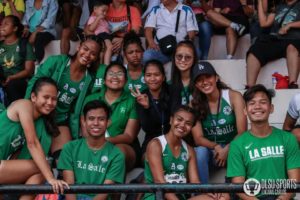 Coach Edward Obiena expressed on how he and the coaches are proud to the team's performance, "Though outnumbered and outclassed, we, your coaches are so proud of the team."
"The team finished the season better than we expected and it gave a lot of learning experiences to our rookies and veterans in the team, To God be the glory!" He added.
#4LaSalleYan, #UAAPSeason81