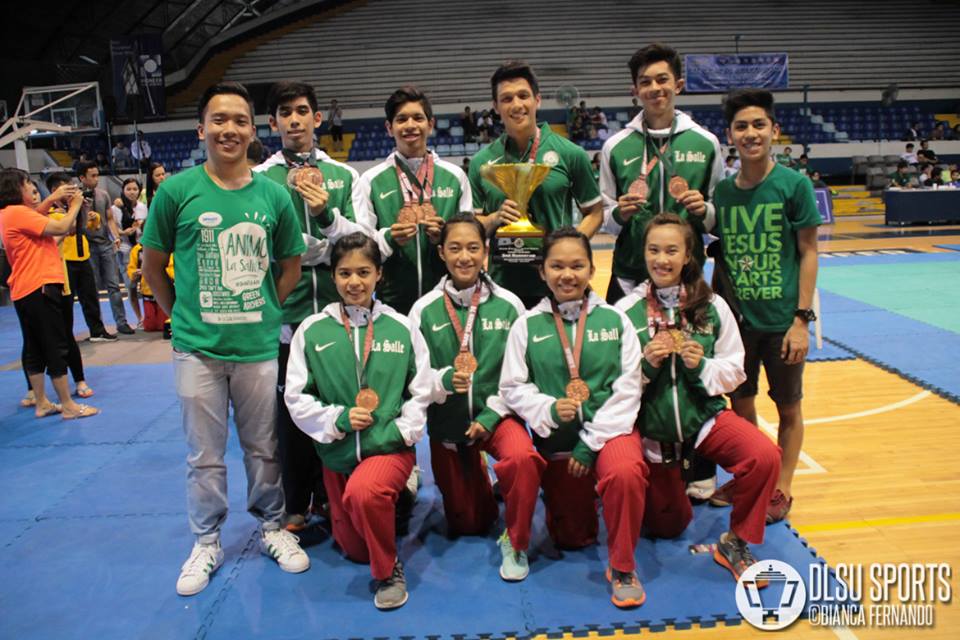 The De La Salle University's Taekwondo Poomsae team, led by Coach JP Sabido, maintained a podium finish but fell short of last year's second place finish in the overall medal standing this year, with one gold, one silver, and two bronze medals. UST reclaimed the first place spot, while UP slid to second place in the tournament which took place in Blue Eagle Gym earlier today.
Showcasing an impeccable performance of accuracy, elegance and strength, Rinna Babanto remained unbeaten in the Women's individual division since last year, with 0.85 point advantage. While her male counterpart, Mc Avyngr Alob, with 8.22 points, nabbed the bronze medal against Dustin Mella of UP and Rodolfo Reyes Jr of UST. For the mixed pair competition, the veteran duo, Rinna Babanto partnering with Raphael Mella, garnered 8.33 total score in the final round and owned the second place in the competition. Although the Women's team failed to exhibit domination in the competition, the male category composed of Raphael Mella, Mc Avyngyr Alob, and Alfritz Arevalo, put an assault by landing in the final round and also contributed the bronze in the men's team competition.
Two years since Poomsae was included in the UAAP Sports events, DLSU has revealed an immense improvement and they are continuously revealing the fruits of their meticulous training to master the art of Poomsae. With the discipline and power of each member, the future remains bright for the DLSU Poomsae team.