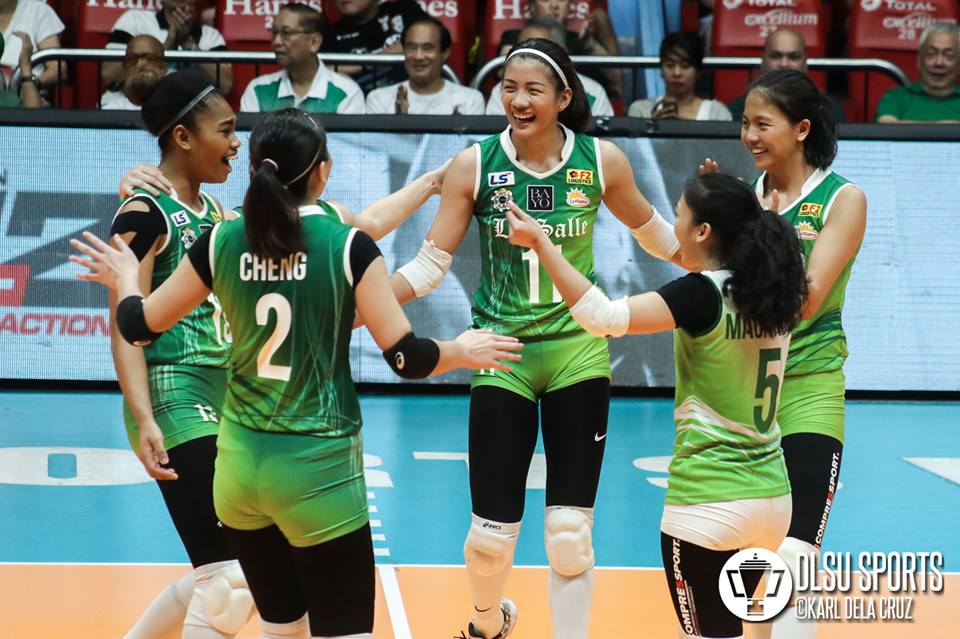 The De La Salle University Lady Spikers are in the Final Four for the 10th straight year! On Sunday, the Taft squad, who holds a twice-to-beat advantage, faces fourth seed National University Lady Bulldogs. Both teams split their elimination round games with NU winning the first in five sets, while La Salle gaining victory in the second in three sets.
DLSU Sports writers Khyte Mendoza, Karl Dela Cruz, and Genrev Villamin shared their thoughts and analyses on the La Salle-National U Final Four match-up.
Takeaways from La Salle-National U in Rounds 1 and 2:
Khyte – In their first meeting, La Salle went back to their bad habit of relaxing when they're up two sets to none. NU gained momentum after they won the fourth set and carried it to the fifth to snatch the victory. Jaja Santiago was a beast on that game. In round 2, La Salle bucked slow starts in the first two sets, then, dominated the third to sweep NU. It was a revenge game for DLSU and they proved to everyone once again that La Salle's tatak is to bounce back after a heartbreaking loss. National U peaked too early, while the Lady Spikers are peaking at the right time.
Karl – With both teams unbeaten prior to facing off in the first round, it was a virtual toss-coin match between DLSU and NU. It was an evenly matched game with NU peaking and La Salle maintaining its deadly form. I think it was just the breaks of the game and who had the momentum which allowed an NU win. It has been a recurrent problem of La Salle to be complacent when they are up two sets which may have been a factor in their loss.This may have played part in the loss but for whatever it was worth, it was surely a learning experience for the Lady Spikers. Also, NU's first-round loss against FEU revealed the Lady Bulldogs' weakness — service-reception, which La Salle and all other teams were able to utilize giving NU a five-game slump in the second round. La Salle being known as a heavy serving team was able to clobber the once top-seeded team with high impact services even giving the team 13 service aces as compared to NU's 5 which disrupted the Lady Bulldogs' rotation.
Genrev – It could have been an easy straight-set win over NU had La Salle won the very tight first set of their Round 1 meeting. Being the defending champions, I expected the Lady Spikers to easily win the fifth and final set. And yes, they were actually in control of almost the entirety of it. However, it shocked me and for sure the whole UAAP community, too, when the complete turn-around happened. Jaja Santiago took over with 27 huge points. Risa Sato, Aiko Urdas, and Audrey Paran were all enjoying the game, scoring here and there, and all finishing in double figures. I thought that the Lady Spikers slowly but surely became relaxed when they were three points away from becoming the only unscathed team through four games. Despite the loss, I still had high confidence that the Lady Spikers can bounce back. True enough, La Salle did it in Round 2, and in just three sets. It was almost a statement game against their Round 1 tormentors.  And what was notable in the Lady Spikers' and the Lady Bulldogs' Round 2 meeting? La Salle's prowess at the service line and NU's woes on the receptions. The Lady Spikers made it rain aces with 13 in that game.
How can the Lady Spikers beat the Lady Bulldogs in the Final Four? 
Khyte – Heavy serves. La Salle's strength is NU's kryptonite. Second, the Lady Spikers must also, at least, limit Jaja's production. Next, they must be disciplined on defense and display various attacks on offense (run combination plays and balance their attacks). They should avoid slow starts too. Lastly, never relax.
Karl – For the Lady Spikers to beat NU in the Final 4, they just need to repeat their second-round faceoff strategy against NU. They just need to serve hard and target their services to break the Lady Bulldogs' attack pattern. With Cheng and Dy getting analyzed by other UAAP teams, Tiamzon and Ogunsanya also need to step up to confuse the opponent's blocking. In addition, the Lady Spikers must always keep an eye on Santiago and Sato, their prolific scorers and be ready when Singh comes in to play.
Genrev – The Lady Spikers almost have everything on their side to beat the Lady Bulldogs in the Final Four. Roster? Check. Experience? Check. Momentum? Check. They just have to redo the good things that they did in their Round 2 meeting. And not just redo, but also improve them as adjustments are expected from NU. The Lady Bulldogs, who banner top spiker and a motivated Jaja Santiago, have the edge in spiking. But the Lady Spikers, who have two top servers in Desiree Cheng and Michelle Cobb, have the edge in serving. And they can capitalize on it as NU's efficiency in receiving is a tournament-low 22.49%.
Key Match-up:
Khyte – Battle of the Towers. Majoy Baron and Jaja Santiago will be fun to watch. I was thinking they will cancel each other out, but I'm still excited to see how one will outplay the other. These two middle blockers are very vital to their respective team. I want to see how they will defend. Both are top-of-the-line blockers, but who will make her presence felt more is what I'm interested to find out.
Karl – I'll be keeping an eye out for the matchup against Cobb and Nabor. Both setters have advantages against each other which will be crucial points in their faceoff. Cobb is generally a more defensive setter. THE. GIRL. CAN. BLOCK. Cobb has blocked some of the tallest players in the league today. And if you're wondering why there would be times Cobb gets her way through with digging, it's helpful to know that she also played libero for NCR in the Palarong Pambansa a few years back.
Moving on to Nabor, this girl has been a spectacle to watch whenever she goes for a one-two punch attack, leaving the opposing team dumbfounded with how quick and strong she executes her plays. Being a converted setter, you can see the eagerness of Nabor to attack whenever she has the chance and that makes her a deadly offensive option whenever she's in front. With most of the Lady Bulldogs' plays centered on their middle hitters, it's amazing how Nabor could get lousy first balls up in play for deadly hits from Santiago and Sato. This is one thing that she has mastered throughout the season.
Genrev – Kim Kianna Dy versus Risa Sato: different positions but both key contributors to their team's campaign. After the elimination round, Dy topped La Salle in scoring with 187 points. She averaged 14.14 points per game after putting up 99 of those in the second round. Dy is a very versatile opposite spiker. More than spiking, she can also contribute in blocking and serving. Right now, we can say that Dy is really peaking. She capped the eliminations with 12, 17, and 13-point outputs in their last three games. And if the Lady Bulldogs fail to contain her early in the game, she might just get her rhythm going and lead the team anew to victory.
Meanwhile, Risa Sato is second to Jaja Santiago in scoring for the Lady Bulldogs. The thing is, after averaging 9.29 points per game in Round 1, her scoring dipped to 7.29 points per game in Round 2. And while it is not that bad, for a team whose top scorer averages 20 points per game, it is not a very impressive number. Nonetheless, we know that the former national team member still can put up double digits and is still one of the targets of the Lady Spikers' defense. She definitely has to up her game if the Lady Bulldogs are to upset the defending champions.
DLSU's X-factor in the Final Four vs NU?
Khyte – Tin Tiamzon. She had a strong showing against Ateneo to end the eliminations. Des Cheng and Kianna Dy will produce, however, Tiamzon has been inconsistent this season. She can score if she wants too. It's a matter of consistency for Tin. If she continues to erupt in the Final Four together with the other scorers, it will be a quick work for La Salle against NU.
Karl – I always admire La Salle's middle blockers. My X-Factor for this game would have to be Aduke Ogunsanya. In the past few games, she has had trouble with her scoring output, but notice how studious this girl is when it comes to blocking. Kill blocks might not be instant but at least a one-touch allows La Salle to regroup and save time for a vicious attack pattern. I believe Aduke will be stepping up in the semifinals and towards the Finals if ever. With the junior Lady Spiker, the strength has always been there, she just needs to jell well with Cobb to start the match to give her a deadly edge in the entire game. With their game against NU, Aduke may as well be the barometer for La Salle's possible win in the match. Going against Sato and possibly Santiago, Aduke needs to enforce a higher level of confidence. Nevertheless, I'm pretty sure she'll deliver from this game on.
Genrev – DLSU's x-factor for this series is Tin Tiamzon. Though averaging a decent 7.29 points per game in the second round, a little more consistency has to be expected from her. In their last three games, she posted only four and five, before hitting 11 markers against Ateneo. She does not have to lead the team in scoring, although we know that she can be a threat once she catches fire. But if she can hit consistently one set at a time, then the Lady Bulldogs, who we assume to have studied Baron, Cheng, and Dy by then, might have to rethink their strategies.
Fearless Forecast: 
Khyte – After the battle on Sunday, La Salle will march into another finals appearance. They're the more complete team offensively and defensively. Coach Ramil knows how to contain Jaja. National U can bring the fight, but the Lady Spikers are just on a different level right now.
Karl – With the Lady Spikers hoping to go for another three-peat, I could see them taking the Finals slot in just one game. The Lady Spikers are hungrier and more intact compared to NU. La Salle's strength is NU's weakness which will really spell out the difference in their matchup. The Lady Spikers literally have a deeper bench against NU and I'm sure Coach Ramil will have a few tricks up his sleeve when the Lady Bulldogs try to switch things up with their rotation. Although the saying goes, "bilog ang bola," I believe La Salle will take this game in just one outing. With regard to how the game will go, it may as well be a three-setter but with Santiago's last playing year at stake, she'll be hoping for a better swan song which could extend the match to a four or five-setter.
Genrev – La Salle will win this in just one game. La Salle is just a more complete and more seasoned team. When I say complete, not only do I refer to the 14 Lady Spikers in the lineup. What I mean is that the team has 14 Lady Spikers, from starters all the way to the bench, who can definitely contribute to the team. On the other hand, when I say seasoned, we have no debate here. La Salle edges NU by a mile in terms of playoff experience. Coach Ramil de Jesus has been here every single season, so do the veterans, Dawn Macandili, Kim Kianna Dy, and the reigning MVP Majoy Baron. More than these two factors, the Lady Spikers also clearly have the momentum after sweeping their last eight games, whereas we all know how the Lady Bulldogs fared in the second round.
Note**
The DLSU Sports' writers' opinions do not reflect those of the whole De La Salle University community. So, do you agree with each of them? Comment what you think!