Animo Squad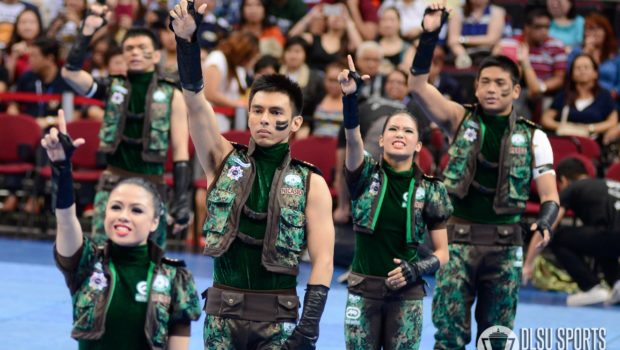 Published on September 25th, 2013 | by Michiko Alejandro
0
One team, One Heart: DLSU Animo Squad goes all out in UAAP CDC Season 76
Showcasing an impeccable military-themed routine, the DLSU Animo Squad captured a 2nd runner up podium finish in the 2013 UAAP Cheerdance Competition (CDC) last September 15 held at the Mall of Asia Arena in Pasay City.  The Animo "Armed Forces" squad amassed 596.5 points and brought home P140, 000 as cash prize.  Three-time defending champion UP Pep squad slid down to 1st runner-up as they surrendered their crown to the NU Pep Squad.
The strong passion of every Animo Squad member has made them overcome all the challenges thrown in front of them, which included four months of strenuous training, hard work, and sacrifice in preparation for the most awaited event.  It was indeed tough, but with teamwork and heart, everything became possible.
"The value that I got from my senior was that we had to push ourselves to the limit.  Dapat laban parati.  We always have to use our hearts especially when we do things that we really love," said Marj Mendoza (I, BS-ADV), a rookie in the team who competed for group stunts division.
Another source of strength for the squad was the support of the coaching staff, other pep members, and the administration.  Rhufa Rosario, the coach of the UAAP CDC routine, mentioned that there were a lot of people who were willing to help the DLSU Animo Squad, specifically the so-called "Rhufa's Angels" who voluntarily worked on the best they can for the overall success of the routine.
The Taft-based squad executed a stronger routine with improved gymnastics, dance, and stunts to make up for all their lapses in the last UAAP CDC in 2012.  Additions of few rookies were definitely of a big help to the squad.
Seniors who were bound to graduate this year were very happy to leave the squad because they knew they have passed on the values to the remaining members and they will leave the squad in good hands.
"Keep fighting, keep improving, keep challenging themselves to become better than what we have achieved (3rd place), and to do more than what is expected from them," an inspiring message of Natasha Mendoza (IV, BS-MKT) for the team, who is a senior member and a monster gymnast.
Continuing this kind of mindset to achieve a common goal, the DLSU Animo Squad for sure will not rest on its laurels in hunt for their first-ever UAAP Cheerdance Competition championship.  More importantly, aside from bringing home the championship, is to continue giving glory to the whole De La Salle community.