Basketball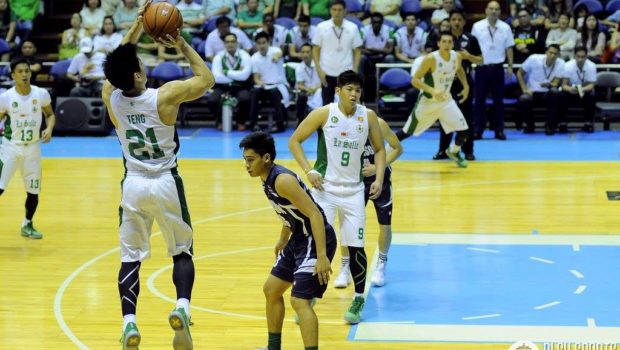 Published on April 30th, 2016 | by JC Gonzales
0
Teng shines as La Salle punishes Adamson in FilOil opener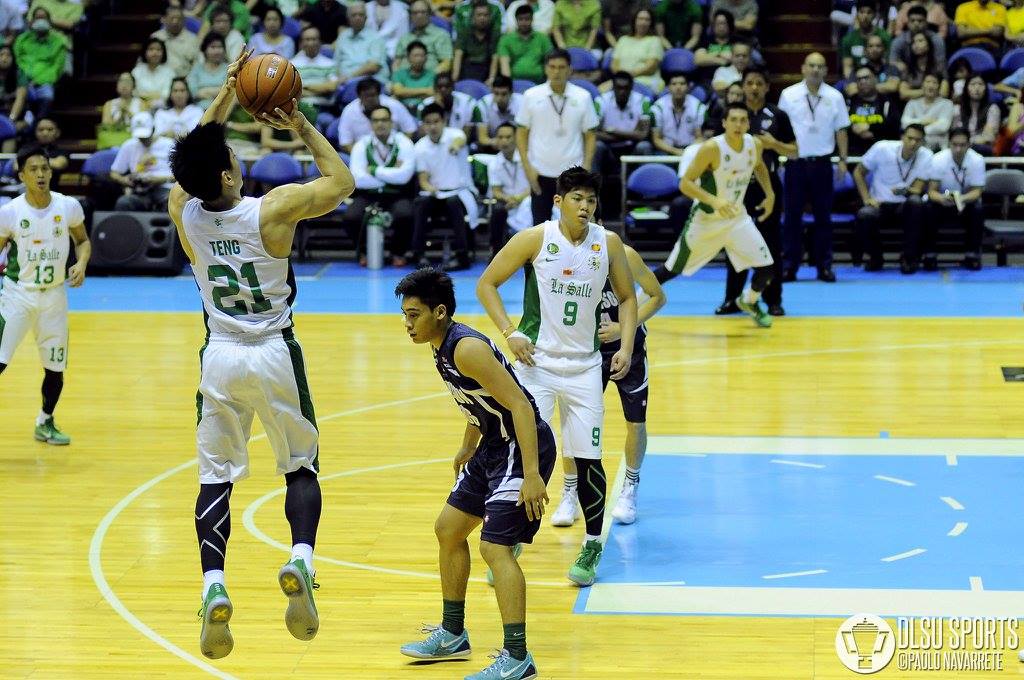 Parading with a new coaching staff and faces in their roster, the De La Salle University (DLSU) Green Archers opened their 2016 FilOil Flying V Preseason Cup stint on a good note by defeating the Adamson Falcons, 98-88 at the FilOil Arena on Saturday. La Salle's defense forced Adamson to tough contested jumpers to start the game. In addition, their fullcourt lockdown was in full display early, as the Archers raced to a 12-0 start to the game in the first three minutes. Adamson scored their first basket by the 6:18 mark, and had a tough time defending Ben Mbala and Gboy(?) Gob. The offensive-filled quarter ended with the Green-and-White team on top, 28-17. The Falcons finally got their rhythm going in the second quarter, as they managed to make shots from the outside. Adamson's Robbie Manalang and Harold Ng drilled four triples to push their squad to take a 36-34 lead within five minutes. Fortunately for the Green Archers, Jeron Teng knocked down three straight jumpers to regain the lead for DLSU. Despite a subpar 11/21 shooting from the foul stripe at the break, La Salle's cushion held a 48-45 lead. La Salle had to grind it out against the gritty Adamson team, who is now coached by former La Salle icon Franz Pumaren. A balanced scoring effort by the Falcons made the scoring back-and-forth for the two teams. Meanwhile, La Salle trailed by a small cushion, but bounced back with an 8-1 closeout to the frame. As the Archers regained their first quarter defensive cohesiveness, a couple of fastbreak layups injected momentum for La Salle's decisive run. Aljun Melecio and Kib Montalbo combined for a key 6-0 spurt to extend DLSU's lead to 87-73. For a moment, Adamson scored two baskets to trim the lead, but Thomas Torres put the nail in the coffin with a wing triple.
Coach Aldib Ayo had a few comments to share escpecially concerning Ricci Rivero's game earlier with the three turnovers in just four minutes, "Nasaktan kami sa second unit namin pero kailangan maglaro nung mga yun especially si Ricci Rivero masama laro ng bata pero sisiguraduhin namin makaadjust siya kasi malaki matutulong niya." Coach Aldin Ayo said in postgame.
He commended Gob for a productive outing in the four-spot saying "GBoy has been doing well actually 14pts per game siya sa mga games namin(Davao and other preseason games) mag bebenefit siya samin. Physically kaya niya. Maganda ugali ng bata."
Lastly, he closed out his optimisim for the team, despite him being a new face in the system. "60-70% palang kuha yung sistema so far. The system is new for them pero maabsorb din nila yan." He closed out.
Jeron Teng led all scorers with 30 points, 8/15 from the field and 11/14 from the free throw area. Gob added 20 points on an efficient 9/10 clip, while Mbala had a dominant 13 point, 10 rebound effort in 33 minutes.
La Salle shot 5/9 from three point territory and ended up on a poor 23/40 clip from the charity stripe. They had less turnovers, 29-33 and had more second chance points, 18-10.
Sean Manganti led Adamson with 13 points, while former Green Archer Terrence Mustre tallied 11 points and four boards against his former team for the first time.
The Green Archers will next face the UE Red Warriors, 2pm at the same venue.
The scores:
DLSU(98) – Teng 30, Gob 20, Mbala 13, Montalbo 9, Caracut 7, Torres 6, Tratter 6, Go 4, Melecio 3, Rivero Ri. 0
AdU(88) – Manganti 3, Manalang 11, Mustre 11, Ng 10, Ochea 10, Sarr 6, Pasturan 6, Escalambre 6, Ahanmisi 5, Bernardo 4, Cadua 4, Espeleta 2, Garcia 0