Animo Squad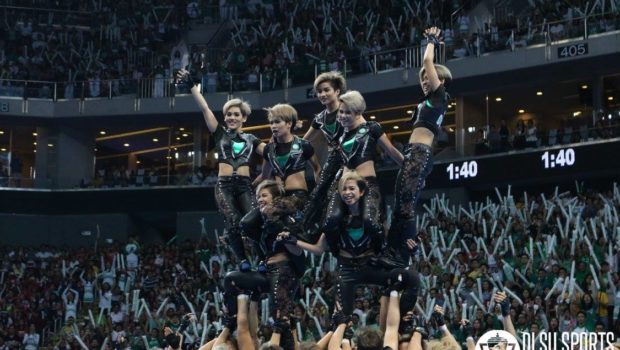 Published on October 3rd, 2015 | by Deion Bandril
0
The DLSU Animo Squad rocks the UAAP crowd; but still finishes 6th

The spirited DLSU Animo Squad definitely rocked to different beats finishing 6th place in the UAAP Season 78 Cheerleading competition. They had incorporated a "Rock n' Roll" theme for this year's performance. The event took place in the Mall of Asia Arena last October 3. 25, 388 recorded supporters from different universities came to be part of this historic event.
All prestigious universities prepared for the most awaited annual UAAP event. There is no doubt all eight teams have improved compared to previous years. This made the Taft-based squad strategize more to focus on the specific criteria to showcase in their performance.
Cheska Chua, a sophomore competing member who suffered an ACL injury prior to the competition said, "I would be cheering for them on the mats. I want them to use their hearts because I believe that they are strong enough, they just need the confidence for it."
The Green-and-White squad focused on honing their skills of dance and one-man stunts, specifically from "hand liberty, toss extension, and to cupie" to get a higher overall rating due to last year's standing of 3rd place in terms of the criteria of dance and pyramids.
The DLSU Animo Squad ranked differently in different criteria. They placed 7th in tumbling with 66.5 points. They placed 3rd in stunts with 66 points thanks to their highlight stunt, which is the "round-off rewind". They placed 7th again in tosses with 49 points even though they presented impressive tosses, such as the "step-out full twist". They reached 8th place in pyramids with 65 points. And lastly, they reached 6th place in dance with 300 points. By putting everything together, they got the ranking of 6th place with the accumulated points of 538.5, including the 8 points deduction.
The universities that reached a podium finish were UP, UST, and NU. The UP Pep Squad garnered a total of 610.5 points and reached the 3rd spot of the competition. They featured smooth transitions with the theme of "Utak and Puso" The UST Salinggawi Dance Troupe accumulated a total of 651.5 points and placed 2nd in the battle. They presented a reviving performance with a "Tribal" theme. Lastly, The NU Pep Squad had a grand total of 668 points and took the illusive Cheerdance title. They presented a very strong performance with the theme of the "Stone Age"
In addition, Kating Enriquez and teammates competed for the group stunts division among six out of seven other universities, where they landed in 6th place with a total of 195 points.
The top three teams were the FEU Cheering Squad, NU Pep Squad, and the UST Salinggawi Dance Troupe. FEU reached a total of 232 and took the 3rd spot. While, NU garnered a total of 234 points which gave them 2nd place in the competition. Lastly, UST had a grand total of 239.5 points giving them the group stunts title.
The DLSU Animo Squad definitely gave their best efforts in this season's Cheerdance competition. It was clear that they have improved from their previous year by showcasing a rather powerful routine. They appeared more conditioned and ready than last year. With their higher tosses and better stunts, it showed how much this team has grown physically, mentally, and emotionally. Their chemistry was simply contagious as they were still all smiles in the end.
The six-year veteran and team captain, Jaymes Saez, had a final message for his beloved team and second family. "Thank you kasi pinaramdam niyo sakin na special tong last year ko. You all proved me na kaya niyo na iwanan kahit mostly sophomores and rookies ang nag compete. Way niyo papabayaan ang second family natin. Kahit mahirap i-balance ang sport and academics, it is worth it to give pride to our alma mater."
This article was written in collaboration with Michiko Alejandro and Denise So.