Baseball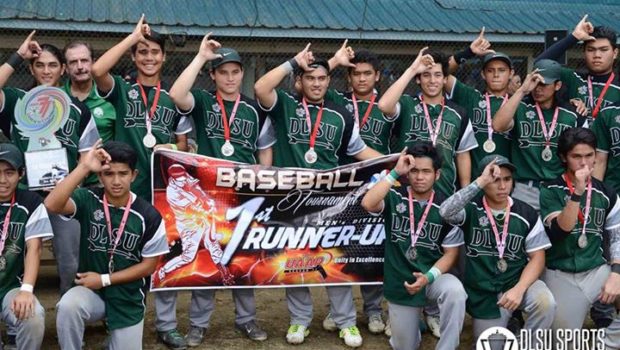 Published on March 14th, 2015 | by Deion Bandril
0
The DLSU Green Batters end Season 77 with a 1st runner-up finish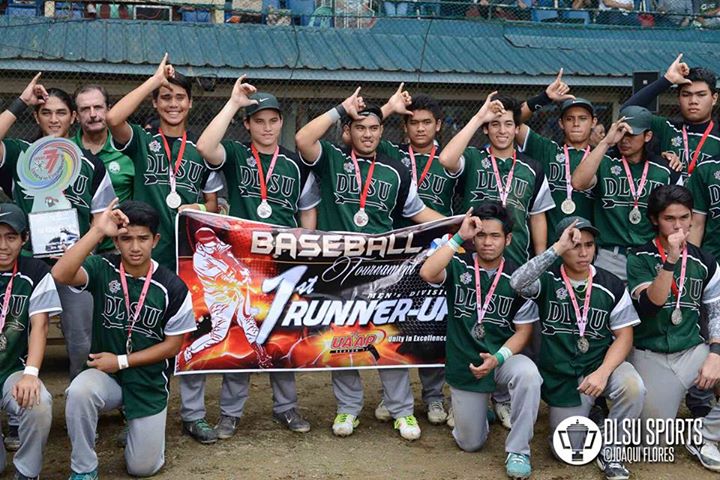 The DLSU Green Batters once again fall to the Ateneo Blue Batters in the finals. This season's finals matchup was almost a carbon copy of last season as booth seasons ended with the same result, ADMU prevails while DLSU takes the bitter loss.
The Green Batters sparked their offense early; sadly, they couldn't finish strong. The final score was 2-3. Boo Barandiaran was awarded the Rookie of the Year award and the Best Pitcher award. Graduating senior, Dino Imperial, won the most RBIs award by making thirteen this season. This marks as the last game for the Senior Unicorns of the team namely Kenneth Ramos, Luigi Nolasco, Dino Imperial, and Carlos Laurel.
Before the series began, the Green Batters had momentum on their side. The Green Batters were able to sweep the second round of eliminations and take the top seed. On the other hand, the Blue Batters were suffering from a three game losing streak going into the finals.
During the first game of the series, the Katipunan-based squad was able turn the momentum around by defeating La Salle with a commanding win. The Green Batters looked out of focus during that matchup, and they looked to change things up for a big do-or-die game. Going into the second game, the Bomb Squad looked to force a climatic third game.
First inning looked slow for the Green Batters. Paolo Salud and Carlos Laurel got grounded out by the Blue Eagle defense. This led to two instant outs and pressure was then put on the Taft-based squad. However star rookie, Boo Barandiaran was able to capitalize on a catching error made by Ateneo. This would then lead to a run with the help of a double from Carlos Muñoz.
Second inning started fast compared to the first one. Consistent hitter, Pacholo Dominguez, was able to open the inning with a double. Eventually he would double the lead for DLSU by making the only run of that inning. DLSU would continue their solid defense by forcing the Blue Batters to go scoreless for the first two innings.
Third and sixth inning proved to be the poison for the Unicorns. On third, Bernardo was able to make a run courtesy of an RBI coming for Best Slugger, Matt Laurel. Sixth inning became disastrous for the Green Batters. Ateneo was able to score two runs because of a throwing error made by Carlos Muñoz. This two runs became morale draining for the team. But the Green Batters' veterans kept their heads up and tried to continue their efficient play. The score would then become 2-3 after the sixth inning.
Gabriel Pineda had the chance to extend the lead for DLSU. Paolo Salud was able to steal third and Carlos Muñoz was able to take second. Unluckily, Gabriel Pineda struckout on that inning thus, stranding possible scorers Salud and Muñoz on their respective bases.
The seventh and eighth inning highlighted Carlos Muñoz pitching. He replaced fatigued starting pitcher, Francis Gesmundo, during the late inning. Defense became more prevalent in the late innings. Carlos Muñoz constantly threw fastballs that the Blue Batters couldn't handle. Luigi Nolasco was almost able to make a homerun during his time at the plate. But a miracle catch was made by the left fielder of Ateneo.
Ninth inning came and went for both teams. Dino Imperial replaced Andre Palacios for batting duties. He walked to first base after being hit in the head by the pitch. Imperial received a standing ovation from the Lasallian crowd as he was replaced by pinch runner Ricardo Yulo. A sacrifice bunt was made Franco Hashimoto. A Paolo Salud single moved him to first base but cost Yulo a spot for third. A questionable call was made by the referee when a fielder's choice was made against Yulo while taking third base.
In iconic fashion, team captain Carlos Laurel was looked upon to make a game tying RBI. With two outs and Salud on first base, a huge double or homerun would mean a lot to the team's championship hopes. But alas, the King Unicorn couldn't get the job done as Paolo Salud was forced out in that last play. The Ateneo Blue Batters left victorious as they take their third straight championship.
The DLSU Green Batters may have fallen short in the finals, but a lot of progress was made in the whole season. Goals were set by the team before entering season 77, and team captain Carlos Laurel believes his team was able to achieve it. The King Unicorn claims that he never wanted to be part of just a winning team, but rather a brotherhood. He believes that a team's focus shouldn't just be about winning but also personal morals. He knows that his team is a hardworking team and a brotherhood that will always look out for each other. "Be humble, be simple, and work hard. Even though people don't see the amount of work you put in off the field, those things will add up eventually into a victory."
Rookie Francis Gesmundo had mixed emotions with his first UAAP season. He was overjoyed that he was able to share irreplaceable moments with his new-found family the DLSU Green Batters and was able to learn from his seniors. But, he feels awfully bitter that he couldn't get the gold for his seniors this season. He added, "Para sa akin, alam naming kaya namin pero di talaga binigay sa amin. Pero next season, di na mauulit ang itong pakiramdam. Sorry na lang di namin nakuha yung gold, p[ero next year makukuha namin para sa inyo."
Being a team captain was a huge honor for Carlos Laurel, he really appreciates everyone who got involved with the team. He believes that the future looks bright for the Green Batters. He commented, "Growing up, they always made me captain. But I didn't what it really meant to be a captain until I entered college. Those guys [former captains of DLSU] showed me how to act when the team is down and how to bring them up. We [the seniors] had to be the guiding force. Even though we have talented rookies and sophomores, if they feel down it's our job to will our team to win."
This team may have not won the championship this season but they won the hearts of many. They've brought out the passions of people to watch and enjoy some DLSU Baseball action. They've showcased throughout the season on how hard work really pays off. In the end we are not just watching a team trying to go out with the win, but we are watching a brotherhood that's respecting the game and playing it right. These players are not just students of La Salle and students of baseball; they are also students of life. And they share their load of hardship and enjoyment together. As one they rise, as one they fall. As one they shall forever remain.