Basketball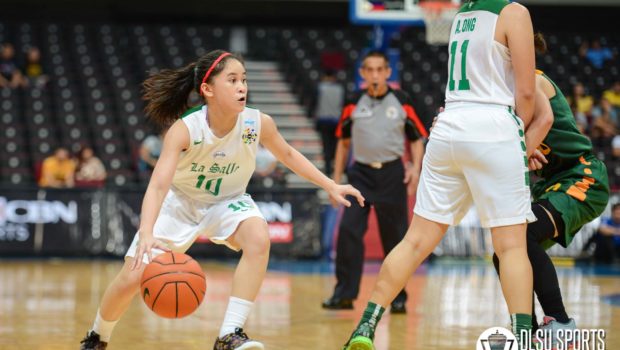 Published on October 9th, 2014 | by Camilla Saguin
0
Trisha Piatos: A legacy to remember
No one would have expected that a girl that stands at five feet flat and parades a petite figure is an athlete, much more a basketball player. Trisha Piatos' career is indeed one for the books.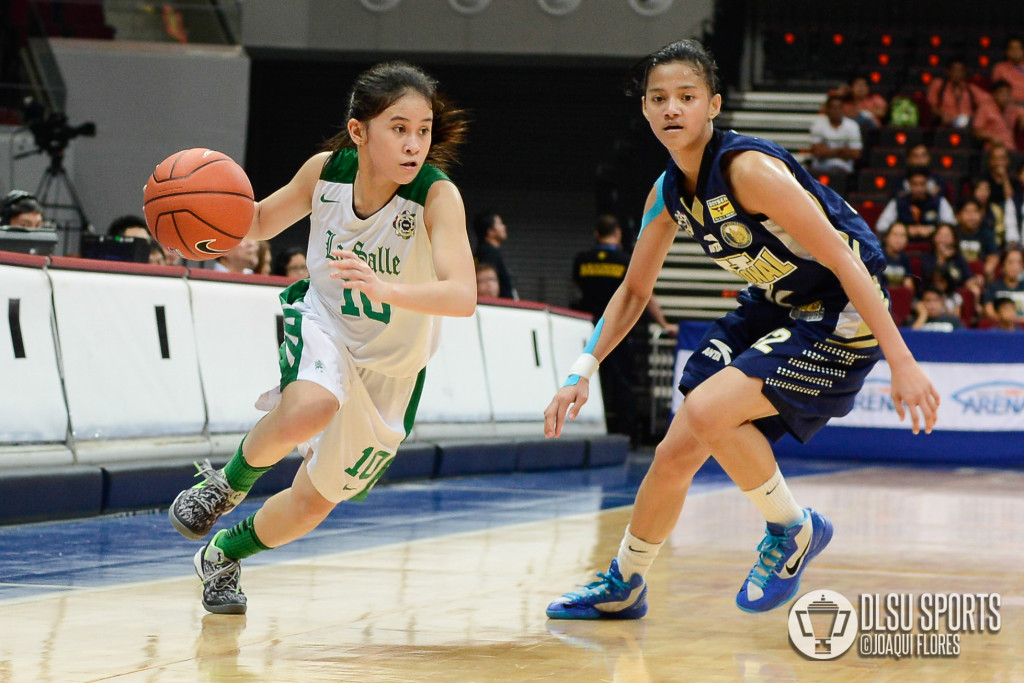 From Davao to Taft
Influenced by her cousin, Trisha began playing basketball when she was just five years old. Through watching NBA games she learned how to love basketball and eventually played the sport competitively. "When I was in grade 5, I joined the Milo SBP tournament. I was the only girl in the whole league. I was up against guys and my teammates were also guys".
Hailing from Ateneo de Davao University, Trisha admitted that she did not initially want to play for La Salle. "Actually, my first choice was really Ateneo. La Salle was there but not really one of the choices since my parents didn't want me to come to La Salle".  Her reason for eventually choosing to play for La Salle is simple; camaraderie. "I like how La Salle welcomed me. Yung feeling na parang family talaga. I didn't feel that in Ateneo or other schools that's why I chose to come to La Salle".
Peak of her career
2013 is no doubt the best year for Trisha Piatos as she and the rest of the DLSU Lady Archers won the Filoil Flying V preseason cup and the UAAP season 76 championship.
In the Fil-oil cup finals, the Lady Archers were up against the FEU Lady Tamaraws, and in the dying seconds, with the game tied at 51, Trisha hit a clutch game-winning jumper to give the Lady Archers the championship. Piatos scored 16 points and hit four from downtown in that game.
Trisha considers their UAAP championship last year as the best moment of her career, "for me that was the best feeling I've ever felt after 4 years of staying here in La Salle. It was the best moment of my 2013. I could remember it, parang overwhelming yung feeling na finally I got to get one".
In that UAAP season 76 finals series, the DLSU Lady Archers battled it out against a solid NU Lady Bulldogs squad who did not hand the championship to DLSU easily. That series went to a deciding third game where Piatos displayed her composure in hitting timely baskets to halt every run that the Lady Bulldogs made. Trisha Piatos' solid performance did not go unnoticed as she was eventually awarded the finals Most Valuable Player.
Last UAAP season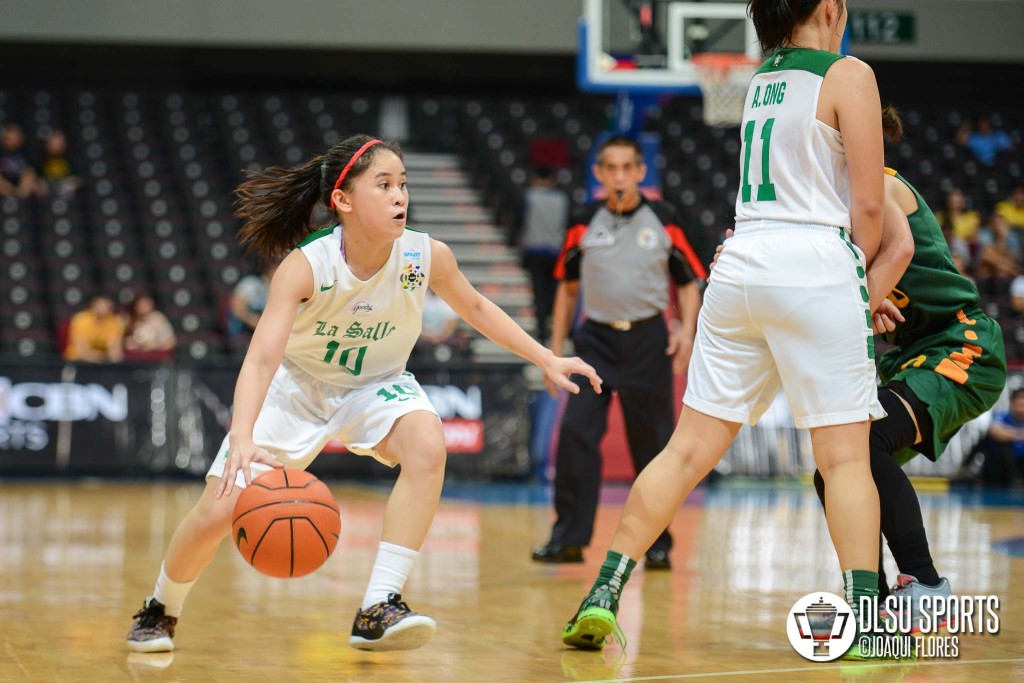 In her final UAAP season as a Lady Archer, Piatos led her team in statistical points but more than the outstanding numbers, she helped her team get big wins all season long. DLSU started the season with a six-game winning streak but ended it with a heartbreaking four straight losses.
Despite losing their last two games of the elimination round, the Lady Archers still finished second and had a twice-to-beat advantage coming into the final four, they however failed to capitalize on that advantage as they lost the first match against FEU, and for Trisha she felt that she wasn't able to engage herself in that game. "Bitter ko lang sa game na yun kasi feeling ko ako talaga yung missing link. Parang wala ako sa sarili ko I was just going through the motions of the game." After that loss, Trisha only had one thing on her mind and that is to finish off the Lady Tamaraws on their next game.
In what would be her last game, Piatos had a chance to put her team up by two points in the dying seconds of overtime when she got fouled while taking a jumper, "when I got fouled I smiled cause I said kaya ko to cause no pressure I've been practicing it naman. Nung pumasok first free throw parang okay na pero pag release ko palang nung second shot sabi ko agad short. I looked at the time and told myself na nako mukang makakascore pa FEU dito" shared Trisha. FEU did score in the next possession and DLSU only had one last chance left to save their season.
Piatos, like her idol Kobe Bryant, has a knack for draining clutch baskets and in the last possession of her career she had her mind set on taking that big shot to lift her team past FEU and give them another finals appearance, "Nung kinuha ko na yung ball yung thinking ko nun, since alam ko naman yung role ko sa team, manalo na sakin pero sige matalo na din dahil sakin". But when she got to the top of the key she was immediately doubled, "since hindi ko naman pwede pilitin dahil maliit ako tapos madami naman talaga sila; dalawa ata lumapit sakin. Nakita ko si Claro and she's a really good shooter so I passed it to her." Camille Claro unfortunately missed the potential game winner.
That pass however also signifies the passing of the role from a senior to her successor, "si Claro yung nakikita ko na papalit sa role ko sa team. The way she plays, the way siya nilalaro ni coach feeling ko siya" Piatos shared. This is not far from happening as Camille Claro, just like Trisha, has shown signs of brilliance early in her career.
Through the eyes of her coach
For coach Ty, Trisha is the counterpart of Almond Vosotros in the women's team, "She's our Almond sa women's. Vosotres and Threesha". Three pointers are indeed the specialty of Trisha as no one in the entire league has hit more triples than she has for UAAP season 77. Yes, including the men's division. Trisha converted a whopping 38 triples in her last season but what is more amazing is that she did not only lead the entire league in triples made but she also led the women's division in three point shooting percentage (with at least 12 made) at 35.5%.
Having a winning attitude is what coach Ty considers as Trisha's best quality, "more than the scoring and the shooting skills, I see a competitor and a fighter in her. No matter what the situation is you can expect her not to give up that's why I'm sure she will be successful in life too".
Coach Ty also raved about Trisha's incredible work ethic; "She puts a lot of time to improve her skills. The vast improvement in her game throughout the years can be credited to her great work ethic. She's always the last one to leave the court after doing extra work alone or with coaches or players. You'll always see her trying to get better".
"I can never ask for anything more from Trish" he said. "She gave it her all and the breaks just didn't go our way. I'll always be proud of what she has accomplished and what she has become. I'm blessed to coach someone like Trish and I will truly miss her as a person more than as a player"
Moving on to the next step
Trisha considers training time as what she would miss the most about being a Lady Archer, "aside from playing talaga I think I'll miss training time the most. Parang nung Monday (first Monday after her last game) sobrang lungkot ko nanaman kasi 12 o'clock e. Kasi usaually pag 12 na dapat nasa complex na ko. Yun talaga na miss ko agad".
"No more basketball for me" these are the words that Trisha uttered when asked if she would want to tryout for the national team. "I would like to try other sports. Surfing lang alam ko gawin but I would like to try golf" she said.
Trisha, who is currently taking up Bachelor of Science in Biochemistry, dreams of becoming a doctor someday, "I have to graduate na. I'll be taking my NMAT (National Medical Admission Test) this December. My future school will depend on my NMAT but I really want to study sa PLM (Pamantasan ng Lungsod ng Maynila) because I heard it's good daw talaga".
One for the books
More than the all the points she scored, all the triples she drained, all the stops she got from her pesky defense, all the times she hit clutch baskets to give her team the win, it is her winning attitude and love for the game that people should remember her for. That one player who never gives up and works hard day in day out to win for the green and white.
For everything she has given to La Salle, one can only hope that Trisha Piatos would take her winning attitude to the next chapter of her journey. That she would be saving, not just loose balls but lives as a doctor in the future. That she would still be winning, not just basketball games but this time in life.
NOTE: This article was written in collaboration with Jan Gonzales.