Animo Squad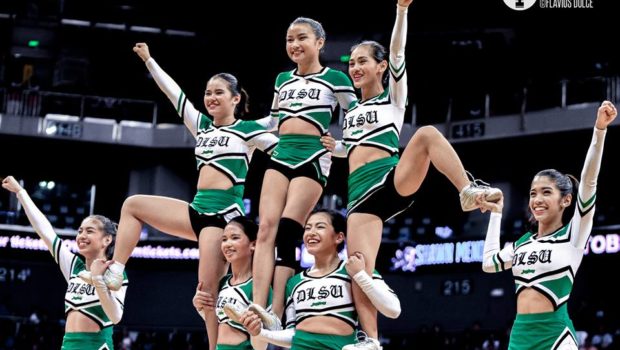 Published on November 16th, 2016 | by Michiko Alejandro
0
UAAP 79 Preview: DLSU Animo Squad
Stepping up their game, expect more difficulty and creativity from De La Salle University's Animo Squad. The team is determined and confident to impress more people this year. Support our team and see what the Green and White squad has in store for the UAAP community and their fans as they perform first in the CDC order of performances. It will take place at Smart Araneta, 2:00 pm on November 19, 2016.
It is the time of the year where the cheering squads from different prestigious universities in Metro Manila will battle against each other by performing routines that are creatively planned and impressively complex to claim the coveted UAAP Cheerdance championship title in the center stage filled with cheers and immense energy.
5 days before the most awaited one-day annual event of the University Athletic Association of the Philippines, the Green and White squad organized a public viewing of their routine at Enrique Razon Sport Complex. The Perpsquad cheerleaders and De La Salle Lipa Pep Squad performed their intermission number before the final event of the evening.
The DLSU Animo Squad has set the bar high, performing solid stunts, creative dance moves, advanced tumbling skills and highflying tosses. The team executed the elements with precise timing and synchronization.
"This year, if they hit the routine, I can feel that they will be back in the podium" said by the multi-titled coach Ruf Vandolph "Ruffa" Rosario.
Injuries in the last few weeks before a competition are frequent, but can be often challenging. Some of the team members encountered major injuries and poor health conditions prior to the event.
Miguel Perez, who acquired dengue and typhoid fever recently, expressed his faith in his team, "Well to my team, ang laki ng tiwala ko sa team na to. I've trained with them for so long, for 4 years na. To see them grow this much is very intense. Sana makuha nila yung ginto kasi matagal na namin tong gusto makuha."
Despite the major adjustment they did, Janna Inocentes (IV, AB-OCM) still believes in the ability of their team to make it to the podium finish, "I just really had to trust my bases, my coaches, and most specially myself na kaya ko. I'm confident na magagawa namin ang stunts. And I'm confident that no one's gonna give in to the pressure of competing."
Finding strength through adversity, DLSU Animo Squad is fighting its way back to the top, and they will make it happen. "We're bringing all the teams back home" through their themed- routine, Innocentes added.
Here's the message of Coach Ruffa to the DLSU Animo Squad:
"Good luck on Saturday! Just keep the faith and full the routine,I know that you will make another history"
The Few, The Chosen, The Loud and The Proud. #GoAnimoSquad!