Beach Volleyball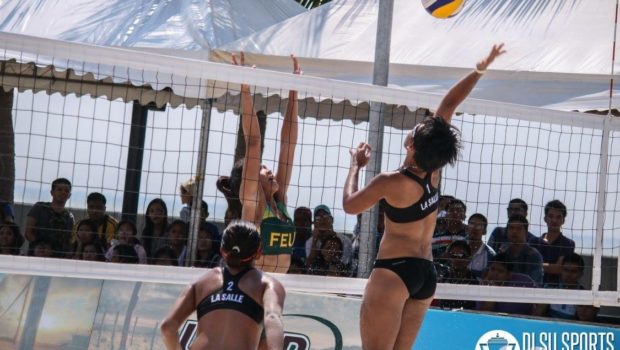 Published on September 30th, 2016 | by Karl Dela Cruz
0
UAAP 79 Preview: Lady Spikers locked and loaded to defend beach volleyball crown
It is a well-known fact that the De La Salle University women's volleyball program has struck the face of Philippine indoor volleyball in the last decade. Indeed, the Lady Spikers have boasted of glory in the constrains of the taraflex courts through numerous championships and producing names by the likes of Manilla Santos, Cha Cruz, Aby Maraño and Ara Galang among others. Much like in the indoor scene, the Lady Spikers have also made its name known in their beach volleyball campaigns for the past two years after bagging a bridesmaid finish in UAAP 77 and the team's first championship in UAAP 78.
After falling second to the UST Growling Tigresses two years ago, the Lady Spikers were able to pull off a come-from-behind championship last year when the Cyd Demecillo and Kim Fajardo tandem along with Tin Tiamzon flourished to claim the gold. The team went through the eye of a needle after numerous do-or-die matches with UST, ADMU and FEU. Eventually the Lady Spikers got things done and gave DLSU its first UAAP Beach Volleyball crown with Fajardo proclaimed as the tournament's Most Valuable Player and Demecillo finishing her UAAP years with gold under her belt.
With numerous speculations as to who the official three-man roster would be for the Green and White, the coaching staff has finally made its decision. Lady Spikers Desiree Cheng, Tin Tiamzon and Kim Fajardo are suiting up to try to retain the beach volleyball crown in Taft Avenue.
Desiree Cheng
In what was supposed to be her breakout year, Desiree Cheng was not able to suit up for the Taft-based squad in the UAAP 78 due to an unfortunate ACL injury months before the season started. Cheng's services were missed in the Lady Spikers' redemption season. This year, the Hope Christian High alumna is more than ready to seek action in the UAAP 79 not only in the indoor competitions, but also in the beach volleyball scene.
During her rookie and sophomore year for the team, the Lasallian community witnessed Cheng as a reliable key piece for DLSU. Cheng could be the all-around player with in-court versatility as her asset. In front, she can deliver mean spikes and can even act as a team setter when needed. Cheng has also provided quality and even killer services crucial for a strong volleyball team. When put at the back of the court, her solid floor defense could give other liberos a run for their money. True enough, she has since suited up as a libero for the club team, F2 Logistics Cargo Movers in their championship run during the recent PSL All-Filipino Conference 2016. Given the skills and credentials, Cheng could surely equate to another successful beach volleyball campaign for the Lady Spikers.
Tin Tiamzon
Young as she may be, Tin Tiamzon is a frontrunner in the new era of Lady Spikers in the near future. In her rookie year for the Green and White team, Coach Ramil De Jesus has entrusted her with a lot of responsibilities as she saw crucial minutes in the indoors and acted as the team's third man in last year's beach volleyball championship. UAAP 79 is going to be another big break for the Filipino-Canadian spiker as she is expected to step up big time for the Lady Spikers' beach volleyball campaign.
Tiamzon proved to be a reliable spiker in her indoor stint as she showed how deep her volleyball knowledge was in the last season. Offensively and defensively, the outside hitter is slowly making her mark as a Lady Spiker for the new generation. Although she was not able to see action in the sand court last year, Tiamzon was able to act as an in-game coach for the duo of Fajardo and Demecillo. Sure enough, Tiamzon would be able to transcend this season through her deep indoor and outdoor volleyball wisdom.
Kim Fajardo
#KAFOneMoreYear. The Kapitana is back for another season. The past year has been a good one for Kim Fajardo to say the least as she helped DLSU win both championships for indoor and beach volleyball behind her UAAP Beach Volleyball MVP and Best Setter awards. She also received the Best Setter award in her stint playing with Cheng for F2 Logistics with which she was also named as one of the Magic 7 Players to don the colors of the Philippine flag for the FIVB World Club League Tournament. In her final playing year, Fajardo is back once again to try and help DLSU get another beach volleyball gold.
Fajardo has been playing for the Lady Spikers beach volleyball team for a few years now. As a veteran, she could still serve a major role for the team, as her prowess in the sand is one like no other. Her smart attacking and display of both offense and defense in the sand court lets her carry a unique kind of swagger among beach volleyball players. With a long list of volleyball credentials, Fajardo is expected to transpire everything she is known for in her last UAAP Beach Volleyball tournament.
Now that everything has been set, the Lady Spikers are locked and loaded to go for another beach volleyball championship. Catch them as they start their campaign tomorrow against FEU and UP, October 1 at the SM Sands by the Bay.