Athletics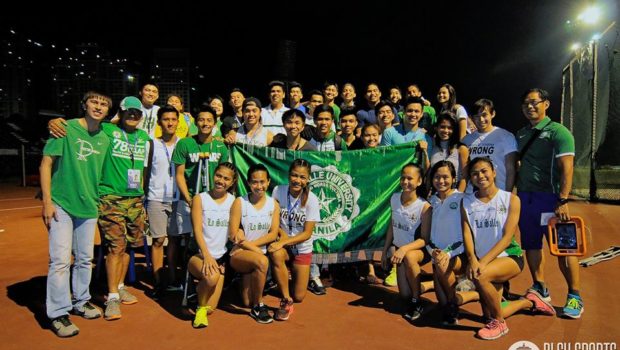 Published on February 7th, 2017 | by George Aladin
0
UAAP 79 Team Preview: DLSU Tracksters
Preparation and proper training can help develop a team into championship contenders – this is what the De La Salle Track and Field Team is doing in preparation for the next UAAP season.
Groundwork and the next generation
Despite missing the University Games this year, the DLSU Green Tracksters make up for it by training five times a week and by joining the Philippine Athletics Track and Field Association weekly relays to improve their performance.
The team brings great dedication to their sport since their main goal is not only to win games but also help La Salle catapult its way to the UAAP Crown.
The Tracksters are going to the battlefield without the services of Jasper Tanhueco who graduated and ended his tenure after last season.
Both men's and women's division have a roster of talented veterans Adel Valdecañas, Erwin Parcon, Judy Ann Rendora and Jewel Manaig and promising second year players Jvee Patalud, John Kenneth Nodos, Angel Carino and Elrica Guro. They also have remarkable coaches in Geoffrey Chua, Romeo Sotto and Edward Obiena who seems to put all the right pieces in the puzzle.
Rise to the Occasion
In terms of their confidence, Captains Michael Del Prado and Shaira Hernandez still, believes that the team can win the overall championship despite the injuries suffered by some of their key players.
Del Prado said that the team is doing their best to prepare for this upcoming UAAP season since some are still recovering from their injuries by undergoing through therapy in order for them to catch up.
The team is now putting their full dedication to the sport as they hope to capture the elusive title that they have been working hard on since 2004.
"We want our Coaches and the Lasallian community to be proud of us," said Hernandez, who had a successful year as a full-time team captain of the Lady Tracksters. "We've worked hard for it I guess we also deserve it for the glory of the team and of course the school."
The team is pressured since their roster was cut due to injuries. Beyond all of those setbacks, the team still want to put the University back the mountain top and are trying their very best to dedicate and improve themselves to win it all.
"We want to win the crown not for our own but for the University and for the people who always their to support us. We want to win the crown because the last time that Green Tracksters won their Championship it was 2004, 12 years already. I know we are outnumbered but through our hard work and discipline to ourselves hopefully we make it maybe not this year but in the following year," Del Prado ended.
Catch the DLSU Tracksters prove their abilities as they try to win it all this coming season. Watch them compete this coming Thursday at 3pm at The PhilSports Complex in Pasig.