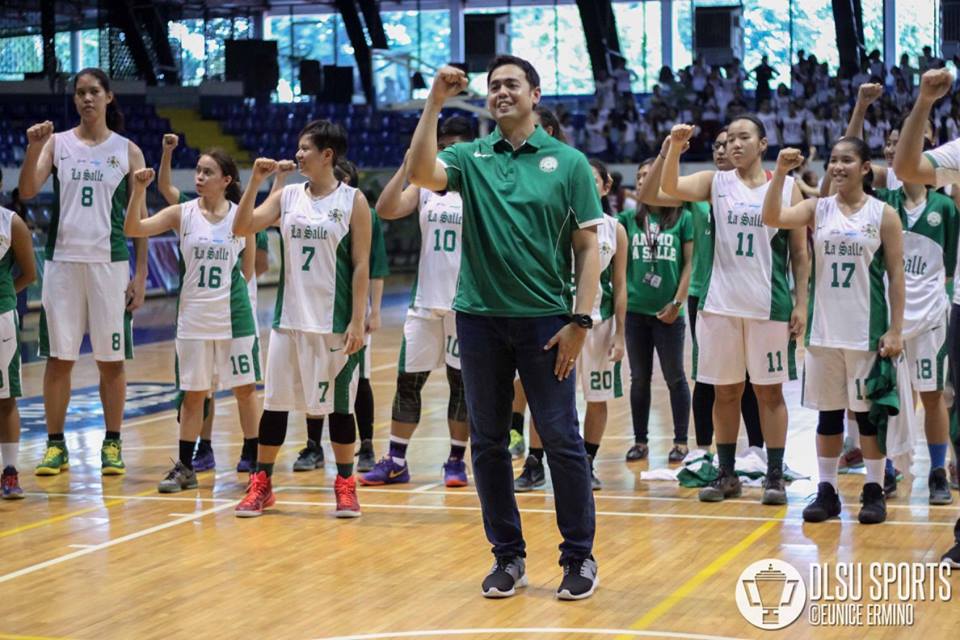 After the first round of the tournament, the DLSU Lady Archers, look as poised as they did last season, ranking second in the standings with a 6-1 win-loss card.
First round numbers
In the past years, the DLSU women's basketball team has been known to be defensive oriented but for this season, it is their offense that seems to be clicking more.
The Lady Archers are second in the league when it comes to offense, scoring an average of 65.3 points per game while their defense, surprisingly is fourth in the league.
Team Captain Alyanna Ong sees such a change as a result of the composition of their team and how they are playing defense, "some teams score easily on us when they break our press. Maybe that is why we are not on top of defense," says Alyanna "being a small team I think we need to work on our rebounding some more. But I think that as a result of our pressing defense, we are able to score more since we converted our fast break points more".
"Also, our offense is very free flowing this year," adds Alyanna "Everyone touches the ball and does their role so there are definitely more opportunities to score for everyone this year".
The decline in defensive rating is somewhat expected as the DLSU Lady Archers have a guard-heavy lineup with bigs who are not as tall as the other teams'. They however compensate for their lack of height by converting most of their limited opportunities for second chance points.
The Lady Archers top the league in two defensive categories, turnover points allowed, permitting only 13.7 per game and three-point field goals allowed, limiting their opponents to only 17 made triples the entire first round on 18.9% shooting from beyond the arc. Offensively they rank first in taking care of the basketball, averaging 24.4 turnovers a game.
Player on the rise
Last year, guard Khate Castillo played a total of only 109 minutes in 14 games. With still the whole second round to be played, Castillo has already surpassed that number. She has currently played 176.5 minutes; second most used player in the team.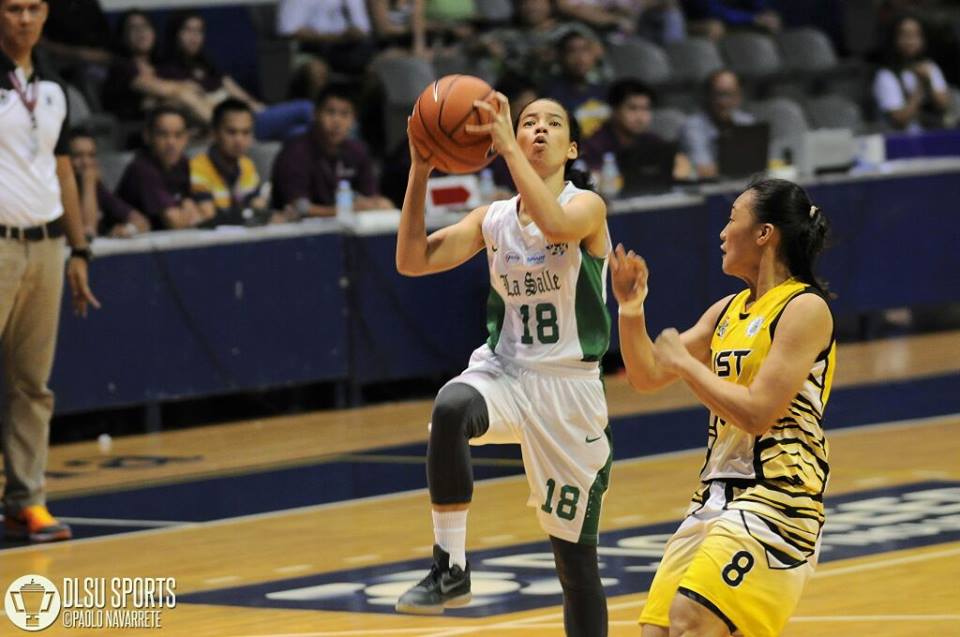 Castillo is currently leading the league in three pointers made with 18 converted while shooting it at a high percentage of 36.7% making her one of DLSU's new go-to players.
When told about her stats, Khate did not expect where she ranked and downplayed her performance so far saying she is still far from where she wants to be, "para sa akin medyo nag improve ako pero syempre nagkakamali parin ako. Kailangan ko parin mag adjust. Kahit sinasabi ng mga ibang tao na nag-improve ako, para sa akin gusto ko pa mas higitan yun".
Khate howerver admitted that she is feeling some pressure, "syempre may konting pressure pero kinakalimutan ko yung pressure para mapakita ko tamang laro sa loob ng court," says Khate; "yes I'm making a lot of my shots pero hindi lang yun para umangat yung points ko. Gusto ko maipikita yung confidence ko sa game ko and second year ko na din kaya dapat hindi lang stay sa dati. Dapat every game mag improve".
Stepping up
During the offseason, Camille Claro was pegged to be the one player to fill in the shoes of DLSU's former superstars. Now that the season is in full swing, Claro is doing exactly that.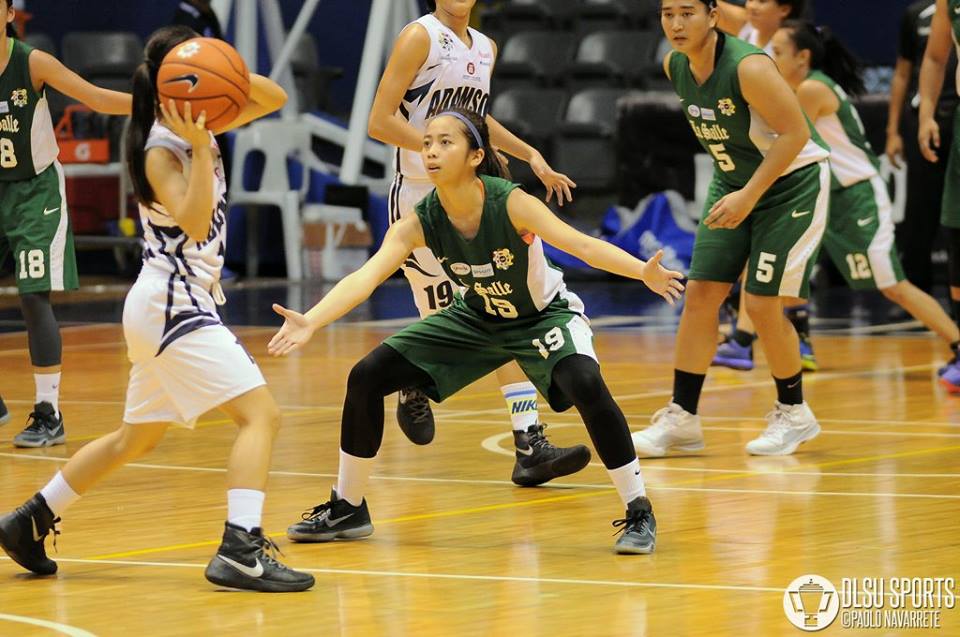 "Before palang ng start ng season alam ko na yung role ko," says Claro. "Ngayon na nag start na yung season, mas lalo ko pa nalaman yung role ko. Nakaka pressure pero kailangan ko gawin and ibigay yung 110% best ko for the team and for the school."
More than the big numbers she is putting up, the maturity of the third year guard is what is most evident during games. From controlling the pace of the game to making the right decisions for her team down the stretch, Camille Claro is indeed stepping up for the Green and White.
On the other hand, five-year veteran Alyanna Ong took on the responsibility of being the team's leader not just on the court but also off the court, "It is more difficult now that the season has started. While looking out for my performance, I also have to look out for everybody else's. I have to be a steady force on and off the court," says Alyanna "but it's been great. We are all growing as a team, being closer to each other every step of the way".
Outlook
Even after finishing the first round with only one loss, head coach Cholo Villanueva still feels that there are adjustments that must be made, "there are some mental lapses within the game that we can improve on; some decisions we can learn from". He also stressed the need for better offensive execution come the second round.
The Taft-based squad's mentor however, despite the lapses in first round, still feels his team stacks right up in the thick of things, "we are still competitive in a sense that even though we don't have much experience in our team, the girls believe in the system and applied it throughout the first round".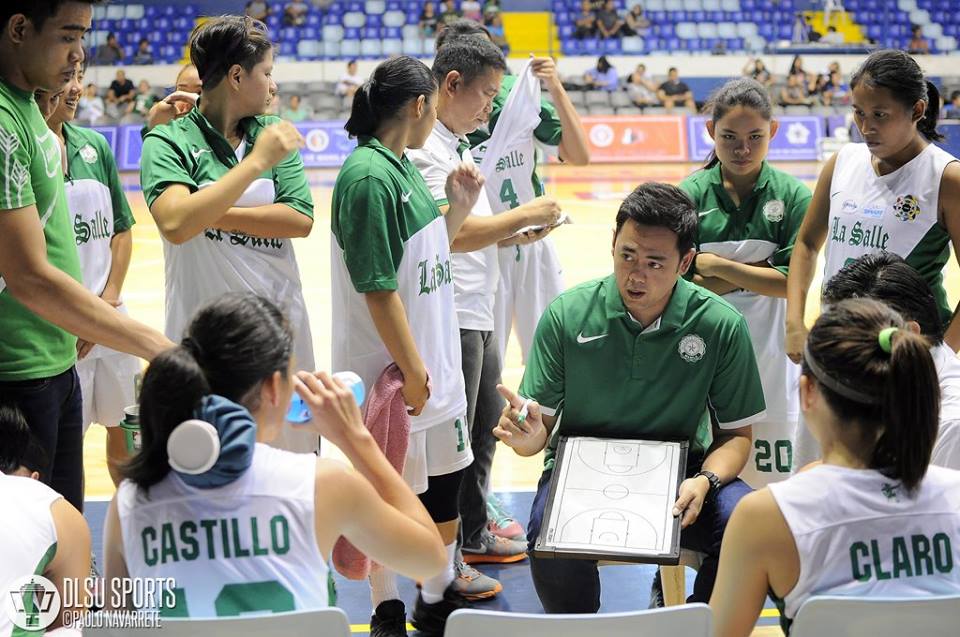 For the second round, Coach Cholo is keen on making some tweaks to what they are doing so far, "now we know how teams defend us individually and also as a team," says the former Green Archer "we are still a long way from our goal so there's no time to relax for us".
Having the same record as they did last year, the Lady Archers are looking to avoid the same fate as last year's squad. Alyanna Ong believes the way to do so is to not overlook any team this time around, "every game in the second round we will adjust based on our games in the second round. We will have different adjustments for every team. We have to beat all the teams again and not to let any of them get back at us. We need to maintain our winning streak".
The roadblock
Unsurprisingly, the DLSU Lady Archers' only loss in the first round came in the hands of the unbeaten NU Lady Bulldogs. They have not beaten the Lady Bulldogs since the 2013 UAAP championships.
No matter where you look, the packed NU lineup is indeed the strongest one in the entire league. They have beaten their opponents with an average winning margin of 24 points per game. They also lead the league in most categories such as field goal percentage, perimeter points, points in the paint, fastbreak points, assists, blocks, bench scoring, etc.
Good news however, is that the Lady Bulldogs are not invincible. Numbers wise, DLSU is not far behind. The Lady Archers are second in most of those categories and in addition to that, they are number one in the league in taking care of the basketball.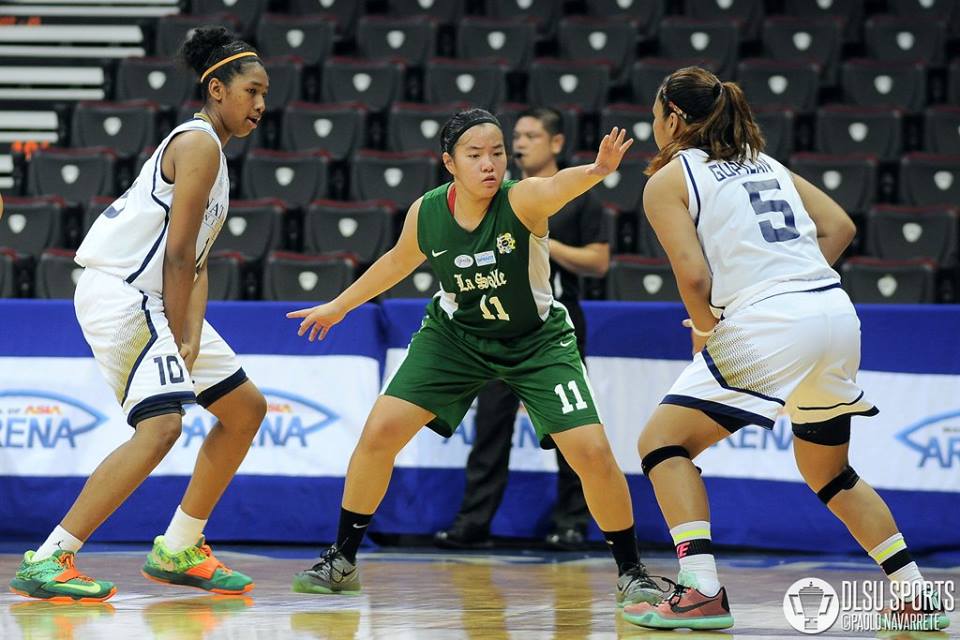 When DLSU faced NU in the first round, it was their first game of the season. First time playing in a league parading their new coach, new players, and new system while the NU Bulldogs' veteran core entered the game coming from a morale-boosting win in the FIBA Asia qualifiers with Perlas Pilipinas which is mentored by NU head coach, Pat Aquino. Come second round, it would be a different story.
For Camille Claro, the main key to overcoming the mammoth NU squad is to play as a team, "kailangan lang namin i-lessen yung mga mali nung first game and kailangan lang namin maglaro as a team. Sabi nga ni coach, mananalo kami as a team and matatalo kami, as a team parin".
Alyanna Ong had a more assertive sentiment saying that even after their loss against NU in the first round, she still believes that they can beat NU as long as they play the right way, "since NU will be our last game (in the second round), we still have time to find a way to beat them. We need to have a better defensive strategy and on offense, we need to keep on hitting the open man and moving the ball".
"We have to beat NU so there will be a final four because it will be more difficult if we have to go through the stepladder format." She adds.
Staying on track to redemption
With seven games remaining in the elimination round and six wins already under their belt, the Lady Archers are once again at pace to enter the UAAP Final Four. From that point on, they will be just four wins away to redeeming themselves and taking back that crown to Taft.
The second round of eliminations will start on October 11 at the Blue Eagle Gym with the Lady Archers clashing against the UST Tigresses at 1pm.