Basketball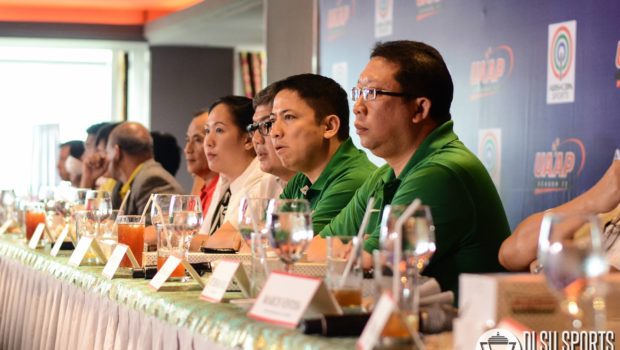 Published on July 7th, 2014 | by Camilla Saguin
0
UAAP press conference: Unity in Excellence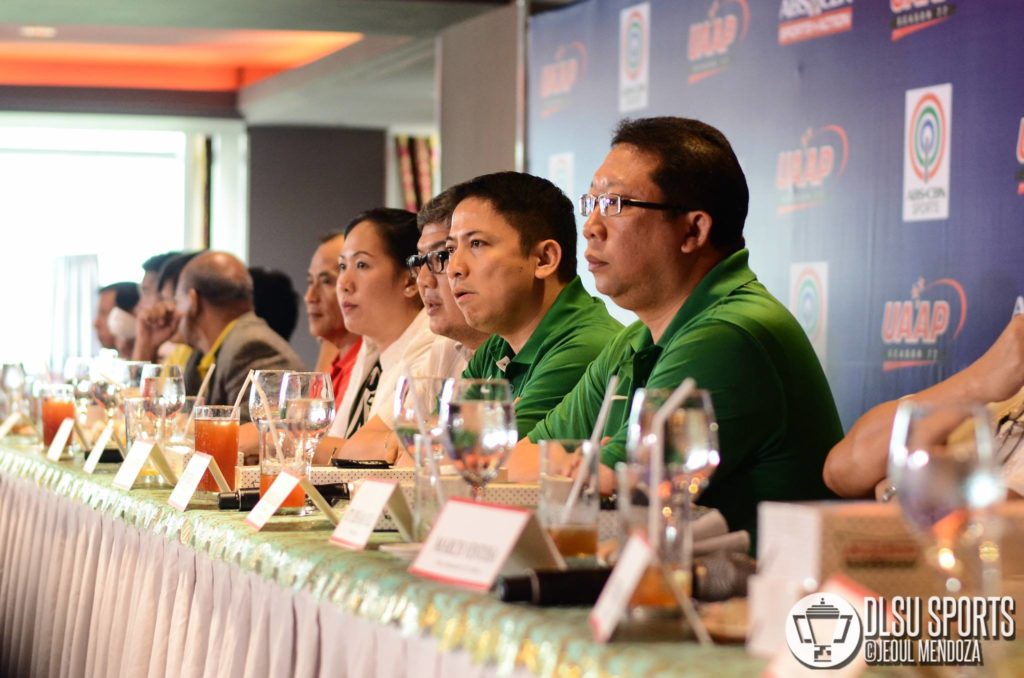 The UAAP season 77 hosts, University of the East, held the annual UAAP press conference today at Gloria Maris Araneta as they presented this season's theme, Unity in Excellence.
We are one
The press conference started with the opening statement from the UAAP president for season 77, UE's Carmelita Mateo. The theme Unity in Excellence according to her means that we are united in the triumph and excellence of every student-athlete. She addressed not only every participating university but also the media.
Coaches and their respective teams
Each coach of every participating school then gave brief introductions about their respective teams, except for the coaches of UP and ADMU who could not make it to the press conference for their teams are currently abroad.
Just like the theme of last year's victorious campaign, coach Juno Sauler of the DLSU Green Archers said that they plan to take it day by day and just see how the season goes along after every game and then work on it on practice. He also hopes that all their games will be exciting for all the fans and they will do their best this season as well.
Coaches and representatives of the other seven teams seem to grasp the Sauler-imposed system last year as almost all of them spoke to the similar tune of "getting better."
Former DLSU coach Derrick Pumaren, who will mentor the hosts University of the East, has a very young team at his disposal. He mentioned that everyone can expect his team to play hard every game and that they will try their best to make it to the next round.
Adamson University's new coach, former PBA player Kenneth Duremdes, said that his team is in a rebuilding phase so he is hoping that the players will respond in the quickest way possible. His plan is to take it day by day and he is also hoping for some upsets. He ended by saying that the important thing for them is that they learn and they play their best every game
Coach Nash Racela of the FEU Tamaraws was next and he stated the fact that they lost a lot of key players namely, Terrence Romeo, RR Garcia, Gryann Mendoza among others. FEU's target for this year, a team that finished third in Season 76, is to do better than last year.
National University's coach Eric Altamirano said that he has a group of promising players and he just hopes that they will be able to improve as the season comes alongside the hope that his new players will adapt with the old players' playing style. He set a target for the Bulldogs to reach the finals in the long run and his short-term goals are to make it to the final four and getting better after each game.
UST's new head coach, Bong Dela Cruz, broke down the composition of his players as well. Their goal is to simply improve every day, every game and every practice.
Yuri Escueta spoke on behalf of the Blue Eagles—still in Korea in preparation for the upcoming season. Ateneo also plans to take it one game at a time and they will try to make this season a "successful" one.
As for the young but talented UP, their team is currently abroad for some games. They said that half of their lineup is composed of rookies and that they plan to play according to their team's height.
DLSU is the barometer
The seven other schools' delegates agreed that the title favorite for this coming season is De La Salle University. The main reason that they cited is the fact that the roster of DLSU is still intact. Altamirano even said that DLSU's roster for this season is even better than the one they had last season.
Coach Juno, however, stated that he doesn't focus too much on the expectations and opinions of others but rather his focus is on performing every single game which to him is what's more important.
What to expect
Commissioner Andy Jao said that his main part for this coming season is to ensure fair officiating. He also said that overturning of game results will be very unlikely and that the officiating for this coming season will not necessarily be better but more of consistent. He also said that the teams are very competitive this year and that hopefully the games will really be exciting.
When asked about his thoughts on La Salle's defense of the overall crown, OSD Director Emmanuel Calanog said "As with every year we prepare our athletes with a goal in mind to the general championship. We were able to get good recruits this year. Hopefully we will be able to defend the 6 championships that we won last year and hopefully convert our 7 second place finishes. Hopefully we will be able to defend the general championship".
In other news, the legal counsel of the UAAP also addressed the residency issue and said that there is a discrepancy between the bill that was passed in the Senate and the one that is yet to be passed in the lower house. He further explained that for this season there would not be major policy changes in the UAAP.
It's time
As the UAAP season 77 approaches, it is time for DLSU to defend their crown. It is time once again for all Lasallians to unite and cheer for the green and white. The UAAP season 77 kicks off this Saturday, July 12 at the Araneta Coliseum when the Green Archers and the FEU Tamaraws meet in last season's Final Four rematch.
Photos of the press conference can be viewed by clicking the link below:
https://www.facebook.com/media/set/?set=a.525664827562275.1073741982.343223135806446&type=1