Green Tennisters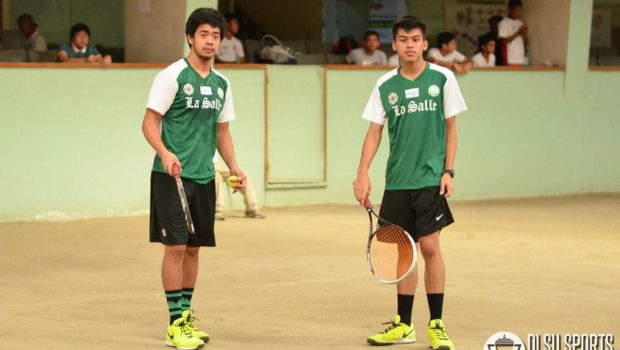 Published on April 8th, 2015 | by Pearl Cardenas
0
UAAP season 77 recap: DLSU Green and Lady Tennisters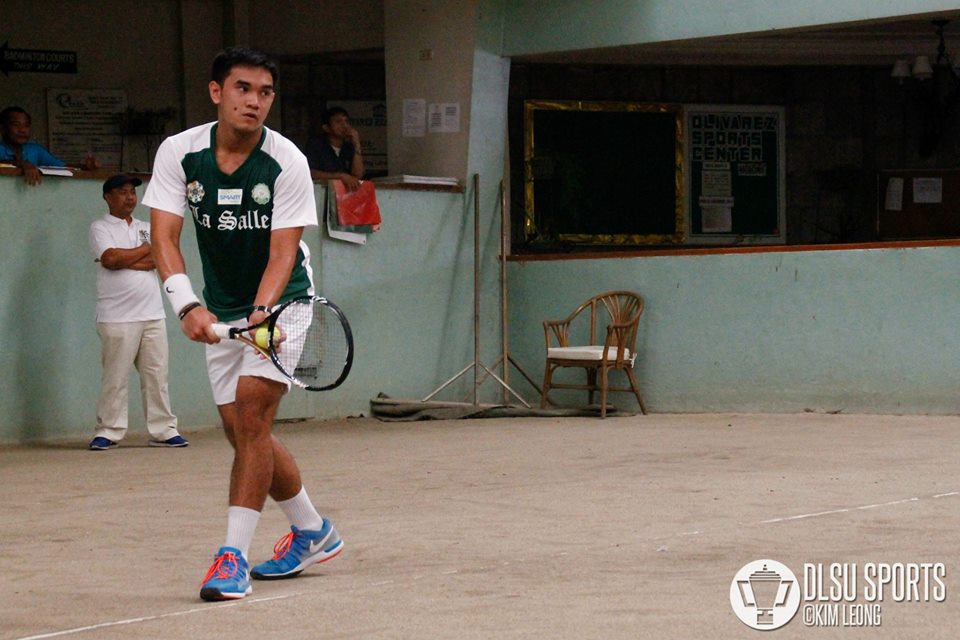 Fast serves, powerful smashes and quick steps, accompanied the DLSU Tennis team as they pushed through the competition in this year's University Athletic Association of the Philippines (UAAP) Season 77 Tennis Tournament. However, not all stories have good endings. DLSU Green Tennisters didn't give up without a fight but placed 5th for this season while the Lady Tennisters placed third.
Green Tennisters
January 10, 2015 was the start for all university teams to bring up their rankings in order to grab the championship title in Tennis this UAAP season. Of course, the DLSU Green Tennisters really wanted to win the title for this season. The team was all set to start the season right giving it their all as they faced their first opponent, the University of Santo Tomas (UST) tennis team. Sadly, things did not go too well as the match ended in a 2-3 loss after the fall of Kyle Parpan in one of the singles matches and the tandems of Gorospe-Sy and Pantua-Allian in both the doubles matches. Not losing hope, LA Canizares and Alberto Villamor came out on top for the team as they dispatched their opponents.
The next day, January 11, proved to be painful as the DLSU Green Tennisters suffered another defeat, this time against the University of the Philippines (UP), 2-3. Regardless of the loss, the team displayed a stunning performance as they took every opportunity to gain the lead and showed undying passion even though some of the team members lost. Amidst their fallen comrades LA Canizares and Alberto Villamor fought for the team, dispatching their assignments.
First taste of victory came during the third day of competition, January 24th. DLSU Green Tennisters achieved the tournament's first ever 5-0 for this year as they hammered rival Ateneo de Manila University (ADMU). The Green Tennisters lead the charge in singles category with LA Canizares joined by Qoqo Allian and Kyle Parpan. The same can be seen for the doubles team Pantua-Sy and Gorospe-Villamor enjoying their victories as they dispatched their Atenean counterparts.
Fresh from their victory against the Katipunan-based squad, the DLSU Green Tennisters received a taste of their own medicine as they bowed down to two-time defending champion National University (NU) with a swift 0-5 loss. Defending against the Bulldogs' unrelenting offense, the Green Tennisters showed passion, even though they were crumbling against the tough NU team.
The DLSU Green Tennisters made a comeback against University of the East (UE) delivering powerful smashes. The Lasallian surge started with a win by Alberto Villamor. Unfortunately it was followed by losses by Akio Sy and Dale Gorospe. However, Ernesto Pantua, and Qoqo Allian made up for it as they strengthened Kyle Parpan's streak to defeat UE.
After DLSU Green Tennisters piled up their victories, a chance to force playoffs was presented to them during the 2nd round of the tournament. Unfortunately this chance was lost, even after LA Canizares, Ernesto Pantua and Alvee Villamor gave it their all, due to successive losses of their teammates.
The team also failed to secure a 3rd place spot as they succumbed to UE during the final match, sliding down to 5th after a heartbreaking 0-5 beating.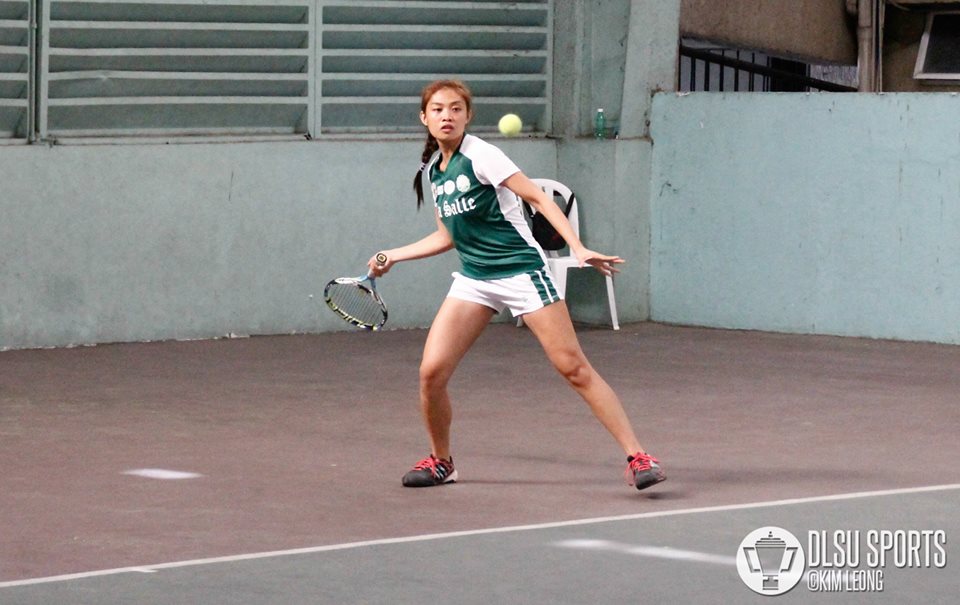 Lady Tennisters
The DLSU Lady Tennisters' first opponent for the season was Ateneo De Manila University. La Salle was quick to establish their dominance as Lasallian tennis star Marinel Rudas took the courts first to swiftly demolish her opposition with a 6-0 finish. She was soon followed by fellow singles competitors Jenni Dizon and Rachelle de Guzman. Not long after, doubles competitors Nikki Arandia and Princess Castillo joined them as they too defeated their opponents. Experiencing a mild hiccup as doubles duo Lynette Palasan and Janina Luis failed to notch a victory against their Atenean counterparts. Despite the late game victory of ADMU, DLSU Lady Tennister still emerged victorious, winning 4 out of 5 matches.
As the Lady Tennisters were looking to extend their streak at the cost of UST, things did not work out as planned as UST delivered to the Lady Tennisters their first defeat for the season.
January 24th was the day the Lady Tennisters were out to return to their winning form after their defeat against UST. Sadly, luck was in favor of defending champion National University's Lady Bulldogs as they forced DLSU to bow down. Giving it their all,  Marinel Rudas and Rachelle de Guzman were dispatched by NU, who seemed to be playing at a whole new level. The fall of the leading teammates catalyzed the defeat of  Janina Luis, as she was also forced to bow down.
The next day, DLSU Lady Tennisters were successful to return to their winning form, resulting from Rachelle de Guzman and Marinel Rudas victories. DLSU defeated the UP Lady Maroons in a 3-2 tie. The DLSU Lady Tennisters finished the first elimination round with 2-2 win-loss card.
After suffering a loss at the hands of NU Lady Bulldogs, the DLSU Lady Tennisters forced a playoff after defeating their UST counterparts during the final day of the elimination round. The crucial matches was entrusted upon the hands of Marinel Rudas, Rachelle de Guzman and Nikki Arandia as they knocked down their opponents last January 31 delivering a 3-2 loss to UST. The DLSU Lady Tennisters are now given the chance to create a repeat of last year's epic finals if they win their do or die match.
Unfortunately, DLSU Lady Tennisters were not able to make a finals appearance for the first time since UAAP Season 71. DLSU Lady Tennisters still fought and gave UST a hard time as they did not wish for UST to claim victory easily.
Clearly a heartbreaking loss as the team placed 2nd runner-up, Coach Taddy shares that there are great lessons to be learned from their match-up. Amidst the defeat hidden potentials were observed by the coach, as he mentioned Nikki Arandia's potential to turn into one of Lasalle's aces in the coming years, and the Palasan-Castillo duo that resulted in such a good team-up.
Despite tennis powerhouse University of Santo Tomas and National University dominating this season, the DLSU Tennis Teams' hard work and passion made Lasallians more than proud for the efforts they've put out for this season. Indeed, they portrayed a gallant and valiant stand as they pushed their limits to bring honor to the University. The Lasallian Community should hold on to their seats as the team eyes for next season's championships.