Athletics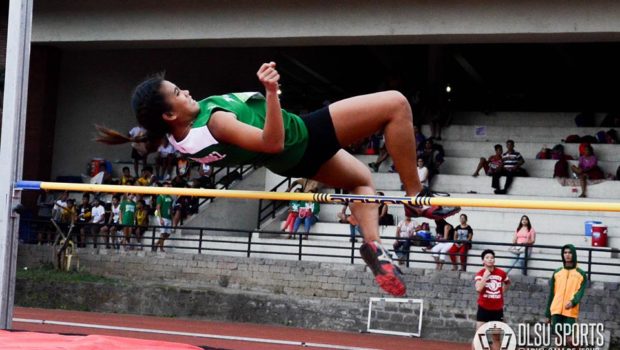 Published on April 21st, 2015 | by Arnold Cagang
0
UAAP Season 77 recap: DLSU Green and Lady Tracksters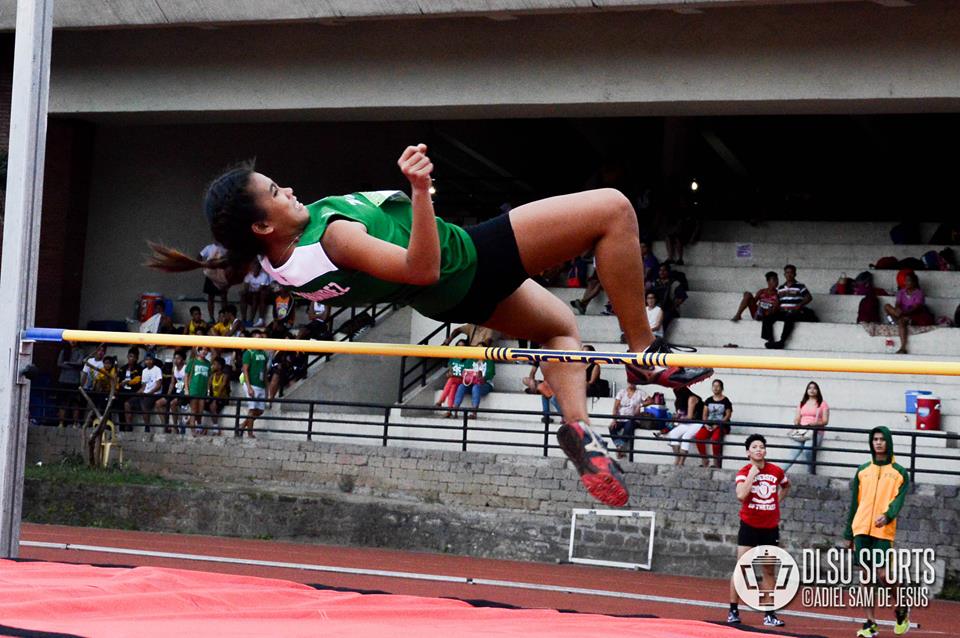 After nine long years, the DLSU Green Tracksters finally clinched a runner up finish in this year's UAAP season. On the other hand, the DLSU Lady Tracksters improved from last year's 5th place finish to 4th place this season.
The Far Eastern Eastern University (FEU) Tamaraws won their fifth straight Championship in Men's Track and Field, while the UST Tigresses dethroned the perennial title holders FEU Lady Tamaraws to be crowned as the new champions in the Women's division.
Tracksters run beyond expectations
Last Feb. 9, 2012 (UAAP season 75), Patrick Unso set the UAAP Record in the Men's 110m Hurdles with a time of 14.78 seconds. This season, Unso broke his own UAAP record in the Men's 110m hurdles with a time of 14.47 seconds winning the Gold medal for La Salle.
From the Lady Tracksters, Rookie Judy Ann Rendora put on a show in the 100m Low Hurdles going head to head against UP's Marianne Yorac. They both finished with a time of 15.19 seconds but the Gold Medal was awarded to Rendora after a photo finish review.
One of the most exciting events in the first day of competition was the 100m sprints. In a highly contested and tight competition, DLSU Green Tracksters captain, Jasper Tanhueco, won the Bronze medal with a time of 11.11 seconds.
On the other hand, one of the seniors of the Lady Tracksters, Maureen Schrijvers won the Silver medal in the High Jump competition. At the end of the final jumps, Schrijvers (DLSU) and Kristie Vinco of FEU both had a jump of 1.60 meters, but the Silver medal was given to Maureen because she has less fouls committed than Vinco. The Gold medal was brought home by FEU's Angelica Janda with a jump of 1.65m.
In the middle distance event 800m run, Green Trackster Erwin Parcon won the Bronze medal in a hard fought battle as Parcon and Arlon Hipon of FEU bumped each other to take the lead in the last 30 meters. Parcon finished with a time of 1:57.16 while FEU's Hipona finished in 1:57.62, only 0.46 as their difference. Also, in the 400m event, this year's UNIGAMES 400m Gold medalist Michael del Prado, won the Bronze medal with a time of 49.89 seconds; a vast improvement from the promising sophomore.
Rookie Angel Cariňo won the Gold medal in the Women's Long Jump with a distance of 5.65 meters. In addition, the cross entry, football/track & field athlete of La Salle, Gerald Layumas brought home two medals: a Silver medal in the long jump with a distance of 6.56 meters, and Bronze medal in the triple jump with a record of 13.87 meters. On the other hand, decathlete Anton de Jesus had a total of 4087 points finishing 9th over-all. From the Lady Tracksters, heptathlete Shaira Hernandez, after 7 events had a total points of 3457 finishing 7th over-all.
Another UNIGAMES Gold Medalist, Rookie Nestly Tercero finished strong in the 400m hurdles with a time of 55.38 winning the Silver medal for La Salle. John Rey Moreno was crowned champion in both the 3000m Steeple Chase and 5000m Run events. He impressed everyone by bringing home 2 Gold medals and achieving a new personal best time with 9:35.22 and 16:08.38 respectively. In addition, Mat Crespo won the Gold medal in the Hammer Throw event with a distance of 42.77 meters.
Some of the highlights in the Track & Field competition are the 4x100m and 4x400m relays. Our Men's 4×100 relay composed of Jericho Ejercito, Nestly Tercero, Timothy Uichico and Jasper Tanhueco won in nail-biting fashion. The boys in green finished with a time of 43.28 seconds while the UP-Diliman squad only .03 slower than them, 43.31 seconds. In the Women's division, our Lady Tracksters composed of all rookies namely, Angel Carino, Leah Creer, Mary Diesto and Judy Ann Rendora did not fail to impress everyone by finishing with a time of 48.91 also bringing home the Silver medal for the Taft-based squad.
In the 4x400m relay, the Lady Tracksters composed of Angel Carino, Leah Creer, Shaira Hernandez and Maureen Schrijvers finished 4th place with a time of 4:04.14. Their counterparts, the Green Tracksters team, of Mico del Prado, Jasper Tanhueco, Jericho Ejercito and Nestly Tercero took home the Bronze medal with a time of 3:21.43 seconds.
Jasper Tanhueco steps into a leadership role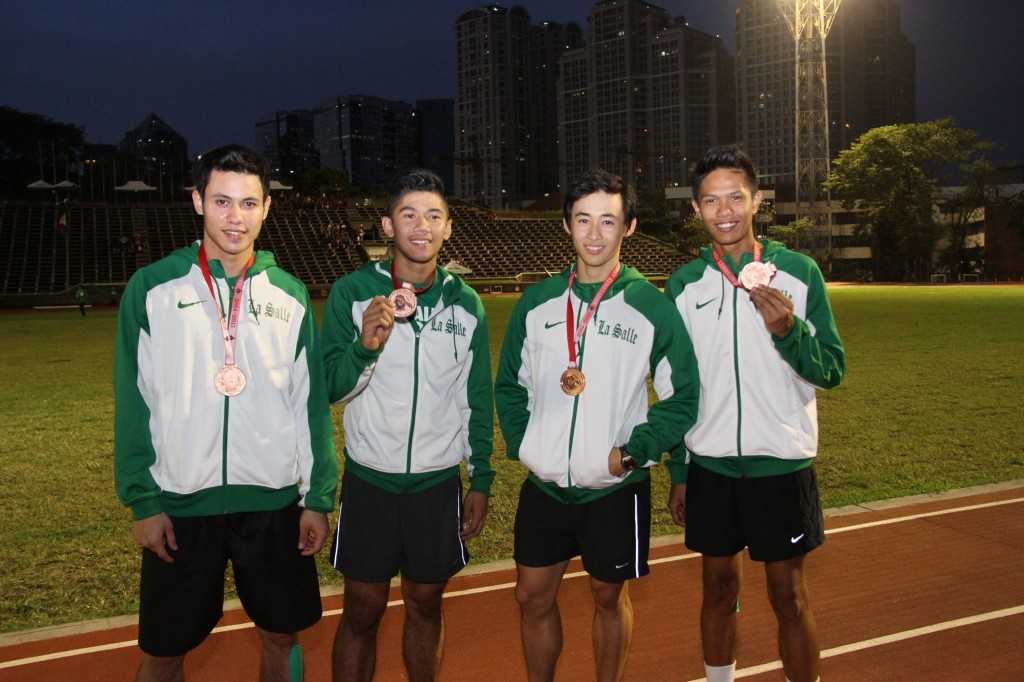 Although he didn't walk away with more individual medals compared to last season, Tanhueco earned something he can carry with him into next season. He still feels happy about the results of the Men's and Women's teams this season. "Malaki yung expectation sa akin this year lalo na parang champion ako, next year bawi ako sa individual events ko. Tapos, masaya pa rin ako in a way na alam ko na naging mas bonded yung team, masaya ako for last year kasi individual wise mas maganda yung nakuha ko. Pero this year mas maganda na nasa podium kami, 2nd place pa. So in a way, di ko rin masasabi na parang pangit na season kasi alam ko na nakatulong naman rin ako sa team and over-all mas maganda na yung results. Mas maganda yung standing namin as a team kesa sa mga nakuha ko. This year nasa podium na kami, ico-continue parin namin yung finish na 'yun next year." It was really evident that the DLSU Track Team is stronger compared to last year. The results say it all and it is because of the togetherness of the team. They support each other in trainings, cheering and motivating one another in the actual competition, that's why they succeed. When the captain was asked about his feelings and thoughts about this UAAP season, "Thank You Lord, and I'll never forget this." he stated.
Blessed season
For Coach Jeoffrey Chua, "This is a blessing because we really don't know what will happen this season. Our aim was just to improve our scores and in that maybe we could finish 3rd, podium finish." Adding that along the way, they experienced injuries especially on the MVP candidate, Patrick Unso. But despite his injury, Coach Jeoffrey really believed in divine intervention which he stated that it really happened this season. "Unexplainable, masayang-masaya. Ang motivation talaga namin is to perform for La Salle. This year they gave us so much players to improve the standings of our Men and Women Track Team and of course dapat magdeliver kami, and the players delivered. Thank you sa OSD of course, sa La Salle, for the administration for allowing us and giving us the budget to recruit, yun yung importante jan eh. Without the recruit di ko alam kung what will happen this year sa amin."
It was also clear that the Women's team with 8 rookies gave so much contribution to the team and improved last season's standings.