Athletics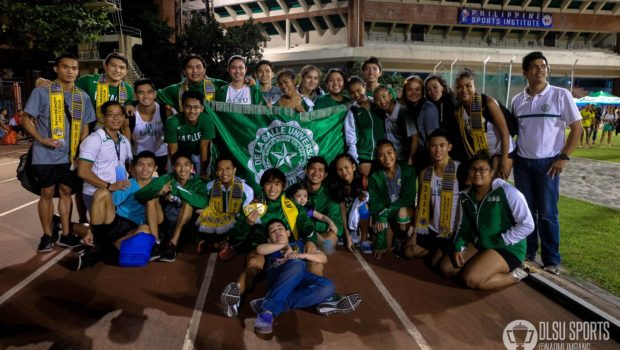 Published on February 17th, 2017 | by George Aladin
0
UAAP Season 79 recap: DLSU Tracksters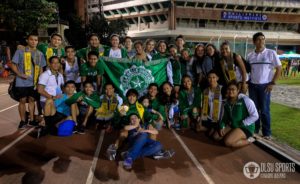 Breaking records must be the key motivation of the DLSU Tracksters as they broke not one but two UAAP records in a span of 4 days.
The Green Tracksters placed second overall this season with 243 points while the Lady Tracksters stayed in fourth with 102 points
Tracksters Run to the Podium
This season three Green Tracksters got a quick start by placing first in three events for the first two days of the UAAP Season. Veteran Erwin Parcon finished first in the Men's 800m run while sophomore stand-outs Jvee Patalud and Kenneth Rafanan also won gold in Men's shot put and javelin events respectively.
Angel Cariño of The Lady Tracksters stepped up to the challenge by having a podium finish and also broke a 17 year old record on the 2nd day of the tournament. Cariño set a UAAP record in the women's triple jump event with 12.60m.
John Kenneth Nodos and Captain Michael Del Prado both got a podium finish on highly contested Men's 200m sprint event. Nodos fished second while Del Prado followed, finishing with the bronze.
Coming on the 3rd day of the tournament, Michael Del Prado won gold in the Men's 400m run with a time of 49.07s. For the Women's division, Judy Ann Rendora got a third place finish.
On the 4th day, Michael Del Prado steps again to the spotlight by winning the silver medal in the Men's 400m hurdles with the time of 53.73s.
Another highlight of the track and field event is the 4x400m relays. The Green Tracksters broke another UAAP Record and cash off another gold medal in the bag.
Finish Beyond Expectation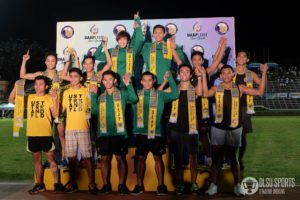 The Tracksters finished a place higher than last year and showed great promise for the team in the years to come. "Results this season was good because we landed 2nd runner-up overall in Men's division" Team Captain Michael Del Prado stated. "Last season we're rank fourth kaya masaya kami this time."
Even though the team lacked in manpower they still finished beyond their expectations. "This year, it was very exceptional, kasi konti lang kami" Coach Jeoffrey Chua said."Nakabawi naman kami sa individual performances, dinagdagan ko ang individual events para ma-augment kasi sa manpower talong-talo tayo" He added.
Looking forward
Since finding recruits will be difficult because of the K-12 program, the team already plans some alternatives to add the man-power of the team. "We are relying on our try-outs, incoming freshmen from private schools," Said Coach Chua.  "So generally speaking, we cannot recruit high-caliber athletes from other high school" He ended.
With 3 athletes already played through their 5th year of eligibility, the DLSU Tracksters are losing manpower but it does not stop their confidence for next year's tournament. "Kahit wala na yung seniors namin, magawa pa rin yung best nila like this season and praying na mas maging maganda pa ung results." Stated by Del Prado, who is still undecided in playing next year.
Through the eyes of a Team Captain
With a better finish than last season, The Tracksters feel blessed and joy as they end UAAP Season 79 "I'm really happy and blessed kasi as the team captain of the team hindi madali eh, instead of focusing on my events inaasikaso ko Sila, I learned a lot from them Kaya kung wala Sila wala ako" Michael Del Prado on his thought about the team and this season.
#13eSTRONG