Poomsae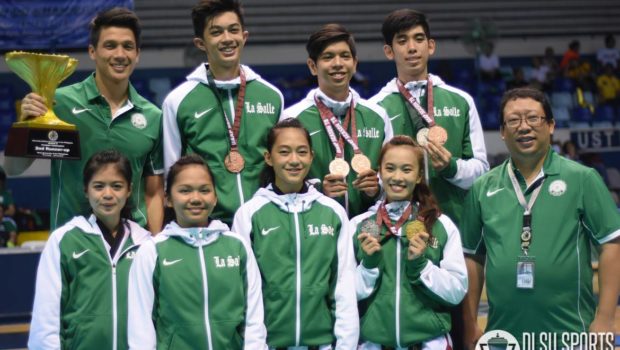 Published on October 20th, 2016 | by Louie Fernando
0
UAAP Season 79 team preview: DLSU Poomsae team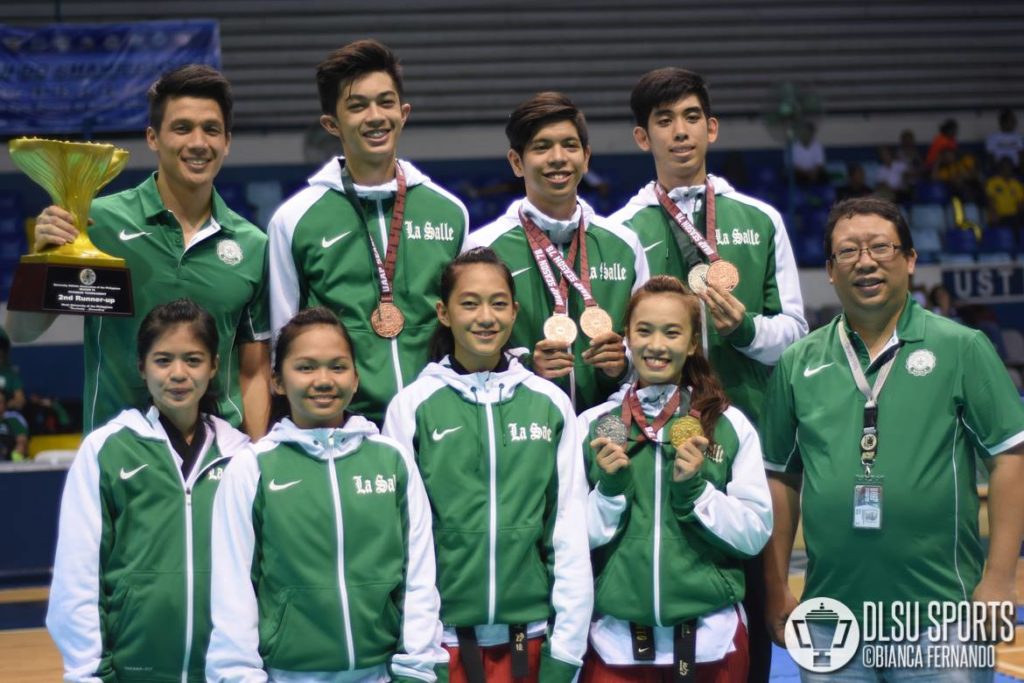 Since coming short of grabbing a place on the podium back in UAAP Season 76 it is apparent that the DLSU Poomsae team has added a notch to their belts year after year.  As Season 79 draws upon them, the Taft-based squad is more than ready to bring it onto the mats and once again show the results of their hardwork and meticulous training.
Podium constants
Led by coach Jean Pierre Sabido who is a Philippine National Team player, DLSU's Poomsae team has been able to finish in the top three in the past two seasons and it is primarily because of the program the coach has instilled in the club.
This year, hardwork, team play, and discipline are still the keys to a sought after podium finish. Coach Sabido trains his group consisted of six players strictly and it is a must if the Taft-based squad plans to sustain their success.
"Strict siya most of the time pero he makes sure that we always bring out the best in ourselves by believing in us. He always advices us not only in training and taekwondo but also in life outside taekwondo," Ching Sembrano shared.
Putting in all the time and effort, the Jins always aim to bring out their best whenever they step on the mats. As Rico Mella said, "We always aim for our best performance for the best results. With a solid and small lineup, we keep each other close and together. We think of our school first rather than of ourselves. We do our best to keep open minds and understand one another,"
The all-encompassing training of coach Sabido to his players has marked a fierce mindset to the team and it galvanizes the players to put in the work necessary to win. With the proper mindset, good work ethic and relentless coaching, the team has struck gold and has found the recipe for success.
Constant improvement
Coach Sabido always seeks to improve his players. Despite of their recent string of success, the team knows there is always a room for improvement. Mello also mentioned that they put the words of Sabido in their minds, "He gives us tips, and we players test it and we keep working on it until it goes into our memories. All throughout our days in training, we always develop our minds and aura in our performance. He tells us to do our best every time, we trust our coach, and we perform for our school and lift our performances to God."
Sabido focuses on developing his players holistically and as the seasons progressed it has given the team not only the skill and discipline but also the trust and confidence in each other. Sembrano adds,  "For this season, mas united kami compared to last year. Despite na six lang kami, bondings are better and motivation among ourselves is stronger. Mas nag-cooperate lahat and everyone understands each other's decisions."
The chemistry of the team has improved, these group consisted of six Jins, as a whole, seem to be better than the sum of its parts. The small group has developed a bond as stable and strong that of a Poomsae player.
Aside from the heavy work the team puts in training, the team has a trick up its sleeve that might bring a difference for them in the upcoming campaign.
"Since some of us came fresh out of the recent World Poomsae Championships, all of us teammates were able to adapt to the modern style of performance that we know everyone will be impressed with," Mello shares.
With all the right ingredients in place, it is no wonder that the Jins are confident that the team will once again perform well on the mats. Their consistent hardwork  should bring them another winning season, combine it with the constant improvement of their skills and chemistry, it might just be enough to finally propel them to a championship.
Catch them tomorrow, October 21 at the Blue Eagle Gym as they battle it out inside the mats against the different universities in UAAP.