Basketball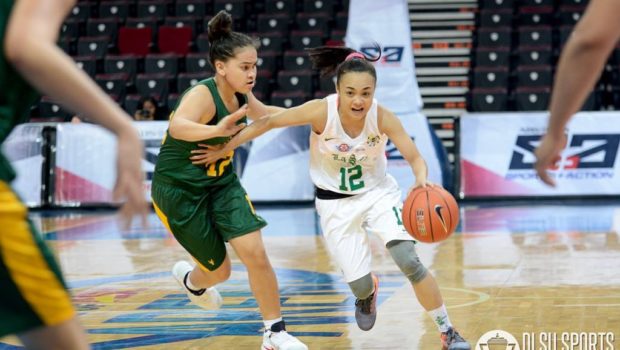 Published on September 9th, 2017 | by Genrev Villamin
0
UAAP Season 80 Team Preview: DLSU Lady Archers
Season 79: 11-3 (2nd Place)
Holdovers: Marga Dagdagan, Khate Castillo, Chay Vergara, Kat Nunez, Joe Arciga, Vea Malarde, Angel Figueroa, Charmine Torres, Charlene Javier, Jamie Roxas
Additions: Marga Jimenez, Bernice Paraiso, Lauryn Del Campo, Noreen Gabriana
Departures: Camille Claro, Bennette Revillosa, Snow Penaranda, Kathy Gonzales, Paulina Vela, Susan Ali Mohamed El Hadad
The De La Salle Univeristy Lady Archers entered UAAP Season 79 brimming with hope despite a premature exit in Season 78. They bowed to arch-rivals Ateneo Lady Eagles in the Semifinals. La Salle opened the Season 79 with wins against FEU and UP, before losing to defending Champions NU Lady Bulldogs. They bounced back with six consecutive wins and fell anew to NU and FEU. The Lady Archers swept their remaining assignments in the elimination round for an 11-3 slate. Despite a slightly worse record than Season 78's 12-2, the Lady Archers still managed to end up at 2nd place and book a direct trip to the Semifinals.
Earning a twice-to-beat advantage is no longer new to the Lady Archers. However, they have wasted that advantage in Season 77 and repeated in Season 78. In Season 79, the Lady Archers earned the same advantage again. But this time, they immediately took care of business by dismantling the UE Lady Warriors to finally advance to the Finals. They were met by the still undefeated Lady Bulldogs. The Lady Archers bowed in Game 1 by only three points, 74-77, before losing their grip in Game 2, 72-96, effectively surrendering the crown to NU and finishing 2nd place.
Lady Archers Coach Cholo Villanueva pointed out their 'lack of experience playing' in the Finals as one of the team's main problems after they were outclassed by the NU Lady Bulldogs. The Lady Archers last played in the Finals in 2013, Season 76, where they beat NU for their most recent title. To address that, the team played in two preseason tournaments as well as against high school boys' teams in the offseason. So far, Villanueva likes what he sees from the ladies. "We are improving every day. Everybody is giving their best effort."
The DLSU Lady Archers will be bannering a guard-heavy squad anchored by veterans Marga Dagdagan, Khate Castillo, and Chay Vergara.
"We put in a system that is guard-oriented, something that does need a big," Villanueva shared on the team's adjustments.
Team captain Marga Dagdagan added that the Lady Archers may not be able to beat other teams with athleticism, but they can beat other teams with their ability to decide fast. Dagdagan knows that the team can adapt quickly to what their coach wants.
The Lady Archers also look to get help from their new teammates. They will be parading Marga Jimenez, Bernice Paraiso, Lauryn Del Campo, and Noreen Gabriana.
"Since most of the veterans are injured, our old veterans will need help from our new guys." Coach Villanueva said.
Dagdagan shared that the sophomore mentor has provided them a program to enhance their build. "In high school, they have easy basketball. But here in the UAAP, they have bigger girls to play with. The rookies have to be able to bump with the bigger girls."
Rookie Lauryn Del Campo expressed her excitement in helping the team in her first year in the UAAP. She also expects a lot of communication in the team.
"I can help them by keeping a positive attitude. I am going to try to hustle more on defense and try to help them out defensively. If I do something wrong, they would tell me. And if they do something wrong, I should be able to tell them as well," she said.
Entering Season 80 as the 2nd place, the team's mindset is to take it one game at a time. "Play every game. We will see it from there," Coach Villanueva described.
The Lady Archers also took a huge blow as go-to-player Camille Claro will not be suiting up for the team due to an injury. Despite that, Dagdagan stressed that they have no time to worry as they are far away from the title.
"Upon learning that Camille Claro will not play this season, we had that thinking that we will really have a hard time making it to the Championship. But we are not yet looking for the Championship", Dagdagan expressed.
Almost all teams are intact and are veteran teams," according to Coach Villanueva. Three-time defending Champions NU Lady Bulldogs, who are entering Season 80 on a 48-game winning streak, are definitely the team to beat. Villanueva also listed UE, Adamson, and UST as teams to beat.
As small as this year's version of the Lady Archers are, Dagdagan believes that her team is going to slug it all out in Season 80.
"I'm expecting the ladies to show their willingness to fight even in crucial stages. I expect them to not give up even if we are a small team."
Coming off a 2nd place finish, expectations are high once again for the Lady Archers. Nonetheless, Coach Villanueva assured that the DLSU community can expect a team that is ready to give it their all in Season 80.
"We will play with heart, play with aggressiveness. We're always going to bring the competitiveness, the willingness to win. We will just have to leave everything on the floor in every game that we play." vowed Villanueva.