Basketball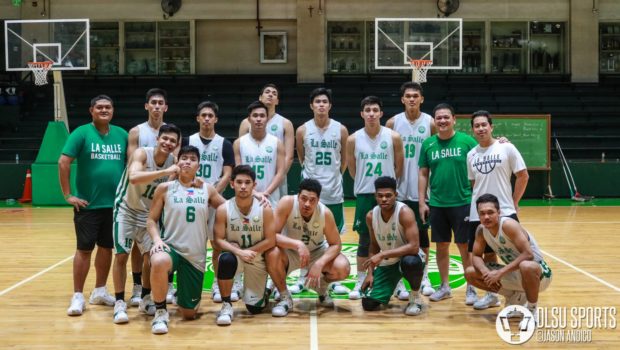 Published on September 7th, 2018 | by Gabriel Minamedez
0
UAAP Season 81 Preview: DLSU Green Archers
Drama ran high for the De La Salle University Green Archers this past offseason. With a whirlwind of roster fluctuation and turnover, any other team would have just gone into a complete rebuild. Not La Salle, though. The Green Archers are ready to jump right back in to contention entering Season 81.
The sun was blazing hot on one Saturday morning, exactly a week before the new season of the UAAP begins, but that didn't stop the Archers from going right at it in practice. The whole coaching and training staff were there, focusing on the 13 men donning the Green and White and looking on as they put in work for the season.
Yes, all the drama that the program has been through left the team with 13 players remaining. Superstar big man Ben Mbala has moved on to his other basketball endeavors internationally. Glue guy Abu Tratter has exhausted all his playing years in the collegiate level and is now prepping for pro ball. Budding star Ricci Rivero and brother Prince have both went on to different paths. Even head coach Aldin Ayo, who transformed the team dynamic, has left for UST.
On the transition
Season 80 turnout: 12-2 (2nd in the UAAP); lost 1-2 in the finals against Ateneo
Holdovers: Kib Montalbo, Aljun Melecio, Andrei Caracut, Jollo Go, Justine Baltazar, Leonard Santillan, Gabe Capacio
Losses: Aldin Ayo (coach), Ben Mbala, Ricci Rivero, Prince Rivero, Abu Tratter, Brent Paraiso, Joshua Gonzales, Ramil Tero
Newcomers: Louie Gonzales (coach), Mark Dyke (returnee), Brandon Bates, Taane Samuel, Encho Serrano, Joaqui Manuel, Miguel Corteza
Even with a shorthand of players at a number of 13, this is not a problem to new La Salle head coach Louie Gonzales, who took over the reins of the team last January. We were able to sit with him to talk about the Green Archers of the coming season.
"They know that we lost a lot of players, but on the first day that I stepped in, I felt it right away that everybody was willing to step up", Gonzales said when asked about the team's atmosphere all throughout this transition. "I made it clear to them that it's all about playing your role. We know that we have good players still, and even if there's nobody as high a ceiling as Ben (Mbala) was, I told them that success isn't about greatness, or having the best players. It's about consistency. It's about working hard everyday to be the best player and teammate that you can, and 'yun 'yung si-net kong goal for them to get rid of the pressure."
A lot of eyes should still be on La Salle this season, with everybody curious to see how the team looks like. The 13 players are comprised of an almost-even deal of holdovers and newbies, with 7 mainstays, 5 rookies, and 1 returnee.
Spearheading the holdovers is the Man of Steal himself, Kib Montalbo, who's playing in his final season in the UAAP. Joining him are Aljun Melecio and Andrei Caracut, the offensive-minded guard tandem who now have the responsibility of taking over a huge chunk of the scoring load. Jollo Go, Gabe Capacio, and returnee Mark Dyke are all two-way threats off the bench that give La Salle much needed depth.
The towering duo of Justine Baltazar and Santi Santillan are also the talk of the league, as they can finally have their potential unlocked this season with more playing time. In fact, Baltazar entering the season is gaining whispers of possibly being the best big man in the UAAP with his unicorn-like stature and impeccable skills on both ends.
Of course, let's not forget about the rookies. Taane Samuel from New Zealand and Fil-Australian big Brandon Bates give La Salle quite a scary front court rotation. Encho Serrano from the Adamson basketball program, who just a few years ago, was touted as the best high school player in the country, is another scorer that the league should watch out for. Joaqui Manuel of Ateneo High School and Miggy Corteza from Bacolod are both reliable glue guys who could give the Archers valuable minutes from the wing.
"They're definitely fitting in well with the system", exclaimed coach Louie regarding the new-look Archers. "Sa totoo lang, there are new players, but if you look at it at the bigger picture, halos lahat new, not in terms of to the team, but to their roles."
On preparing for the season
It was a high energy practice on that Saturday morning, with the coaches yelling their order for the team, and the players creating plays as the rest of the gym spectate. It is noticeable that there's going to be a lot of ball and player movement, with everybody getting a chance to hold the ball and run the offense, from point guard to center. "It's now more on what we're going to do to win, whether it be fast or slow. Whatever it takes for us to win, we're going to do that", Gonzales said on what to expect from the Archers in terms of play style. "Actually, 'dun parin yung Mayhem. It's the energy, the consistency, and 'yung pagiging spontaneous nila. It's still there on both ends, except now, we're going to also focus on the specifics."
Over the offseason, the team participated in a number of tournaments as a preparatory stage, including the FilOil Flying V Preseason Cup where they finished at the quarterfinals in a tough pool of teams. They also participated in international tourneys in Taiwan and Korea as a measuring stick of where they're at with their chemistry and cohesiveness. "They surrendered themselves to the system", as coach Gonzales would put it. You can tell that the trust is there within the team.
On the team mindset
It's not only La Salle that has undergone changes. UST, FEU, UE, and Adamson have all made sweeping roster changes. UP and NU both bolstered their lineups. Rival Ateneo got richer with their new recruits. Even with this though, coach Louie Gonzales says he chooses to focus more on his team. "Sa tingin ko, all the teams are really competitive right now", said Gonzales. "But I'm more focused sa team natin right now, and so when I look at the other UAAP teams, I'll see them with respect, and for us to compete, we have to respect every team and give our best always."
And it seems that this mindset has already rubbed off on the Archers. As they went on with the practice, they continually showed the teamwork that the coaching staff wants for them to reach new heights as a cohesive unit.
"When you talk about La Salle, it's the Green Archers. All of them will have the Animo in them since they'll be playing as one. They'll play together. They'll help each other out."
Going in to Season 81
What's impressive with the La Salle basketball program is that the resiliency is there, as this team should still very well be up there on the UAAP mountaintop. In retrospect, the moves made by the program instills a promise of bringing glory back to the Green and White. Winning looks to spring eternal for the Green Archers from this point forward.
Even with just 13 players on the squad, it's the winning culture that proves time and time again that the Green Archers are a team to look out for. They won't be going down so easily.
As our interview with coach Gonzales wraps up, we asked him for his message to the Lasallian community entering the season. "First of all, I want to thank the Lasallian community for their trust and confidence", said Gonzales with a hearty smile in his face. "Alam ko naman that they're with us, hoping and praying na we can perform to our fullest capabilities. Rest assured that myself, the coaching staff, and the whole team will do their best to make DLSU proud."
Catch the De La Salle Green Archers in action for the first time this season on Sunday, September 9 as they take on the FEU Tamaraws at the Mall of Asia Arena.
Animo Green Archers! Animo La Salle!