Athletics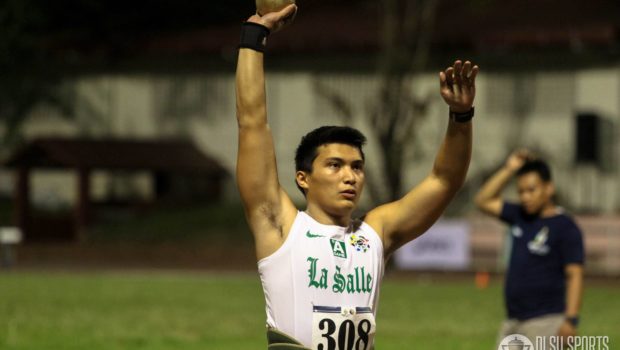 Published on November 27th, 2018 | by George Aladin
0
UAAP Season 81 Preview: DLSU Green and Lady Tracksters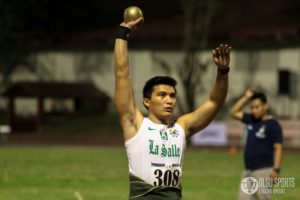 Even though they were outnumbered, the De La Salle Green and Lady Tracksters had a respectable performance after finishing 3rd and 6th place respectively last UAAP Season.
Adapting to a tighter new schedule was one of the early struggles of the team. Fortunately, De La Salle's Office of Sports Development continues to pursue in sourcing for what they need in spite of the tight schedule that they have.
With a short time for preparation after a change in the UAAP Season calendar, the team took every chance they could get in order to train for the next season.
John Kenneth Nodos joined the Philippine National Games in Cebu last May and the National Open in Ilagan, Isabela last June. Joining Nodos in Ilagan are Team captain Alvin Vergel, Emilio Roxas and Francis Obiena while rookie Daniella Daynata joined them participating in the Junior girls category. Both Francis Obiena and Daniella Daynata later participated at the Hongkong Intercity Athletics Championship, an overseas competition which was held also last June.
The tracksters started their official team preparation at the beginning of the third term last school year. They have joined the PATAFA Weekly Relay series as part of their tune-up meets prior to UAAP Season 81.
New Beginnings
In the male category, four of the team's multi medal athletes have graduated last Season 80. Michael Del Prado, Erwin Parcon, John Rey Moreno, and Roland Malate all who have contributed significantly to the team standing. There were only two rookies added in the men's line-up this year; Frances Dayson Velasquez and Joseph Humpay. With Del Prado graduating, the baton of team captain has been passed to Alvin Vergel who is also seeing action after being sidelined last season due to a hamstring injury.
In the women's category, they are were no graduating players, instead, the team added 7 new athletes in their line-up. They are Daniella Daynata, Princess Decepeda, Kristine Joy Sariola Begata, Laila Domingo, Beatx Clarianes, Sofia Cuevas , and Sophomore Angelyn Choi of whom is expected  to boost their performance this year.
Having the right perspective is the team's mindset entering the Season. "It's hard to expect something extraordinary results in competition especially when all schools are all well prepared as well." Said Coach Edward Obiena who believes that the team will give their best. "So whatever is the result of the competition as long as the best effort was given, we should be happy." He ended
The Green Tracksters looks to continue where they left off last season, but it will be tall order since they are in rebuilding mode. With most of their key players graduating, they are now looking at their new players and the veterans left in the line-up. Taking the mantle of Team Captain, Alvin Vergel hopes to bring out the best in every single one of them.
"As the captain of the Green tracksters, I always tell my teammates to give it their best shot," said Vergel, "I expect them to pour everything in each step they take, in each jump they leap, and each throw they make as if it was their last." he added.
The Lady Tracksters are looking at a fresh but challenging start, but it is a challenge that they are willing to take. Their line-up consists of new faces who are still adjusting to the system but the belief from their coaches and teammates can help them develop.  
"Malaki tiwala ko sa girls dahil masisipag sila and alam na nila yung level of competition ng UAAP," Jewel Manaig said about her belief on her teammates, "we seniors will always be here to support them no matter what," she added.
Together with the new line-up, veteran athletes will surely be eager to go into the battlefield in hopes of winning it all. Veterans like Jvee Patalud, John Kenneth Nodos, Angel Carino, Jewel Manaig and newly named Team Captain Alvin Vergel. Last year's women's team Captain Shaira Hernandez will also be seeing action this season after being sidelined last season due to a recuperating knee injury.
See the De La Salle Green and Lady Tracksters in action this coming November 28 -December 2 at the PhilSports Complex in Pasig.
Full Roster:
Green Tracksters:  1. Alvin Vergel 2. Jvee Patalud 3. Kenneth Nodos  4. Kenneth Rafanan 5. Francis Obiena 6. Jan Joseph Coronel  7. Emilio Roxas 8. Manolo Maralit 9. Frances Velasquez 10. Joseph Humpay
Lady Tracksters: 1. Angel Carino  2. Mary Diesto 3. Judy Ann Rendora  4. Melissa Escoton 5. Elrica Guro 6. Shaira Hernandez  7. Jewel Manaig 8. Angeli Din 9. Angelyn Choi 10. Daniella Daynata 11. Princess Daniella Decepeda 12. Kristine Joy Sariola Begata  13. Laila Domingo 14. Sofia Cuevas 15. Beatx Clarianes