Football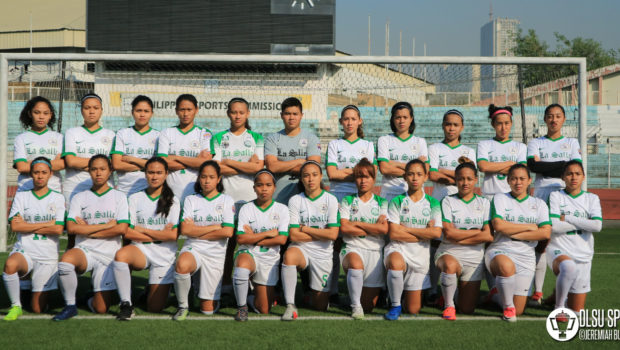 Published on March 5th, 2019 | by Joanna De Leon
0
UAAP Season 81 Team Preview: DLSU Lady Booters
Photo by: Jeremiah Buenafe
Entering Season 81 as the reigning back-to-back champions of the UAAP Women's Football Tournament, the De La Salle University (DLSU) Lady Booters are eager to defend the title and aim for a three-peat with their great combination of players and good practices.
Protecting the crown
After bagging consecutive championships in Seasons 79 and 80, assistant coach Alvin Ocampo assuredly said that the title has been a big factor in boosting the confidence of the Lady Booters. He also mentioned the improvements he saw during the preseason league among the rookies and the seniors who displayed a sense of authority and responsibility in commanding the team.
Alongside the preseason league that the ladies have participated in, team captain Kyra Dimaandal also mentioned that they had different kinds of training that allowed them to examine a variety of plays that they can use.
Rookie Alisha Del Campo, who previously played for De La Salle Santiago Zobel, mentioned the need to step up and perform at a collegiate level. "In training, we are always pushed to give our best and to improve more and more every single day so that when the season comes, we're ready for our opponents and all the challenges coming our way," Del Campo said.
More than physical preparations, the Lady Booters are also setting up a positive mindset. Commitment, discipline, eagerness, and trust are the values that the back-to-back champions instill. Irish Navaja, who will be playing her last UAAP season revealed, "The only way to keep the crown is to trust each and everyone in the team because that's the most important weapon that we have against our opponent."
Goal!
With all the other teams hungry to steal the meal from DLSU, the Lady Booters aim to double their efforts in order to keep the crown. Each of them has their personal and team goals.
Dimaandal stated, "Personal and team goal is to keep La Salle's glory bright by keeping the championship. We've all been trying to be better even through hard times. What's important is we all try to fix our mistakes and help each other. That's the main plan—just being progressive."
In and out of the field
Being a student-athlete has never been easy. Dimaandal revealed that she sometimes gets sidetracked by her academic and personal life, but it is her desire to lead the team to be better and build something that they, graduating seniors, will leave behind.
As one of the senior players, Navaja reminded the team to never settle for less. "An arrow can only be shot by pulling it backward. When life is dragging you back with difficulties, it means it's going to launch you into something great. So just focus, and keep aiming."
She is confident of having a "sweet exit" at the tail of this season.
For the past two UAAP seasons, the Lady Booters have been strategically improving their plans as they bid to consistently achieve their goals.
Dimaandal shared, "It takes a team to get a championship. With the combination of players, we have good practices and chances to be better, not only in the field but (also) by developing characters that will strive for greatness and won't settle for mediocrity."
The DLSU Lady Booters will face their archrivals Ateneo de Manila University in their first game of the season on Wednesday, March 6, 3 PM, at Circulo Verde.