Taekwondo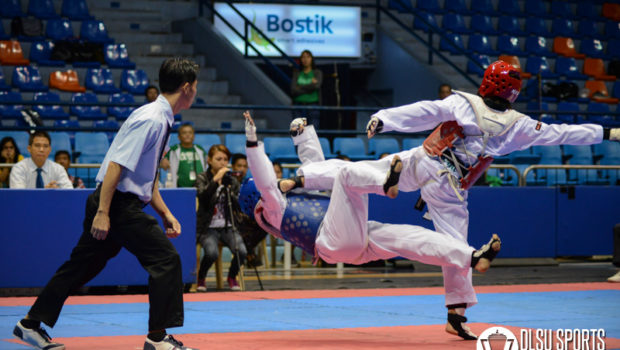 Published on September 14th, 2014 | by Kim Leong
0
UAAP Taekwondo First Week Recap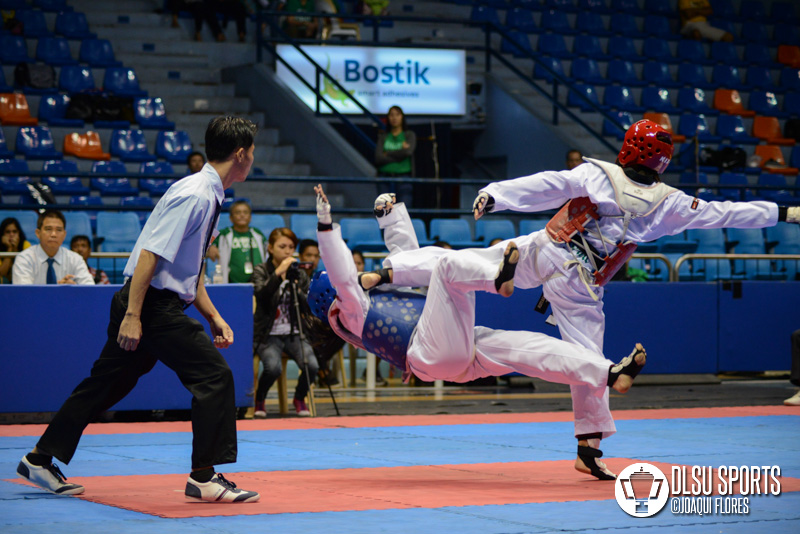 Taking the mats once again last September 9, the DLSU Green Jins are in precarious position of defending their championship against what their team captain, Gerry del Rosario, defined as a levelled playing field as they are currently sitting in second place behind number one contender UST. Similar to position of their male counterparts, the DLSU Lady Jins' task of reacquiring their Season 75 championship title after last year's dismal fourth place finish is also looking to have slowed as they too are currently sitting in second behind a reenergized UP squad.
First Day Blitz
The Green and Lady Jins started off their campaign of dominance in a great tune as both squads dispatched their first day opponents, ADMU and FEU for the Green Jins and NU and FEU for the Lady Jins.
The Green Jins were quick to assert their dominance after they easily dispatched the Ateneo Blue Jins during the first few hours of the first day. In a spectacular 6-1 finish, The DLSU Jins showed no mercy as Ateneo's lone victory only came due to the Green Jins withdrawal of their 7th player. The strength of the Green Jins continued to the afternoon as they also dispatched their FEU counterparts with a 4-3 (DLSU withdraws 7th player) finish to cap of their first day run with 2-0.
The Lady Jins were able to show that they are more than ready to retake their crown as they too easily dispatched their first assignment against NU in a 6-1 finish. Contrary to the the Green Jins' run, however, the DLSU Jins had trouble with their FEU counterparts, but nonetheless proved victorious with a 4-3 win to cap off their first day run.
Second Day Stunner
The second day, September 11, played host to the both the Green Jins and the Lady Jins first defeat.
The Green Jins were dealt a surprise defeat at the hand of their National University counterparts who ended the match with 3-4 after showing showing great improvement as compared to their 0-6 run last year to bring the team to a second place berth with 2-1 during the morning of the second day. The Green Jins, however, quickly bounced back from their defeat as they completely destroyed their UP counterparts in the afternoon with 7-0 run to secure their third victory.
The Lady Jins faced a similar situation with their men's counterpart as they too were dealt with a 3-4 loss against taekwondo powerhouse UST after obliterating the Atenean contingent with a 6-1 win in the morning of September 11.
The Green Jins are set to battle current 1st placer UST who currently reigns undefeated in the morning of September 16 and UE who trails La Salle in third with the same 3-1 win-loss ratio while the Lady Jins are set to battle UE in the morning who currently sits at last place with no wins and tournament leader UP who also reigns undefeated in the afternoon